014: The Digestivo National Convention
Will Salonee's obsession with mineral-based sunscreen lead to her being cancelled for whiteface?
(JS) Sweet readers, I write to you once again from the Granite State, my third visit this summer for those keeping count — a considerable amount of vacation for someone who complains about an inability to travel amidst a global pandemic and claims to be seeking gainful employment (SB: I don't think this shame is serving us! I am on my third glass of wine!). I've tried to check out of the internet for a bit, but unfortunately the NYT push alert knows no boundaries. This pathetic  attempt was all but stymied by my recently inherited Series 3 Apple Watch, which I actually think I hate not only because of the incessant updates but also because it is ugly. While this self-flagellation is probably unproductive, it's also another reminder of how COVID really makes you count your blessings, or in less innocuous terms, check your privilege.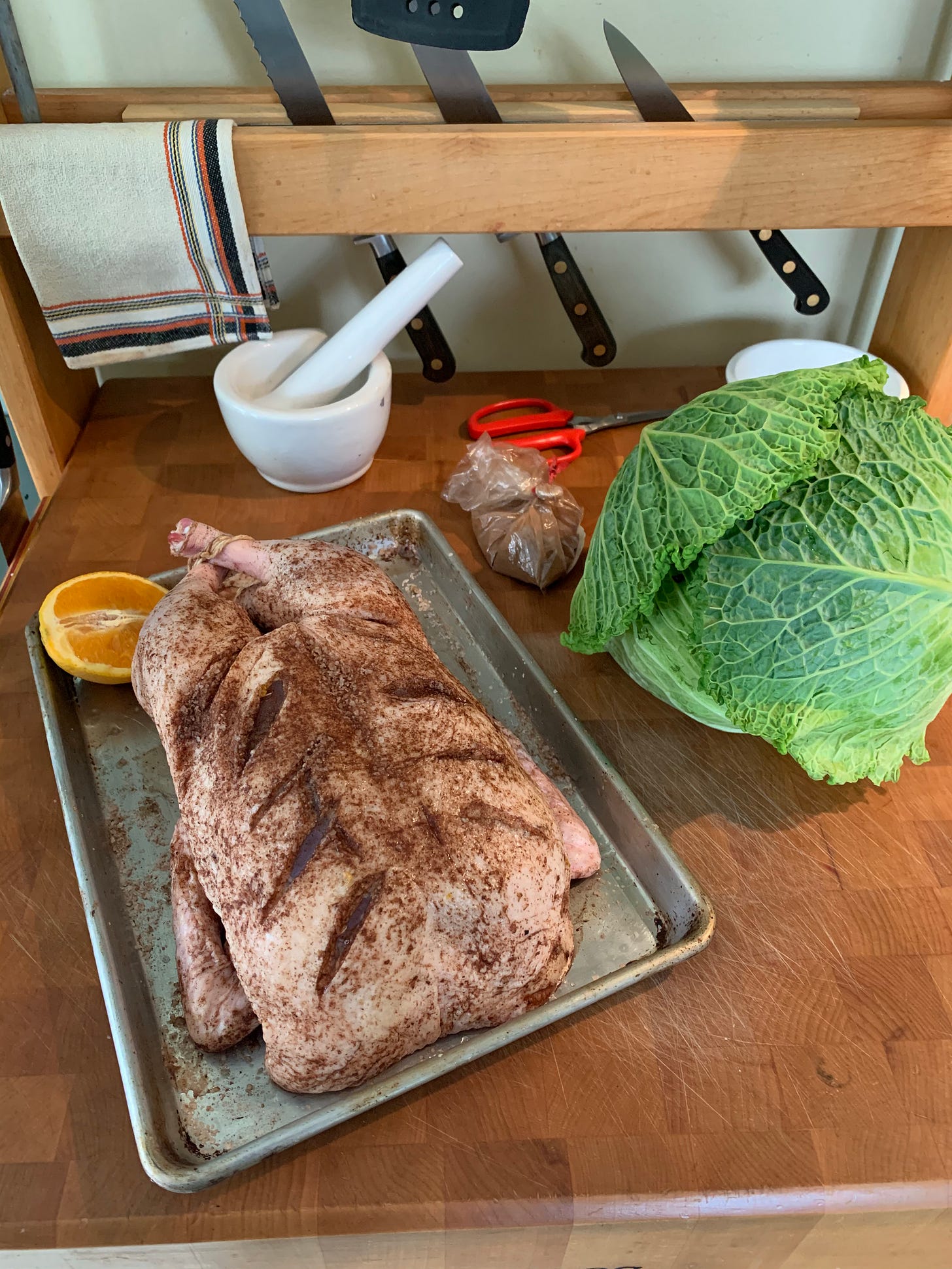 Raw and vulnerable
Aside from the changing seasons, it's pretty much deja vu up here in New Hampshire. I'm still not sold on hiking; I remain a fan of fries dipped in soft serve. Yesterday we picked wild blackberries in the forest, an ultimately rewarding experience despite the frequent encounters with bear shit and thorny vegetation scratching at every limb. At the risk of Vanessa Hudgens-ing, perhaps there is a metaphor here for COVID life at large. Or maybe I'm just tired and seeking a way to wrap this intro up. Here's what else I've been eating:
Frittata di zucca, adapting my preferred tortilla technique to a cucina ebraica recipe from Katie Parla and Kristina Gill.

The full menu from Pati Jinich's love letter to Sonoran carne asada (tacos with the titular dish, frijoles de fiesta, salsa tatemada norteña, guacamole, and a grilled corn, asparagus and spring onion salad).

Duck with orange and ginger roasted atop a bed of cabbage and served with Julia Child's zucchini, rice, and cheese gratin (to which I added the duck liver, because this meal didn't feel quite rich enough).
(SB) Friend of the newsletter and mineral sunscreen expert Jessie recently pointed out to me that August is a month for denial. That could look like a lot of things — refusing to look at your credit card bills until the weather cools; balking at the possibility of another 18 months of Zoom-as-work; leaning into a growing obsession with the paleo-vegan buffalo cauliflower at your local health-food-and-white-privilege hotspot. I'm guilty of each of those in the last few weeks, and don't really have an excuse to proffer. A more zipped-up intellectual might offer some thoughts on how these times might finally mark (or cement!) the life/death of a certain kind of cruel optimism, but dear reader… I have been using my XFinity On-Campus subscription to binge watch Very Cavallari while interrogating my astrological chart (JS: ok she's "doing the work").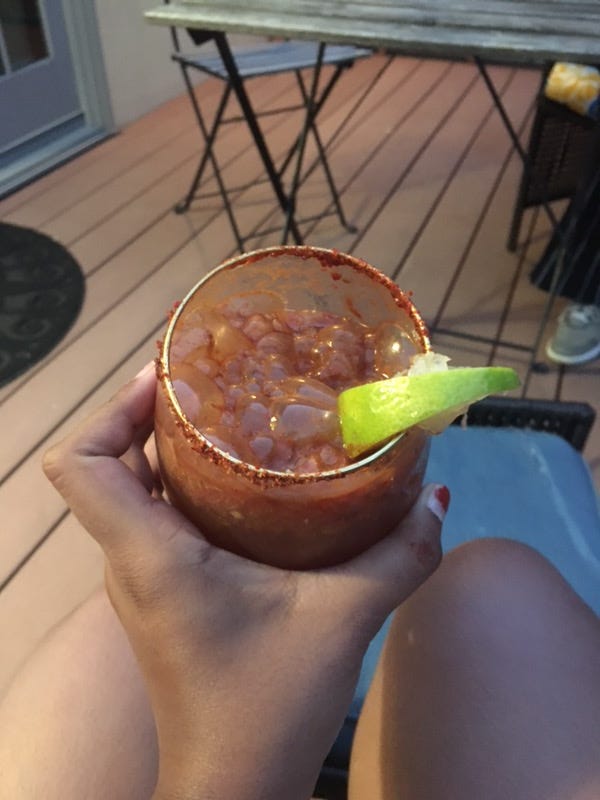 Keynote by Michelada Obama
In my life, these forms of quotidian denial have linked arms with a new, unflinching and awkward honesty: I'm really worried about what might happen in the near future, and it feels easier to indulge in relatively benign denial (I'm wearing a mask!) and excessive sun-protection in lieu of developing my Zoom-teaching resume. Without any true faith in what the future might look like, I struggle to maintain connection to all my best laid plans, schemes for the near future, and belief that the moral arc of the universe tends towards justice. Instead of being particularly present, I've been cooking:
Completely copying the Erewhon hot food bar, I made turkey meatballs, simmered in a simple fresh tomato sauce; with sides garlicky green beans; and an apple-fennel-hazelnut salad.

Heatwave micheladas, with tamarind, fresh grated tomato juice, and some chaat masala. 

Brown rice coconut pudding, topped with some truly transcendent figs from the farmers market. 
---
TMYK: My Socca Life
(JS) From the people who brought you "eat more beans," it's "eat more beans but make it flour!" This week I'm suggesting you dive into the world of chickpea flour, also called gram flour or besan (SB: If you like pakoras or besan laddus, you may already be immersed in the wonderful world of chickpea flour). You can probably snag a bag from your local grocer or our favorite online retailer, but if you're feeling especially ambitious you might try making your own — I've never made it myself but I'm intrigued by the prospect of roasting the chickpeas before grinding, to amplify their toasty nuttiness. High in protein and fiber, chickpea flour is a nutritious and gluten-free option to throw in many of your favorite recipes, but I would urge you to begin your besan journey with some pancakes.
The chickpea pancake, made from a simple batter of gram flour and water perked up with a variety of herbs, spices and accompaniments, is common to many cuisines -- Italy has its farinata, India has its pudla. In the south of France, olive oil and chickpea flour pancakes called socca are cooked over an open flame in large copper pans, sliced and served with a sprinkle of sea salt and rosemary. Should you for whatever reason find yourself without access to a traditional Nicoise grill setup, Meghan Splawn at The Kitchn suggests a hybrid baking-broiling method to achieve the ideal combination of creamy interior and smoky blistered crust at home.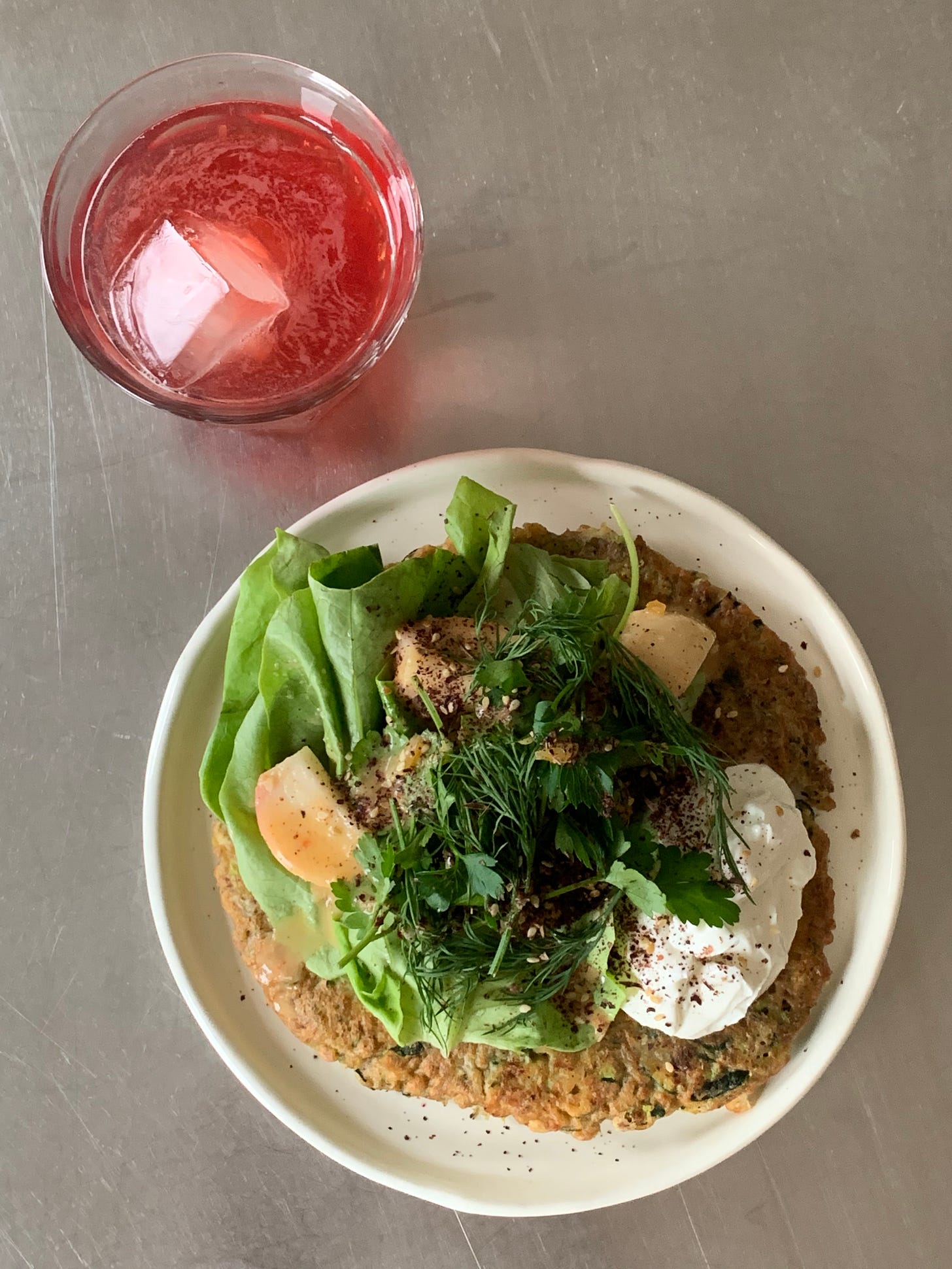 Name a more probiotic duo
Traditionally the socca is an exercise in minimalism, a humble batter expertly seasoned and cooked to perfection, served if you must with a simple green salad and a cold glass of wine (traditionally, rose; in this house, perhaps a pet nat), but many a chef has experimented with the form, adding ingredients to the batter to provide flavor and texture, or using the pancake as a base for a host of seasonal delights. At Vic's, Hillary Sterling serves hers with broiled mozzarella, scallions, and a squeeze of fresh lemon (recipe found in ROAR's Serving New York), but she's also married the dish with Ashkenazi tzimmes in a sweet and savory carrot farinata. 
My favorite socca variation comes from Everything I Want to Eat, though I'm frankly unsure how to credit it in light of recent revelations. Authorship aside, this readily adaptable recipe folds coarsely grated carrots, winter squash, or zucchini into the batter depending on what's in season (I'd imagine beetroot would also work), along with chopped garlic and fresh herbs, yielding something more like a latke, ready  to be topped with a fresh salad and a dollop of dairy. You can flavor this however you'd like — I've particularly enjoyed a Persian-inspired version, using zucchini spiced with advieh and heaped with sabzi khordan, but I also quite like the carrot version with warm berbere, a hearty kale salad and a generous dollop of sour cream. (SB: Nothing if not true to form, I like my socca with carrots and cumin, topped with a little Greek yogurt.) Plus, the batter keeps for a few days, so you can prepare a full recipe and experiment over the course of the week. 
---
TALKIN' SNACK: Wannabe Raw Pizza
(SB) I cannot fully account for my newfound love of easy-to-mock Los Angeles grocer, Erewhon. It is the kind of place where people purchase $16 matcha-hemp smoothies and ayurvedic tea cakes that promise to balance your doshas. Premade soups and sauces and bulk goods are all packaged in large twee mason jars, botulism be damned. The afternoon lunch rush basically features the cast of The Californians, with a healthy handful of midriff-bearing members of the YouTube generation thrown in for good measure (JS: sksksksksksk). In case it is not clear, I am obsessed with it. For a couple of weeks, I let myself believe that this newfound obsession was merely a product of geography, as there is an Erewhon right down the street. There's probably something even deeper at play, but part of my fascination is rooted in a stubborn belief that with the right gluten-free pantry, I could recreate much of that (rather tasty!) menu at home.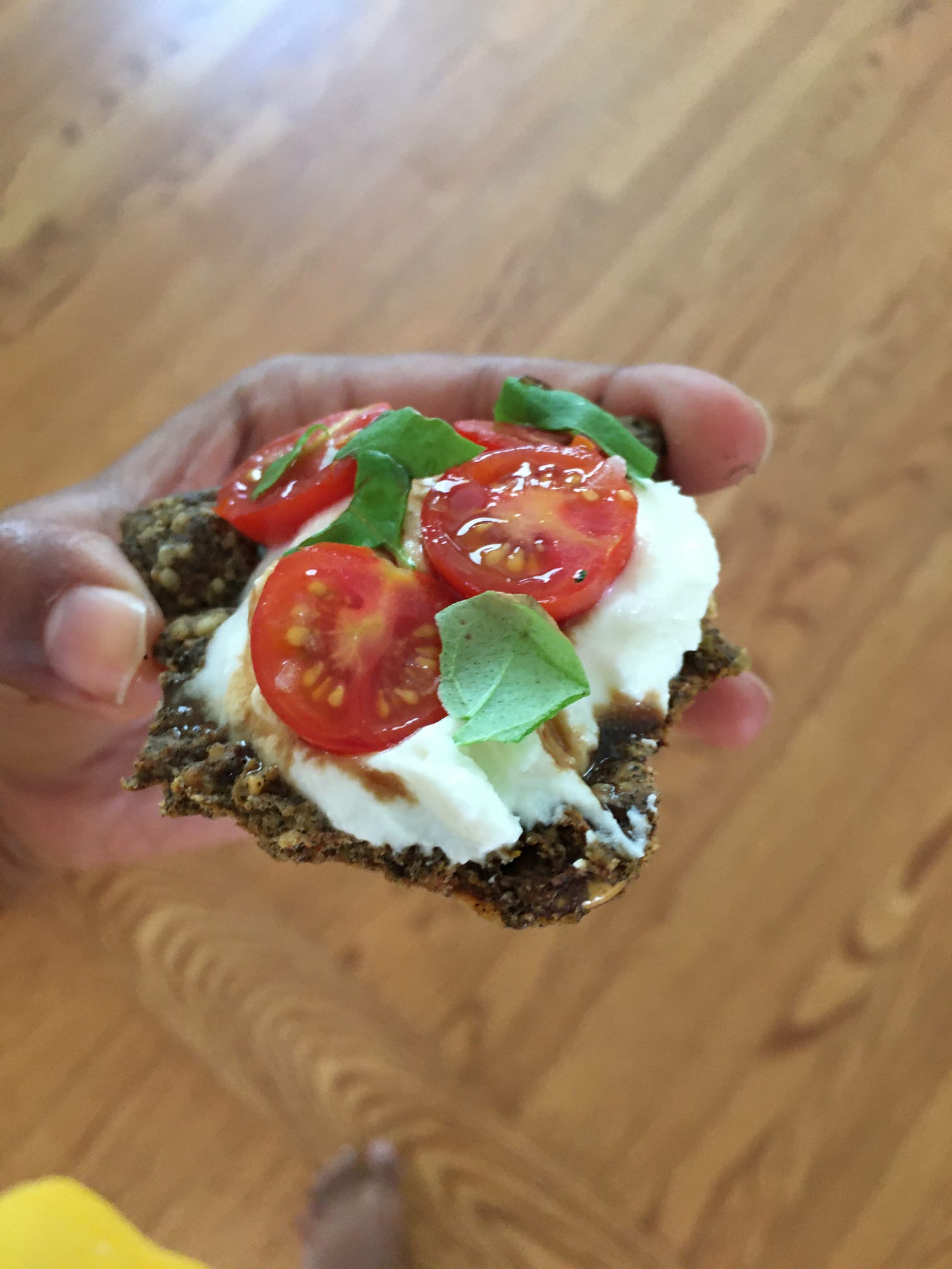 Erewhon? More like
arey wah
!
This week, inspiration hit while chowing down on a rather modest slice of $9 gluten-free, vegan, "raw" pizza. Using the ingredients label as a guideline, I combined a few different buckwheat cracker recipes for the crust, and crossed my fingers while it baked. The results were excellent: a chewy, gluten-free cracker or crust. We ate it topped with ricotta, cherry tomatoes, mushroom tapenade, and basil as a pizza. The leftover shards became dipping crackers — enjoyed with cream cheese, Greek yogurt and everything bagel seasoning dip, etc. 
While my crackers were also gluten free and vegan (until I topped that shit with full-fat ricotta), they were not raw. For that, one would need to dip their feet into the world of Buckwheat groats and  figure out some sort of dehydrator situation…. Which seems like it's worth paying full price not to do, if it's important to you. 
---
USE A CONDIMENT: Vanilla Bean Salt
(JS) Vanilla sugar is a fairly common baking ingredient across European kitchens, but if you're looking to add a versatile vanilla-scented powder to your pantry I'd suggest vanilla salt. This two ingredient trick comes to us from Seattle chef Renee Erickson, whose cookbook A Boat, A Whale, and A Walrus is a personal favorite, full of fun and festive seasonal menus that have me itching to get to the Pacific Northwest. Start with your favorite flaky salt — I'm a Maldon man myself, but really anything coarse would work (Jacobsen or Bitterman's are nice, and Trader Joes has periodically stocked interesting salt options). Then get yourself a couple vanilla beans. These guys can be pricey but note that a little bean goes a long way. If you're an avid baker, consider buying online and get a few extras to make your own vanilla extract.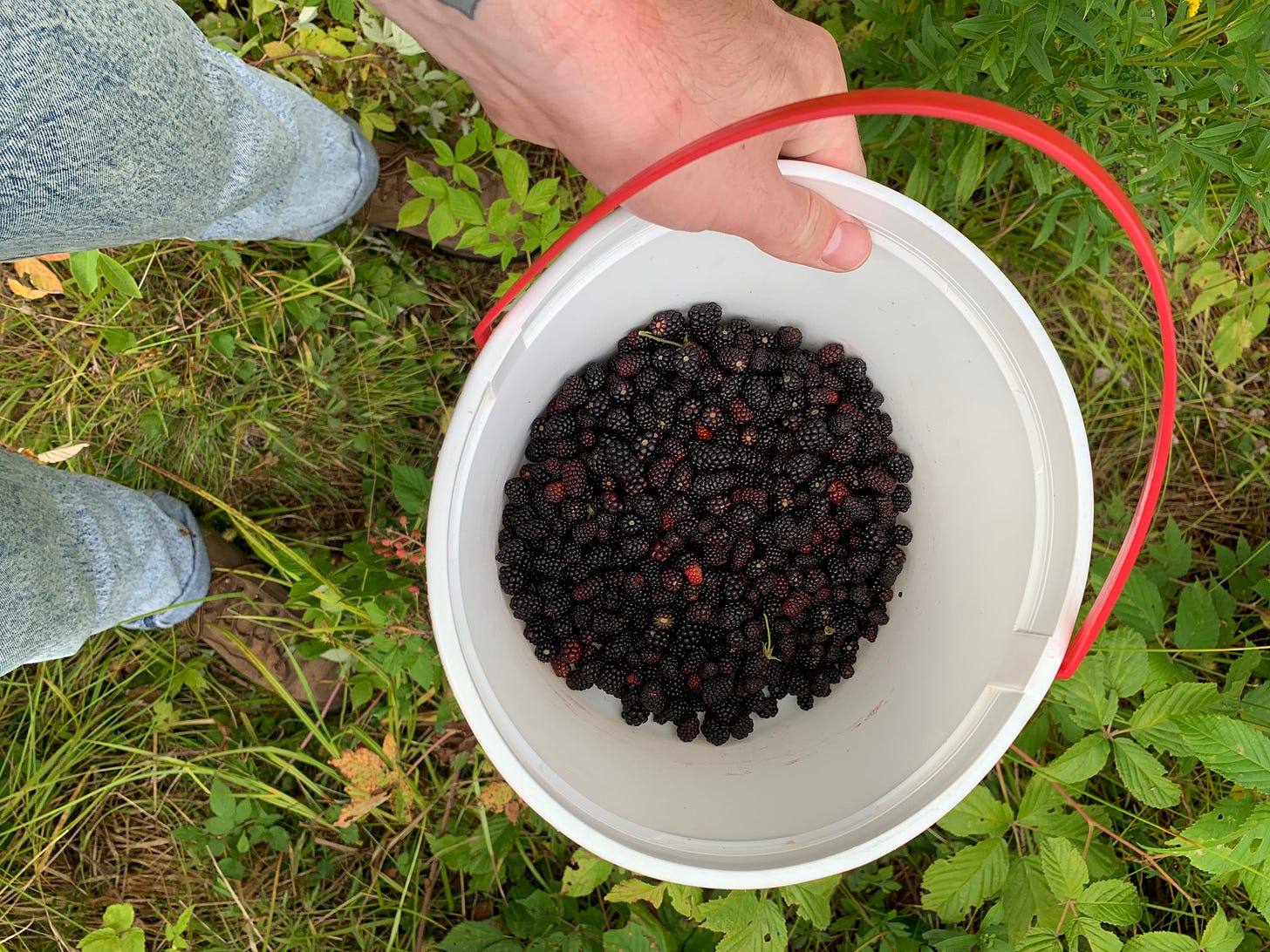 This is not vanilla salt but this photograph is cute
For this project, you'll need two beans for one cup of flaky salt. Use a sharp paring knife to split the beans lengthwise, then scrape the seeds onto the blade and mix in a bowl with the salt until well distributed. Transfer to a resealable jar along with the spent pods and store for at least a day, so the flavors can bloom. Use as you would finishing salt, in both sweet and savory applications. Renee uses this on sliced summer tomatoes, providing something unexpected for an otherwise simple salad, but it would also be lovely in some of the fruit salads we wrote about last month. Sprinkle some onto classic desserts like brownies and cookies, or use in place of regular salt in crumbly streusels. And you'd be surprised by what a pinch of vanilla salt can do for vanilla ice cream (with a drizzle of olive oil, because Italian summer cosplay never ends).
---
PERMANENT ROTATION: While we are generally skeptical of "clean eating" and the mission creep of diet culture, now and then we like to flush things out with a little cocktail courtesy of our #WCW Padma Lakshmi, affectionately referred to as "cranberry drano."
---
WISH LIST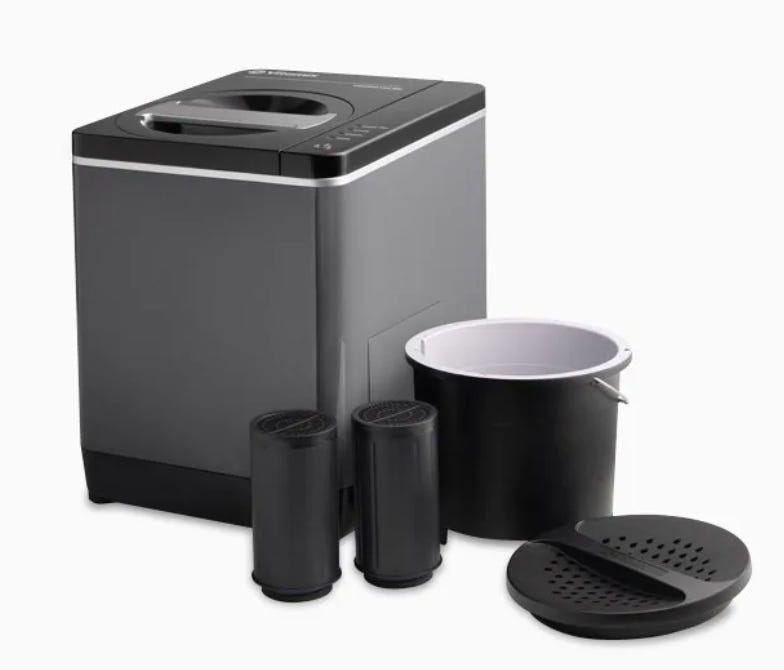 (JS) I've long flirted with the idea of composting, but unfortunately my building is not eligible for NYC food waste pickup and I just can't bring myself to sacrifice freezer space for actual bags of garbage. Ever the brand whore, I'm enticed by the Vitamix FoodCycler, a quiet, compact and odorless solution that turns food scraps into nutrient-rich fertilizer in just a few hours.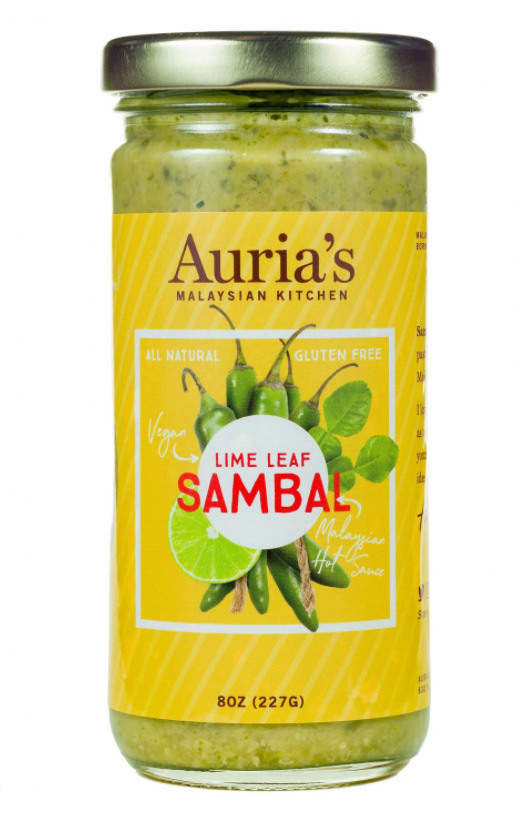 (SB) I heard of Auria Abraham ("the sambal lady") while creeping the Market Hall Foods IG. I think I'll be purchasing both sambals and the jarred pandan kaya to soothe myself when I return to my tiny, sticky, New York City kitchen.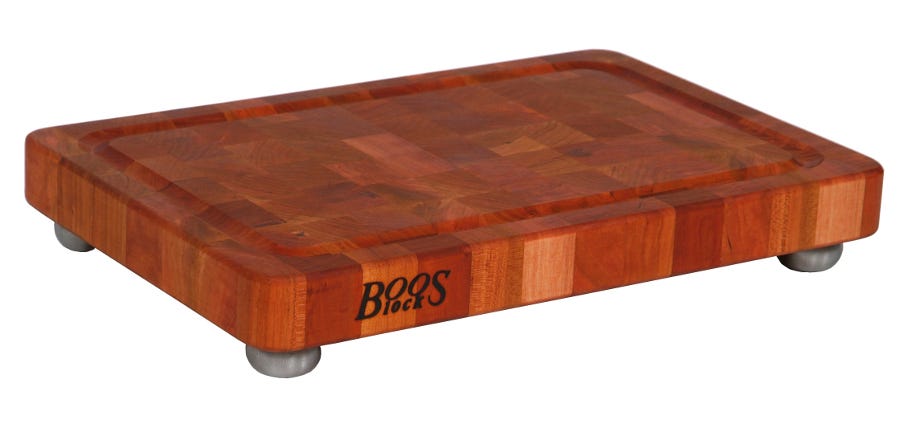 (JS & SB) We're channeling our frustrations into improving our knife skills, and what better surface could we covet for chopping than a thicc and well-oiled Boos block?
---