009: Live Free or Digestivo
At the LGBTQ Community
(JS & SB) Fair weathered friends, this week we write to you as one Substack-supported deranged voice, crying out in the wilderness (a vox clamantis in deserto, for our Big Green readers). Nearing our boiling point in old New York, we thought to ourselves, what sort of COVID-sensitive getaway might we reasonably indulge in to blow off some steam, as well as rejuvenate our bodies and minds? Months ago we had hoped to swindle our respective institutions of higher learning into sponsoring some Mediterranean "research travel" this week, but the pandemic unfortunately put the kibosh on that plan. Ever the trend seekers, we consulted Al Gore's internet for hot destinations perfect for those looking to escape the public eye. Perhaps a COVID-responsible escape doesn't actually exist (is this harm reduction?) but, regardless, we noticed one prominent vacancy in the Granite State and set upon the first Digestivo retreat in the fair hills of New Hampshire (huge thank you to "friend/roommate" of the newsletter David for hosting).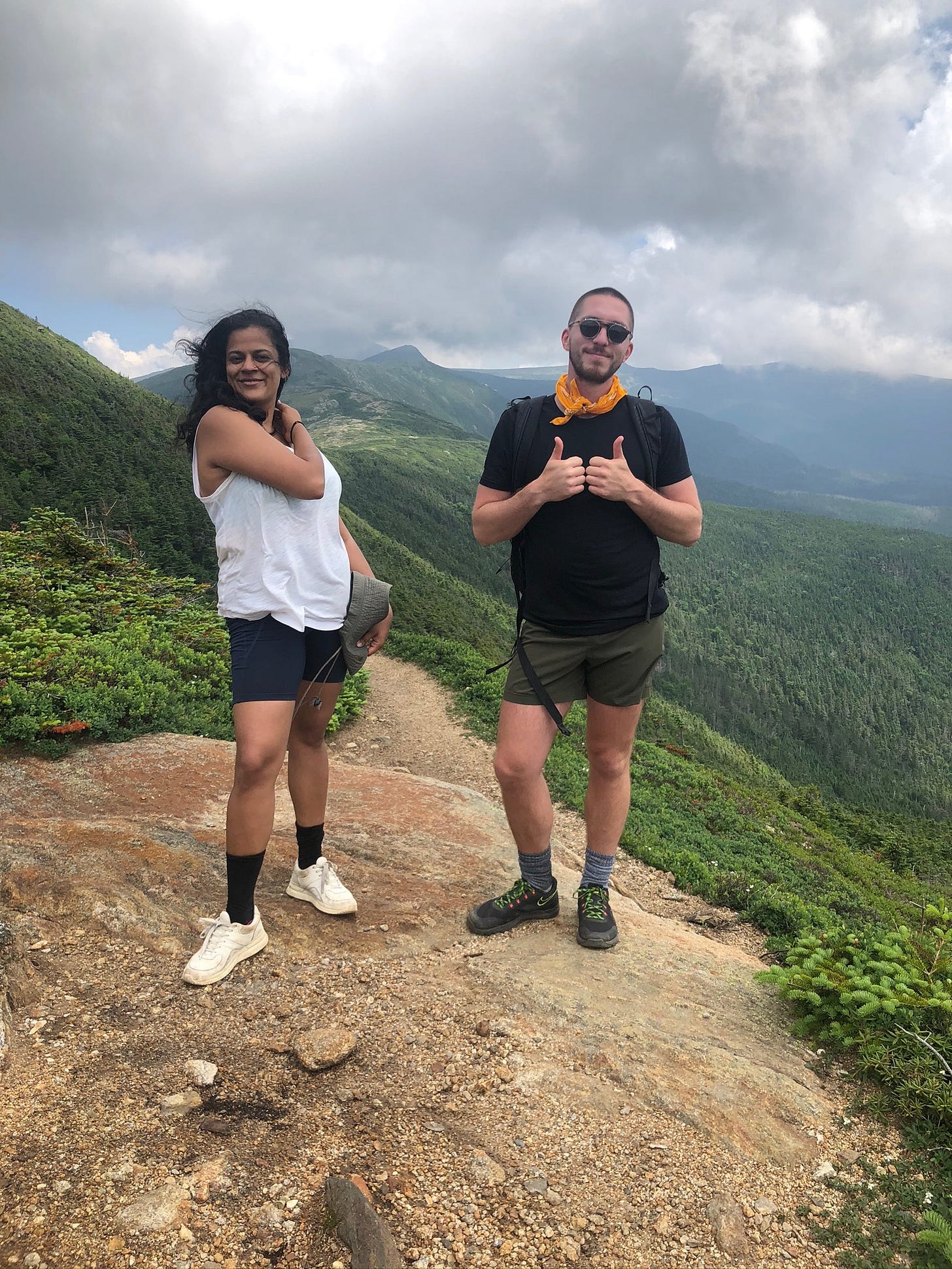 Your humble narrators
It was a pleasure to spend a few days semi-off the grid, breathing in the crisp mountain air, playing increasingly competitive board games, and deep frying in a kitchen with ample ventilation. Eating together after four months separated by a daunting and potentially fomite-ridden subway journey was truly a privilege (to be followed by a CDC-advised quar/testing regimen, please don't cancel us yet!!!).
We learned a lot this weekend. Hiking is predicated on a series of lies* ("no shame in turning back" my ass), but pan bagnat absolutely slaps above the treeline. Local yogurt can (and frankly should) include 10% milkfat. Flatbreads, in all cultural contexts, are the new sourdough. We continue to deserve a little french fries dipped in soft serve as a treat.
Out of respect for your likely cooped up self, we'll spare you the longer R&R recap and (in our trolliest voice) STICK TO FOOD. Here's most of what we ate: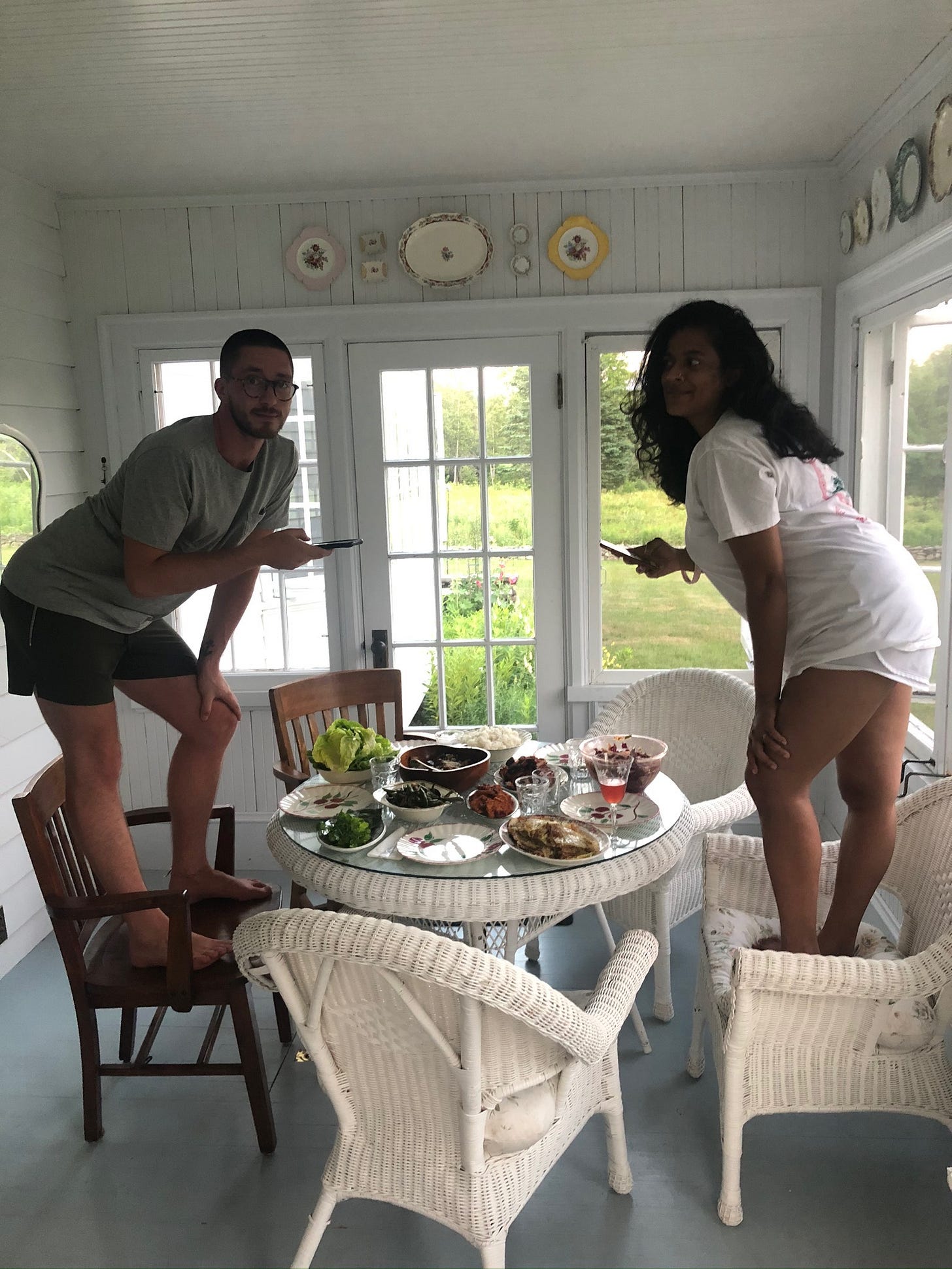 These pictures don't take themselves
More on the sweet side below, as well as a deep dive on black dal and how to stretch your chutney.
*To be fair, perhaps you, dear reader, are the kind of person who has a "favorite 4K footer."
---
TMYK: Black Dal
(SB) Black dal (or husked urad dal, the longer-cooking cousin to the kind of dal we soak and grind to make idli or dosa batter) is probably the most common Indian restaurant lentil: while it's slow to cook, it's sturdy enough to hold up well when combined with a lot of cream and butter. Think dal makhani, the Panjabi lentil equivalent to a butter chicken. It's cooking for an occasion or a celebration, a heavy and satisfying precursor to a nap.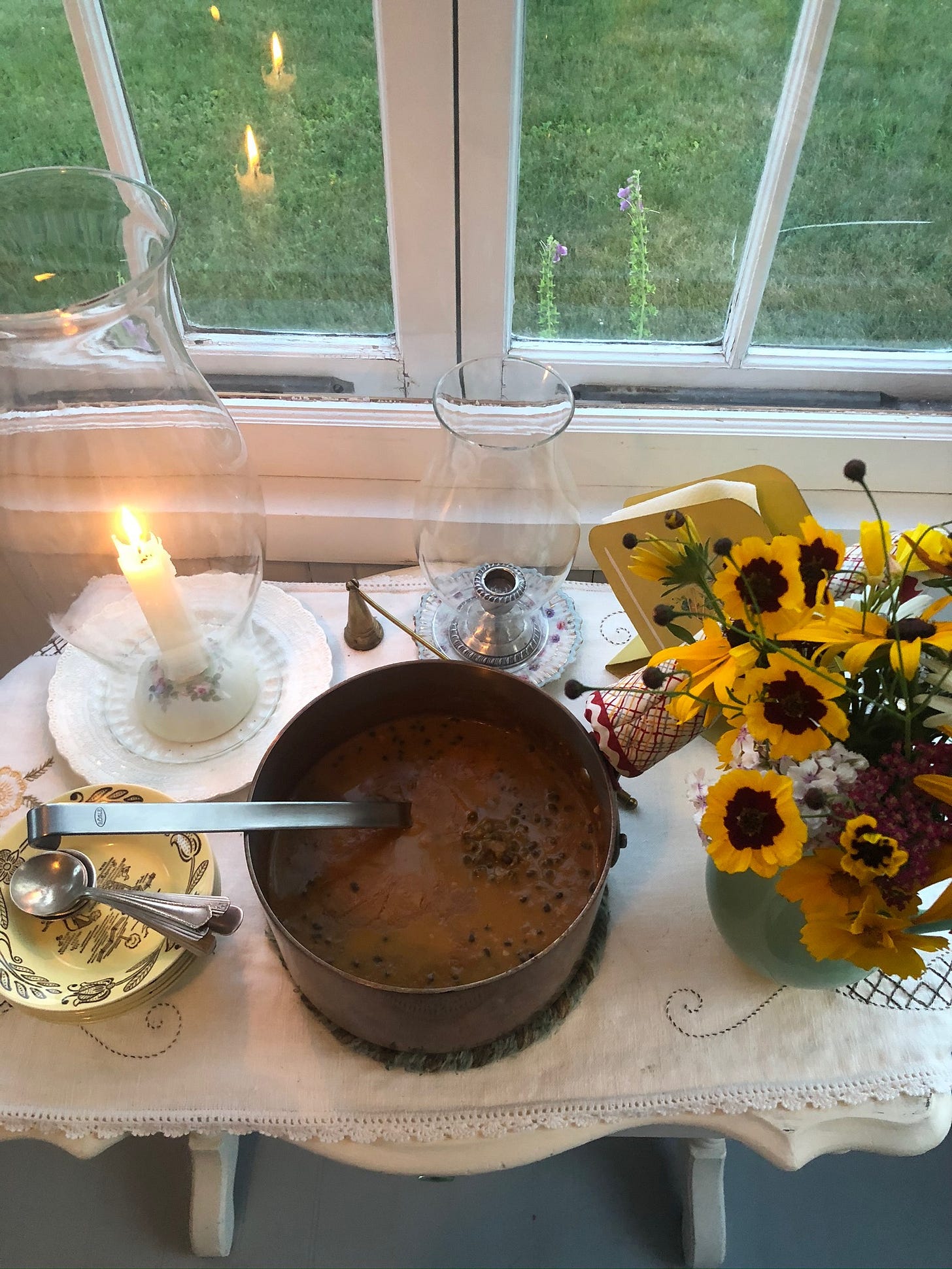 Live free or dal
This weekend, we tried Dishoom's famed black dal, and I was pretty hyped. Panjabi black dal, with more or less makhan -- that's butter for you linguists in the audience (JS: representation is so important) -- depending on the occasion, is one of my dad's specialities. While I'm accustomed to soaking the dal overnight, Dishoom's recipe used an interesting rinse and two-phased boiling technique that resulted in a satisfying and creamy texture. As with many lentils and legumes, I have always been told that low and slow is the technique for the creamiest dal, but I wasn't mad at this speedier version.
Unfortunately, Jake was quickly initiated into a long line of Panjabi dissatisfaction when we sampled day 1 dal: it was rich and silky, but lacked flavor. Prepared for this after living nearly thirty years unfairly comparing various dishes to my dad's version (he is the best cook I know, surpassed only by his late mother) I suspected the dal would improve overnight. It did, but was still kind of ho-hum. Enter: tadka, the absolute game changer in any dal game, and what really makes this dal worth all that richness according to my father.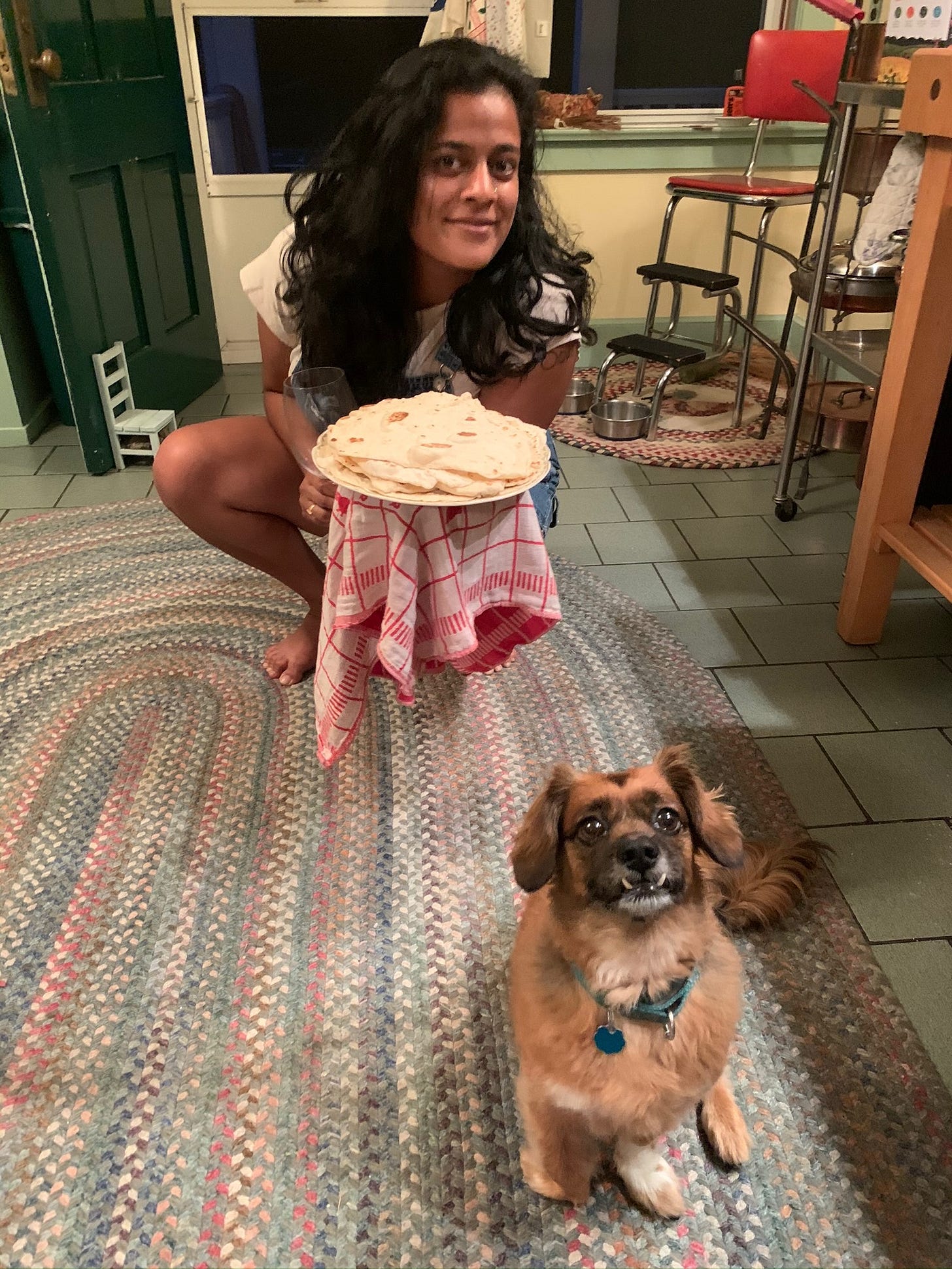 A couple dumb bitches with taste
If you're South Asian and/or a fan of Priya Krishna, you're likely familiar with tadka (though perhaps by another name, see: chhonk). For this tadka, brown (like, really brown) about half a thinly sliced red onion in butter, adding 2-3 cloves of sliced garlic along the way. When the onion-garlic mix is fragrant and caramelized, throw in half a diced tomato, seeds and all. This should look saucy but quickly come together like a paste. When the tomatoes have lost most of their form, add the mixture to your dal. If you're rich in time, you might fry some additional red onion slivers until they're crispy, drain them on paper towels, and top your dal accordingly. French's fried onions from the store will also work, if you roll like that. Regardless, the tadka acts like a shot in the arm for flavor, giving all that cream and butter some more depth and the spices a little more articulation.
---
GLD: Just Desserts
(JS) This week's gay lil' dessert, a buttery brioche bread pudding studded with fresh raspberries and crowned with a crispy almond and cornflake brown sugar topping, is in fact the gay lil' baby of three previous nights of desserts (as Pat Regan says, a family can look like anything). Please allow me to indulge you in a Mamma Mia 2-style cinematic recap of its conception.
We arrived at our home away from home Wednesday in the late afternoon, both hungry and tired from a full day on the road. Salonee assembled an emergency cheese plate (shoutout to the Littleton Food Coop) and cracked a couple natty v's, which temporarily satisfied our cravings and relaxed our famously diligent work ethic. By the time we sat for dinner it was nearly 9:30, but I figured I could turn out a quick crumble while the others did the dishes. I adapted this oatmeal and brown sugar number from David Leite, using raspberries from my yard and a couple nectarines, served with fresh unsweetened whipped cream.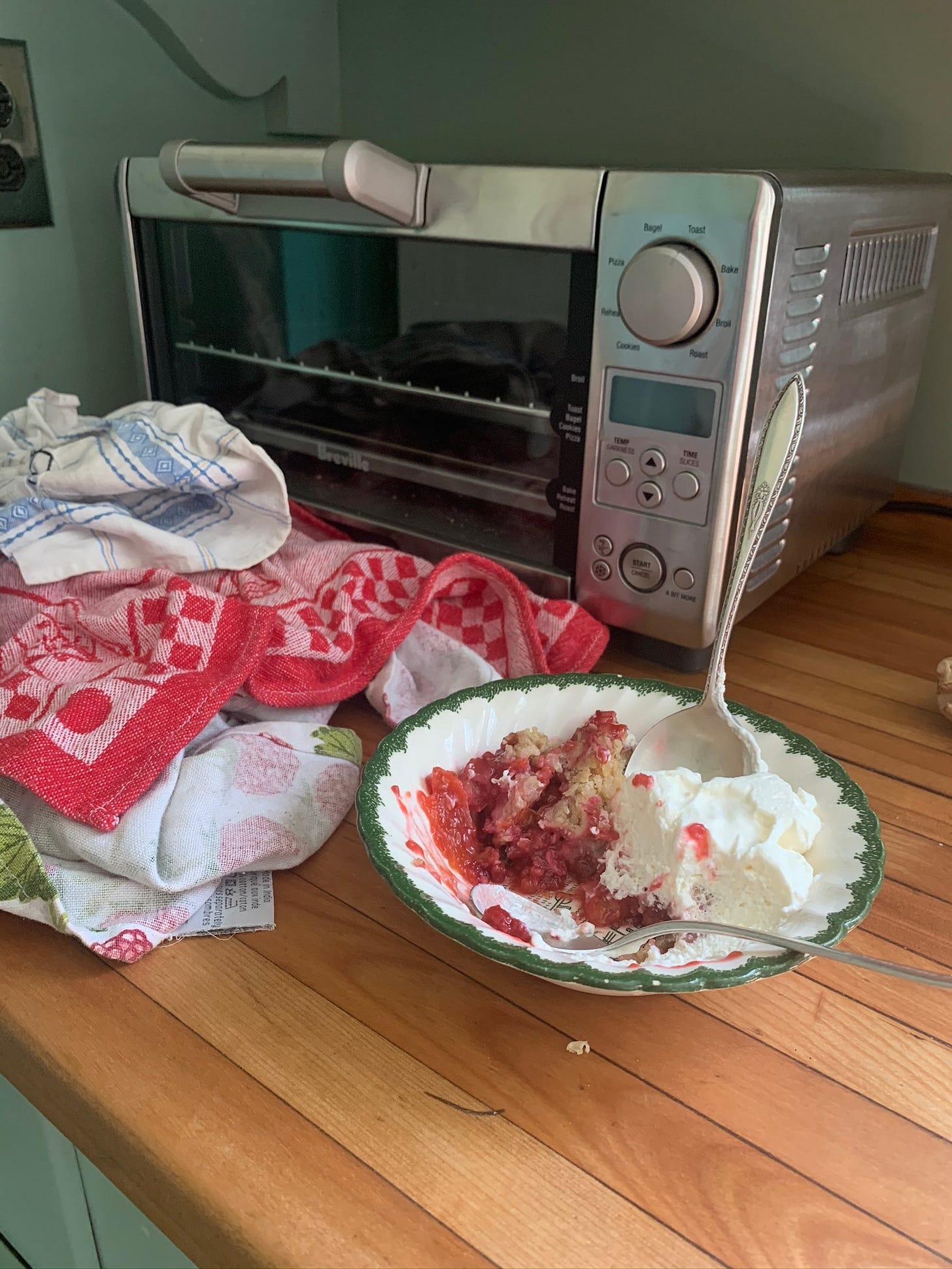 Communal breakfast crumble, COVID be damned
The next day, we took it upon ourselves to try cereal milk ice cream sandwiches, a recipe from Meera Sodha's mostly vegan Guardian column that had intrigued us for weeks. Oat milk and roasted cashews provide a remarkably creamy mouthfeel, but the crushed cornflake "biscuits" are the real star here. We also forgot to buy coconut oil and decided to substitute brown butter instead. We do not particularly regret this error.
Our Friday feast concluded with a bun maska bread pudding from Dishoom, which they describe as a "variation on a traditional English bread and butter pudding, with lots of nutmeg and a hint of cardamom." Tender cubes of brioche are tossed with melted butter, then soaked in a scalded custard sweetened with condensed milk. I halved the recipe and baked it in a glass loaf pan, yielding a delightfully fluffy result. We served this with a homemade toasted rice ice cream with coconut and black tea from Jeni Britton Bauer's first book, Jeni's Splendid Ice Creams At Home (IYKYK), but vanilla would work in a pinch.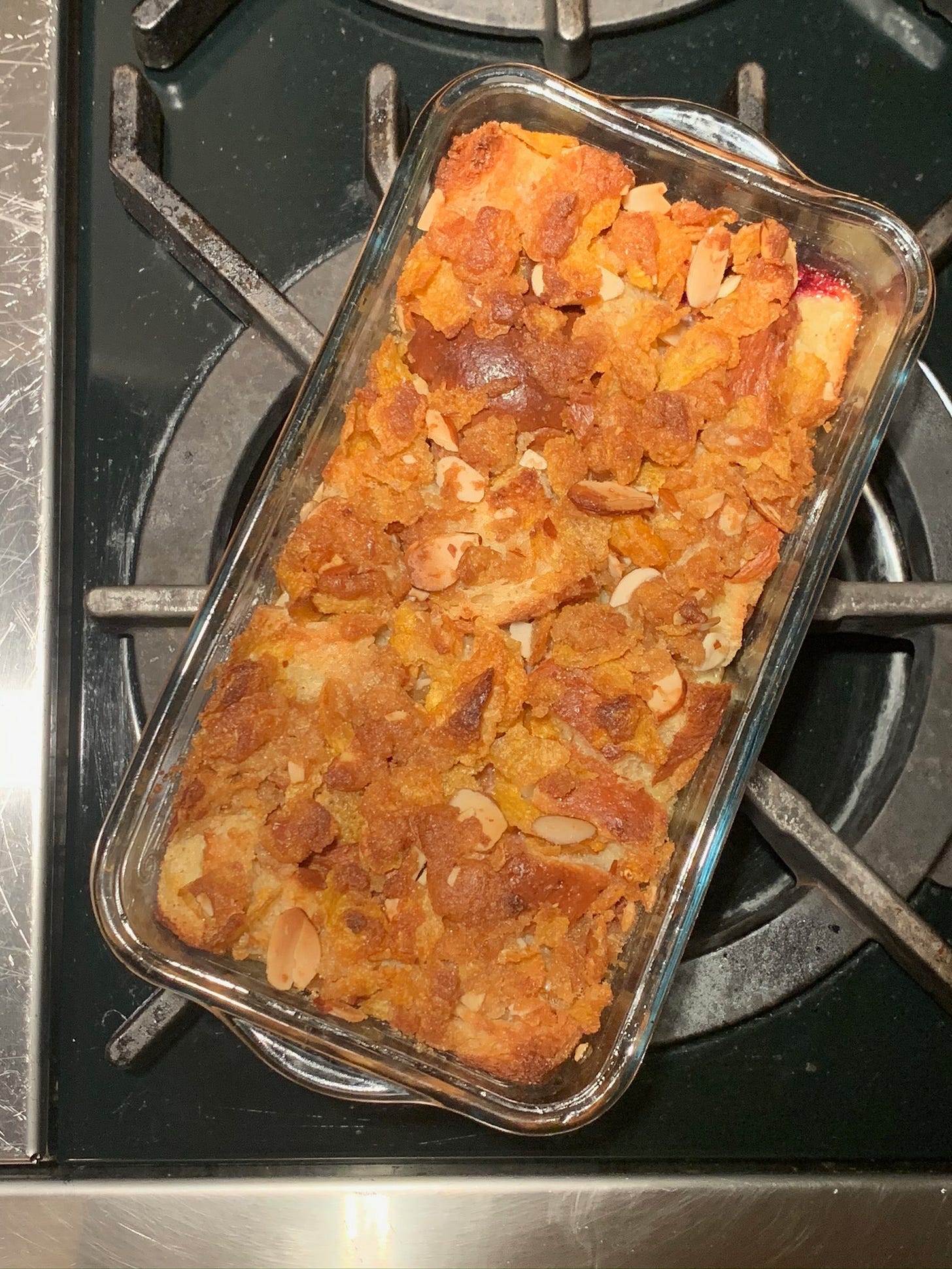 Crispy cornflakes are the new crispy rice
And so we come to Saturday, where I found myself with half a loaf of brioche, half a can of condensed milk, some freezer burnt raspberries and the end of a bag of cornflakes. I loosely followed the Dishoom recipe, this time browning the butter, swapping the cardamom for cinnamon, and adding a layer of raspberries in the middle of the brioche. Taking a hint from my family's heavenly noodle kugel, I tossed some cornflakes and sliced almonds in melted butter and brown sugar, and sprinkled them over the top (SB: it was pure cornflake strudel genius, I can confirm! A must for frosted flake heads). The result was fantastic, served first a la mode, then passed around and picked apart piece by piece, as we finished off a couple bottles of wine.
---
TRASH TALK: Chutney, and then some
(SB & JS) Here at Digestivo, we tend to like our dishes herbaceous and liberally garnished. Unfortunately, that means that we often find ourselves with fridges filled with flaccid bunches of mint, neglected cilantro stems, and the occasional sprig of parsley. Before they wilt too much, we implore you: whip up a chutney! What? That sounds hard and complicated you say? Absolutely not!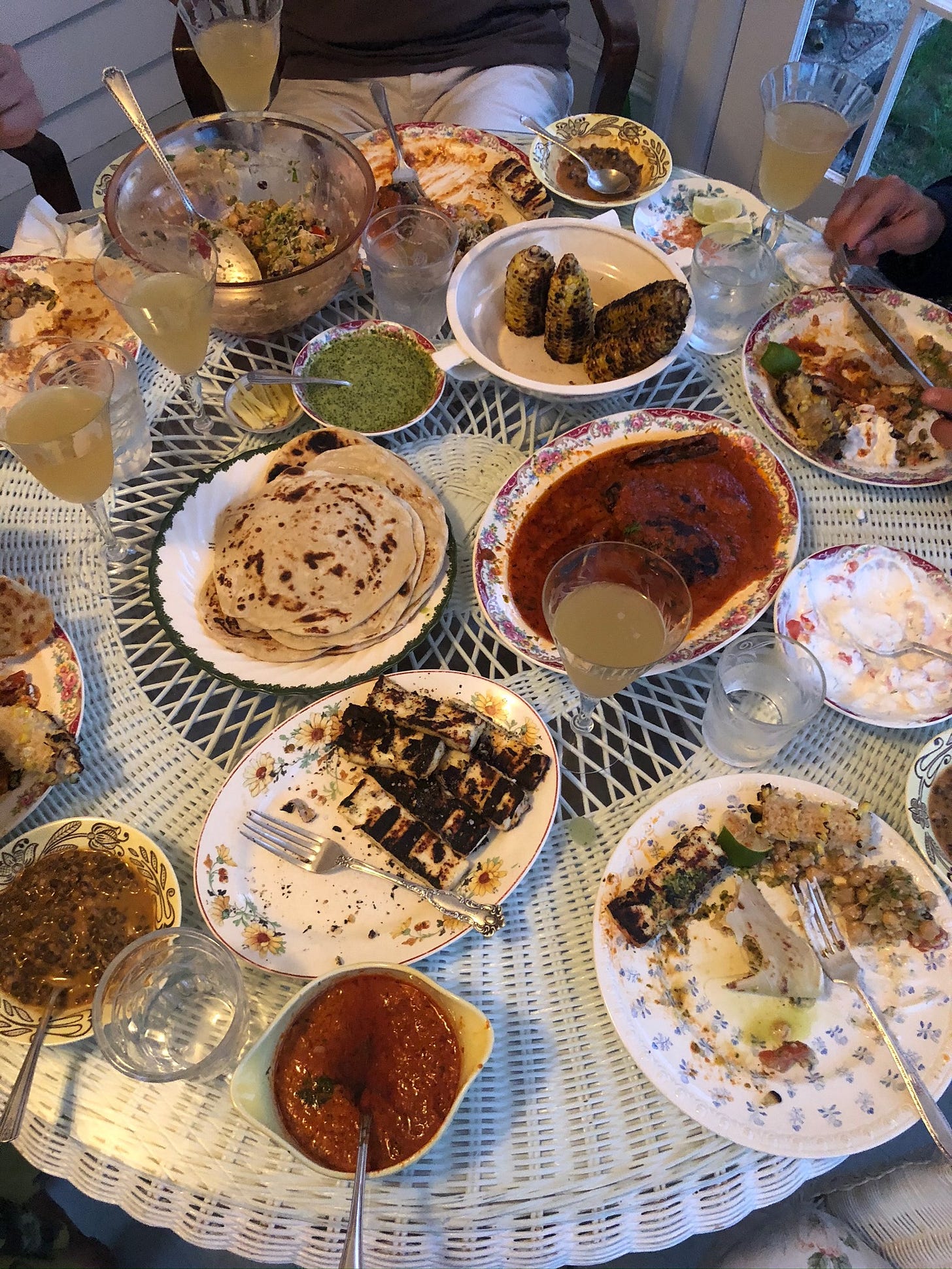 Where's Waldo but make it chutney
If you have either a food processor or a blender, you're a quick blitz away from an easy chutney. Start by combining a handful of green herbs (SB: I enjoy a mixture heavy on cilantro and mint, tender stems okay), a lemon or lime's worth of juice, and a green chile of your choosing. Taste for salt, tinker with your acid, and add fat to taste. Depending on your herbs, you may try a couple of drops of sesame oil or a spoonful of honey. Throw in some peanuts if you're feeling nutty (JS: sometimes you feel like a nut…)
You can spoon the chutney on nearly anything: grain salads, dull veggies, grilled meats, or buttered toast. (SB: My grandmother loved a white bread, butter, and mint chutney sandwich; you could add some radish!) If you happen to have some Greek yogurt, mix in the chutney and use as a tasty spread/dip, or overnight marinade for chicken. Or you can blend in half an avocado for a non-dairy alternative.
---
PERMANENT ROTATION: Honestly that David Leite crumble is pretty much perfect and so freakin' easy but because we can't bear to repeat a recipe across features, we'll point you toward a couple easy drinking natural wines we swear by: Gulp/Hablo ("extremely gulpable") and Meinklang Foam Vulkan ("the San Pellegrino limonata of wines").
---
WISH LIST
(JS) In light of a host of toxic revelations concerning cult LA brunch purveyor Sq*rl and their "self-serving sycophant" chef-owner allegedly poaching former POC staffer recipes, I first and foremost wish to retract last week's ill-timed book request. If you have a preferred jamming manual, please let me know.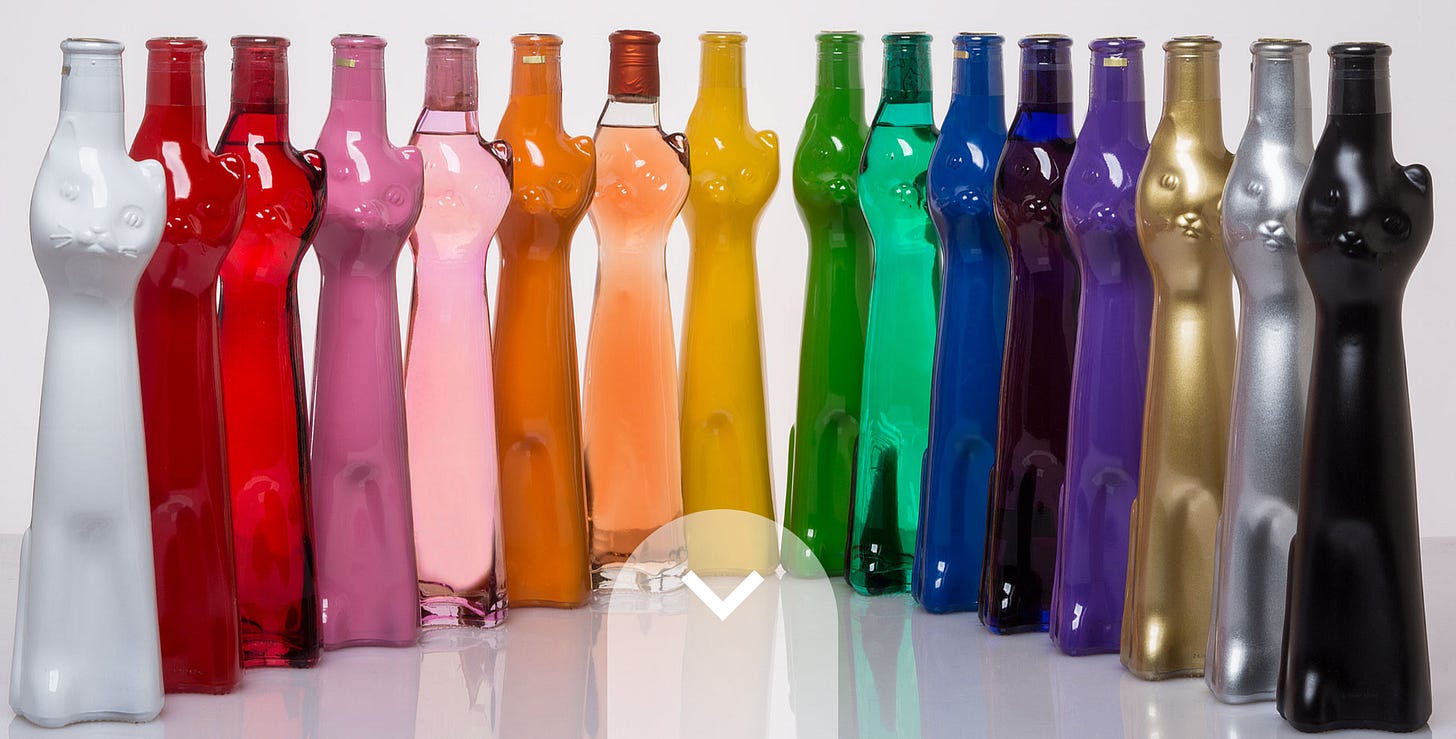 I'm neither really a cat person nor a riesling person, but I saw this Moselland cat riesling at a Vermont roadside deli this weekend and honestly cannot stop thinking about it. Who approved this and how can I get their job? And would a full cat riesling rainbow look good on my mantle? Will anyone ever see my mantle again? I'm spiraling...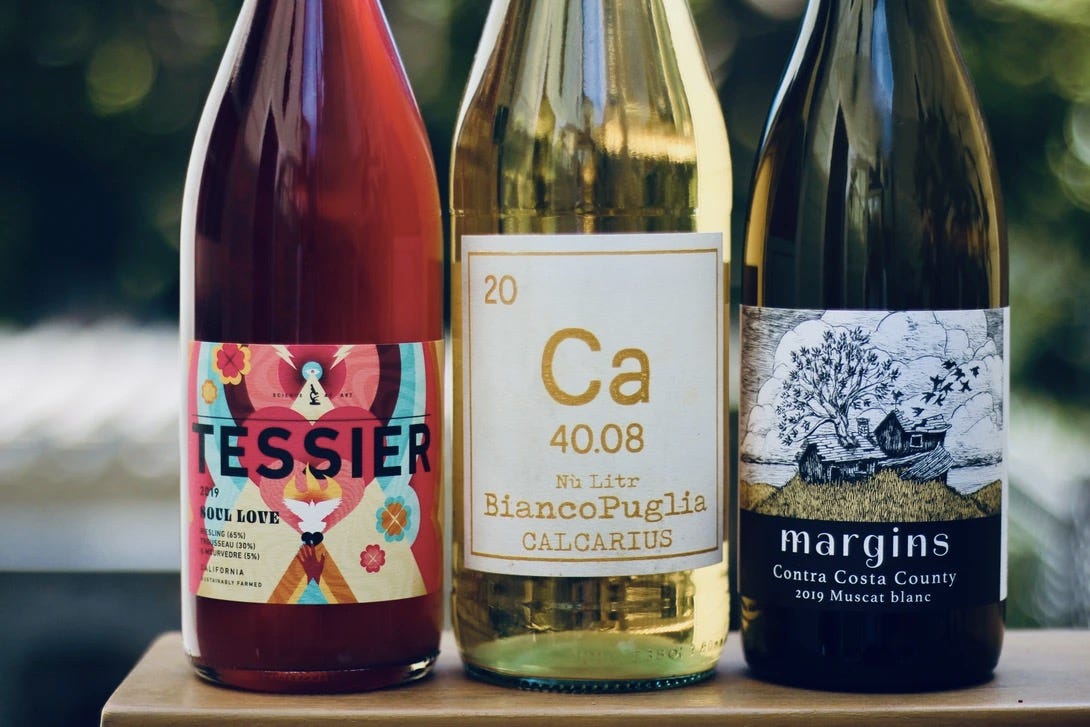 (SB) I've already mentioned that the Cabot Dairy 10% milkfat yogurt is something that I want all of you to experience. I'd love any leads on where I can find some of that in the city when the tub I brought back in a cooler runs out. While we're talking wishes, I'm very curious about Rock Juice's women in natural wine three pack.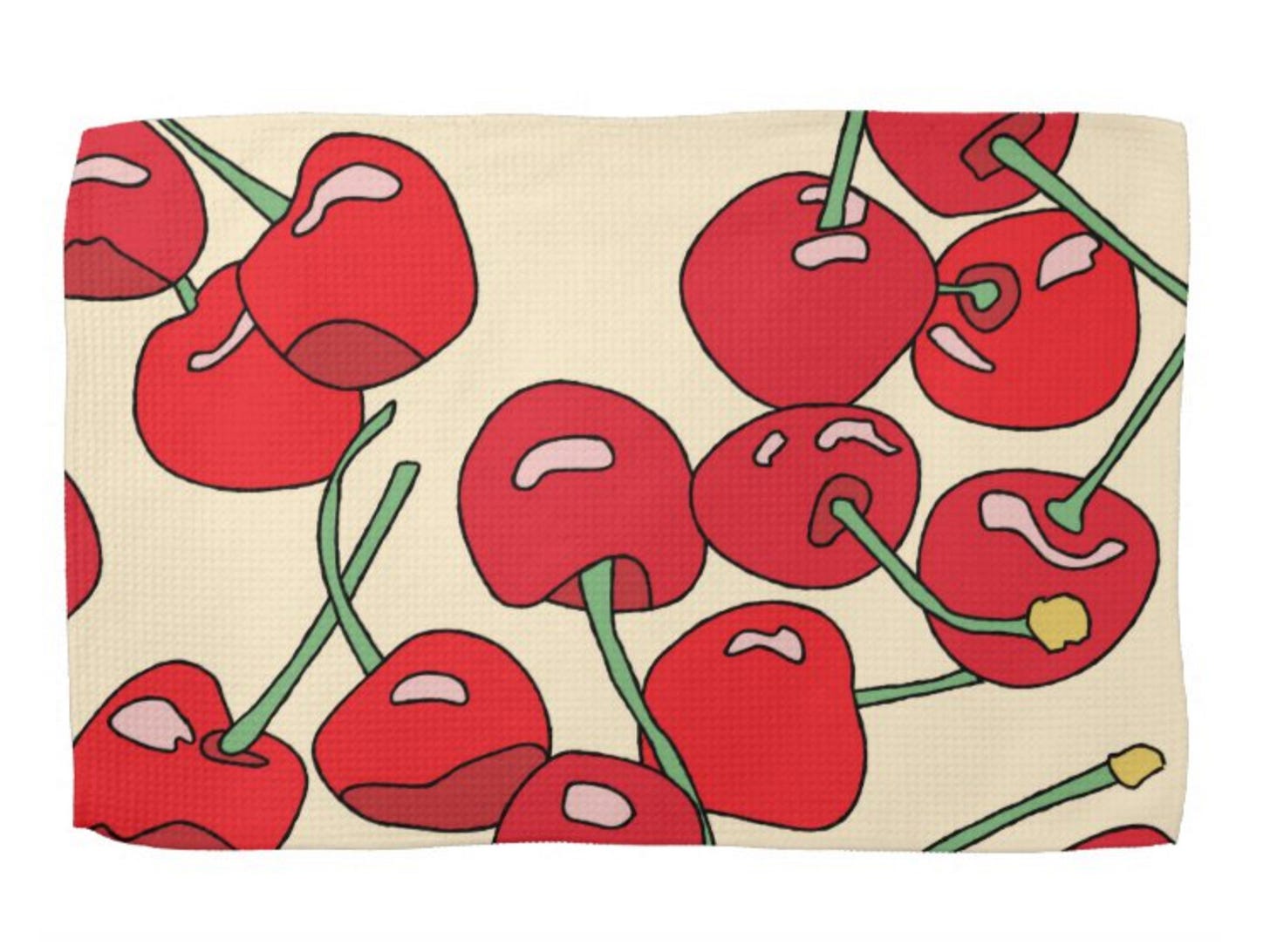 (JS & SB) As stone fruit season arrives we find ourselves craving a set of fruity kitchen towels from friend of the newsletter Marianna Fierro, either to hang artfully from our ovens or to wrap cold compresses for our sweaty little foreheads. We really love her food illustrations and generally chic eye, and hope to collaborate with her on something special, so... watch this space. Mari is also our resident Italian amica, and tells us last week's granita di caffè is really more Sicilian than Roman; for this we say "mi scusa."