022: Just a Semi-Lactose Intolerant Girl in the World
That's all that you'll let me be!!!!!
(SB) Hello, lovely readers, I hope that you're all safe, healthy, and managing the seasonal change in the ways that feel best to you. As I write this on my sofa, a pool of golden, early autumnal light seems to have spilled into my living room — offering a sharp contrast to both yesterday's rain and the lingering bad mood I've been nursing for the past few days. I guess prowling around my apartment and restlessly contemplating the future of the failed republic we live in has not been particularly good for my mood. Maybe it's the tightening loop of the geography I can inhabit in a pandemic, or it is indeed the force of Saturn making itself at home in my astral chart that has me feeling like my metaphorical wardrobe is made up of mostly itchy sweaters that no longer fit me (in reality, I am actually wearing a very soft cashmere sweatsuit and would do well to remember it).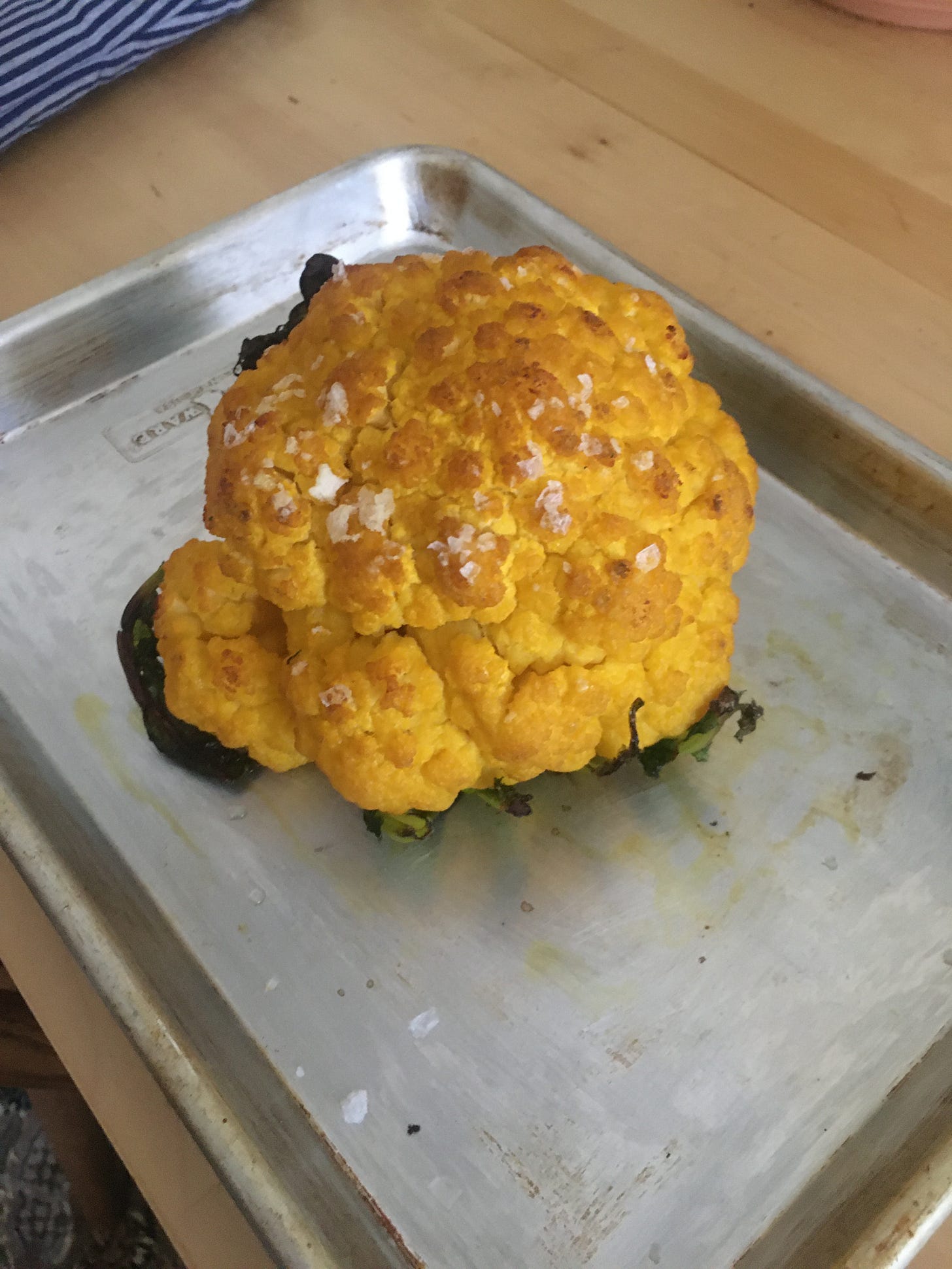 Whole roasted cauliflowers for Algernon
At least part of my funk might be precipitated by my rapidly approaching birthday (Saturday!!!). Despite years of transparency about being an unapologetic birthday princess, I'm struggling to feel like I'm ready for the celebration this year. It's an occasion I personally like to ring in with excess: sharing delicious food and wine with too many friends, crushing our bodies into small enclosed spaces, and perhaps even singing into a shared microphone. I am grateful to be alive, well provided for, and so deeply loved by many; guilty for feeling less than in awe of my good fortune; blue about the state we find the world in. As mercury retrogrades once again this week, I think I'm going to be focusing on meditating on birthday wishes that are personally and socially transformative. One of them will certainly be that we get to gather, touch each other, and celebrate before my next one. This week I ate:
Hungarian Mushroom Soup from the Moosewood Cookbook, an old classic that I recommend caramelizing your onions for.

A feast of mole tamales and conchas from La Newyorkina, generously provided by of friend-of-the-newsletter Robert B. 

Miznon's whole roasted cauliflower, courtesy of Family Meal, which was joyously enjoyed with roti from my first pandemic visit to Punjabi Deli.
(JS) Last weekend I managed to sneak away for a final hurrah in New Hampshire with my mans before he jets off to Greece "for research" (nature is healing; we are the virus). As I prepare to wither away in Brooklyn, I find myself anxiously swinging on the pendulum from a cautious "we got this" attitude toward an all encompassing sense of *nervous laughter* "what the fuck?" With many institutions, cherished or otherwise, irreverently thrown by the wayside, I try to seek comfort in the potential for better days ahead. Still, a certain sense of uncertainty, neither identical nor unrelated to the early quar' variety, looms over every Zoom and Teams meeting, daring us to discuss what things might look like just under a month out.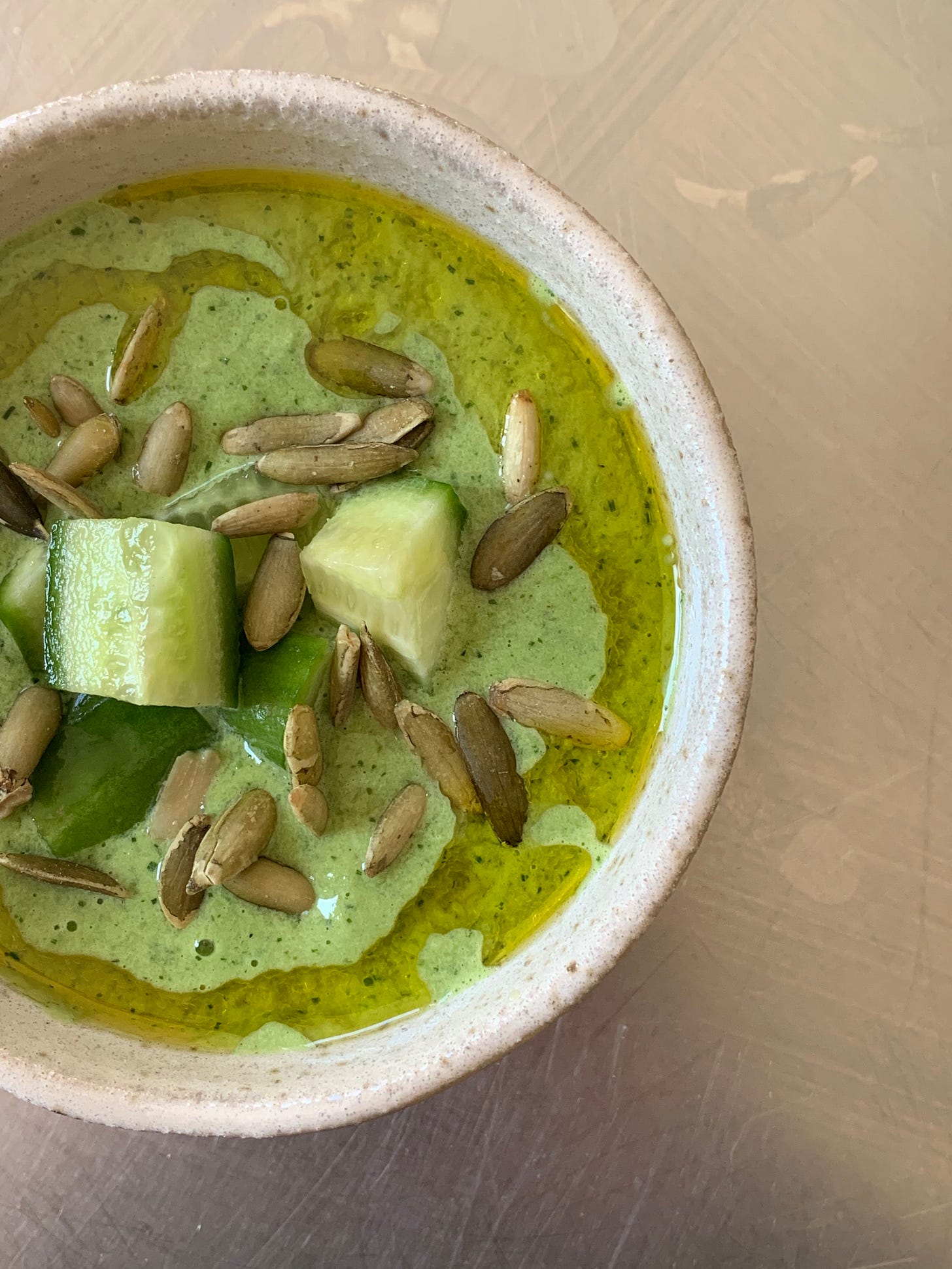 FYC: soup is the worst Zoom lunch
This past week we also celebrated the 25th anniversary of No Doubt's diamond-certified Tragic Kingdom, an album that defined both of your humble narrators' childhoods, nurturing us with endless away message fodder and laying the groundwork for an otherwise inexplicable soft spot for checkerboard print. As we look back on our teen idols, I'm reminded of this 2018 profile, in which Anne Helen Petersen took a swing at our rose-colored nostalgia for golden age Gwen, positing our problematic fave was never radical, but rather, "always seemed annoyed by accusations of appropriation, reticent to claim feminism or the advocacy that stems from it, and has always spoken openly about her wish for a traditional family life." Lately my own saturn return vision board is looking more Sunday Morningthan Cool, Italian summer cosplay aspirations be damned (this is both clunky and niche, but your adolescent soundtrack only turns 25 once). TL;DR: I'm trying to sit with discomfort and learn, instead of rationalizing my feelings away. Pasta still included.
Here's what else I've been eating:
Excellent stovetop chicken shawarma from Sami Tamimi's Falastin, alongside toasted orzo with spinach and herb yogurt, and a cold cucumber tahini soup with spiced pepitas

An apple blueberry granola breakfast crisp, inspired by this Smitten recipe; if you make it, I'd lower your oven to 375 and watch it carefully (cover with foil to prevent burning)
Kimchi fried rice, bulked up with some leftover bo ssam
---
TRASH TALK: Croquetas
A few weeks ago, after we expressed our wish to attend Pineapple Collaborative's cooking class with Colada Shop owner and chef extraordinaire Daniella Senior, our wish was granted by our very own fairy god-Dani: Dani Dillon! Ask and you shall receive! Manifesting! The Secret! 
On the menu for the evening were ham croquetas, a dish beloved in some form across the Caribbean, Spain, and which I would argue exists in various Japanese and South Asian forms as well. While I will happily be the first to order a croqueta in a restaurant, I admit that at first glance it was exactly the kind of recipe I shy away from making in my ragtag kitchen: breaded, deep fried, and liable to make me feel like a line cook hiding from my guests. However, after being walked through the (extremely adaptable!) process by more capable and optimistic chefs, I have been forced to conclude that the croqueta is indeed that girl. 
Despite my best laid plans, the night had gotten off to a rocky start when I discovered that my complimentary Caviar had been spirited away from the lobby of my building and that I had bought about half as much ham as I was supposed to for this cooking class. Resourceful as ever, I quickly processed a couple of small, steamed red potatoes and diced my leftover roasted cauliflower to make up the difference in weight. My last minute efforts were affirmed by Daniella, who soon assured us that the croqueta is a malleable and adaptable form — and a great way to use all sorts of leftovers (JS: te presento mis croquetas de General Tso). Music to my ears.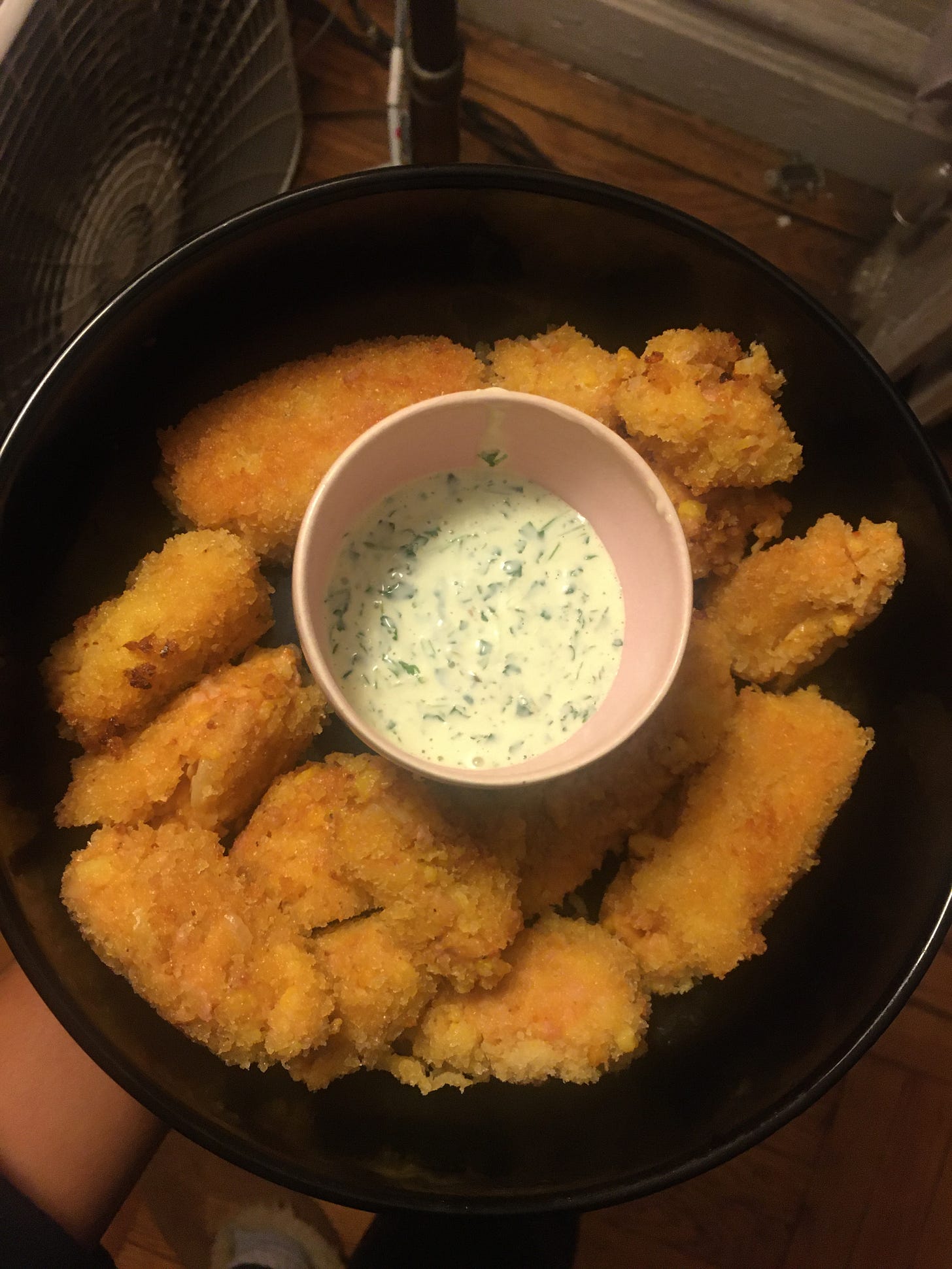 Don't be fooled, these are not, in fact, chicken fingers
The form, it turns out, is also super simple and delicious. We began by making a filling. First, prepare a base of about 14 ounces of fully cooked meat, veggie, or rice — run through a food processor until finely chopped, but not pastey (my cauliflower resulted in a slightly wetter result than the rest of the class, something I'd be mindful of in the future.) Then, make a simple bechamel of melted butter, softened onions, cooked (!!) flour, and about a cup of milk. When thickened, cut the heat and add in your seasonings of choice (nutmeg, pepper), the chopped ham/whatever, and about an ounce of some booze-y acid (we used a nice sherry fino). While we sped up this process, I gather that letting this filling sit in the fridge for about an hour is best practice.
While you're waiting, you can whip up a flexible and delicious salsa verde dipping sauce by running about a cup of mayo, a bunch of cilantro, and the juice of a lemon in your food processor. Once again, she's adaptable: I wanted to try this with Thai chilis, sambal, or aji amarillo.
When the filling is chilled enough to handle without sticking to your hands, form it into little logs and dip first into an egg batter and then into bread crumbs. Mine were messy and a little sticky, but I was inspired by Daniela's neat croquetas sitting on a baking pan and vowed to mold my own messy ways in her image in the future (I have been reading some Elena Ferrante). At this point, you can either freeze the unfried croquetas for a future fiesta, or deep fry them in about an inch and a half of canola or peanut oil. 
Deep frying is a whole to do in this household, particularly because my kitchen floor tilts and it is impossible to get an even layer of oil. I did the best that I could, but was reminded that I need to purchase a spider skimmer or at the very least a more functional slotted spoon. My croquetas fell apart a little bit, but were still delicious. I froze about half the dough in faith that one day I'll be able to have guests again.
On a more reflective note, I have largely shied away from organized zoom activities like cooking classes and non-mandatory lectures in this phase of the pandemic. This class reminded me that it can actually be really nice to gather together and recreate community even in virtual space.
---
USE A CONDIMENT: Salt-Cured Egg Yolks
(JS) Although I have fully embraced TikTok as a sort of escapist palliative to counteract the waves of garbage that make up the rest of social media, I've largely shied away from cooking videos (save for this woman, whose confidence I find truly inspiring). The algorithm regularly reads me to filth, producing a deeply embarrassing and accurate For You page composed mainly of accident-based physical comedy, musical theater karaoke, accent challenges, and horse girl content, but now and again I'll get something vaguely cheffy. As fate would have it, this unsuspecting Tastemade video on how to salt cure egg yolks found its way into my pre-bed TikTok hour, and so my inspiration for this week's letter was born.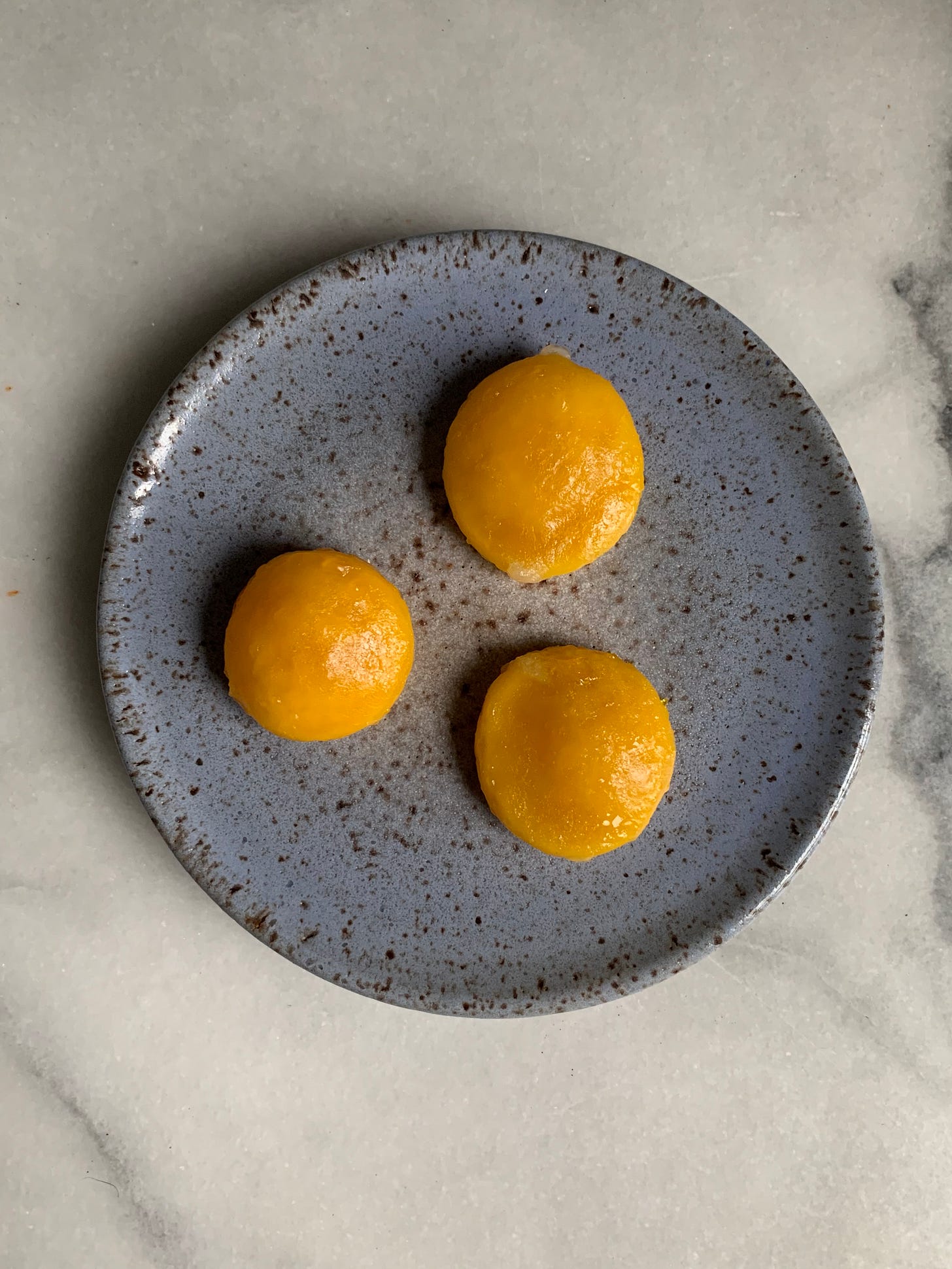 Does Amy Coney Barrett believe life begins at conception?
Salt-cured egg yolks are an easy way to add some unexpected color to your finished plate, providing a rich and tangy, umami note to complement sweet and savory dishes alike. Molly Birnbaum over at Splendid Table describes these as the rare restaurant kitchen flex worth trying out at home. Many have suggested cured egg yolks as a dairy-free alternative to hard cheeses like parm for pastas, soups, and salads (lookout, nooch). Others have grated them over ice cream, or tucked them whole into pillowy buns and pastries. Despite the name, many recipes suggest curing in a 50/50 combination of salt and sugar — this mixture extracts water through the membrane surrounding the yolks, creating an environment that prohibits the growth of bacterias, yeasts, and molds that cause food spoilage. 
The method is simple: separate a few yolks (save the whites for cocktails or meringues!) and place them in a nonreactive dish or tray filled with kosher salt and sugar (SB: Which came first, the cocktail or the yolk? You know?). Bury the yolks with more salt and sugar, cover the tray with a lid or plastic wrap, and set in the fridge. After about a week, remove and rinse the hardened yolks to get rid of excess salt, and pat them dry with a paper towel. Most recipes instruct you to bake your cured yolks in a low oven for 30 minutes or so to fully dry them out, but you could also go the full salumi route and hang-dry them in the fridge or some other cool, dark place (my bedroom?) for another week or so (SB: Is this a cry for help? David?). These cuties keep for about two weeks refrigerated in an airtight container, so you can look forward to a fortnight of golden garnishes.
---
TMYK: Unabashedly Autumnal Butternut Squash, Brown Butter, & Sage Pasta
(SB) A few years ago, during my exile in New Haven and when we were allowed to gather without fearing a fatal respiratory virus, my friend Beans and I were regulars at a Monday evening  Women and Gender Studies Colloquium. Professors and graduate students would take turns presenting work in progress, while the rest of us listened, offered comments, and greedily filled our plates with the most reliably tasty vegetarian dinner on campus. It was customary to bring tupperware. Are these the kinds of happy stories people tell about graduate school? (JS: My favorite art history department ritual was the holiday party, with a full buffet of both Dinosaur BBQ and vegetarian Indus Valley takeout). Anyway, sometime in 2017, dinner was a baked butternut squash mac n cheese that was so incredibly delicious that there was none left for our tupperwares. I have thought of it often in the intervening years, sometimes going so far as to idly search for various terms that might yield a recipe. Inexplicably, I never quite got around to making it. 
Well, that changed this year. With more squash in my various produce boxes than I know what to do with and a persistent hankering for decadence (JS: a vibe), the time had come for me to wade into the project myself. I used this Lidey Hueck NYT Cooking recipe as a reference (Hueck is sometimes referenced as Ina Garten's "twenty something" assistant for you Garten girls) and began by roasting a medium butternut squash and a whole head of garlic. Historically, I have found preparing butternut squash to be kind of a pain but have recently discovered that splitting them down the middle, scooping the seeds, and placing them face down in the roasting pan for longer than you think (two hours at 350°F for my medium gourd) and letting them fully cool really makes a difference. The skin puffs up and away from the flesh, so that you can just peel these bad boys with relatively little waste and mess.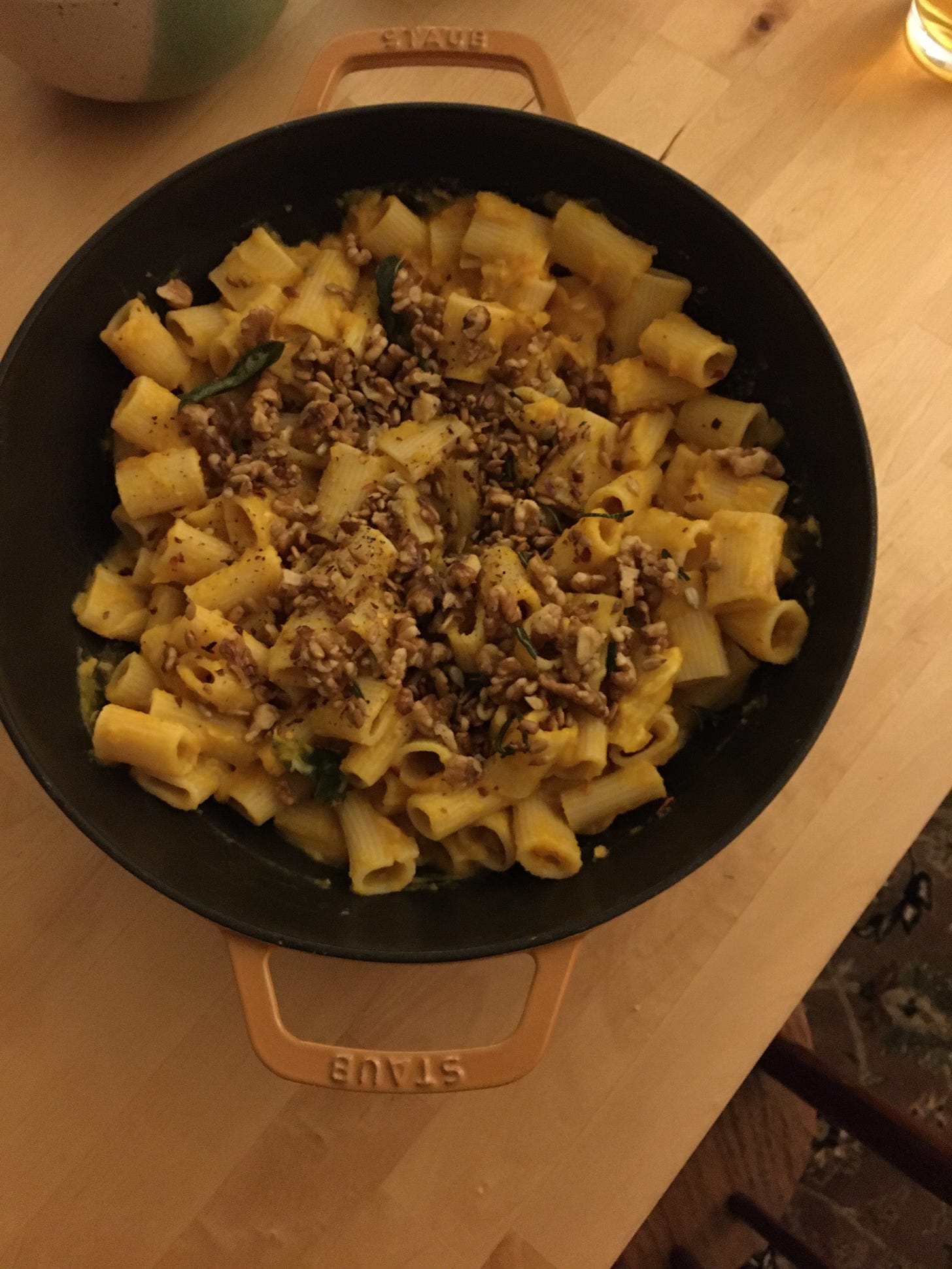 4-quart Staub La Cocotte hive assemble
The rest of this dish comes together extremely quickly, with a richness that betrays how easy it is: combine the peeled squash, roasted garlic, and about a cup of warm broth to blend. While that sits, put on some water for pasta (I used some fat rigatoni) and toast some crushed nuts. Lidey calls for walnuts; I used a combination of walnuts and sunflower seeds; I think this would be particularly good with pepitas, but I had none. I also threw in a few sprigs of rosemary to flavor the nuts once they were done toasting. In a pan large enough to hold all your pasta, brown some butter and throw in ten or so sage leaves to sizzle. This is maybe my favorite part of fall cooking. When the sage is smelling good, leave about half in the butter and transfer half to your nut mixture and allow to cool. 
Add the butternut squash puree to the browned butter, and cook down until your pasta is al dente. Combine. I honestly think that this, right here, is a delicious and dairy-free pasta you could eat with no shame, but I (JS: ever the glutton) also added a few handfuls of shredded cheddar/gruyere and parmesan with a little pasta water and stirred to combine. Topped with the nuts, this dish was everything I wanted and more — dare I say better than the colloquium pasta that lives in my mind, rent free (pasta has excellent tenant protections in this city).
---
PERMANENT ROTATION: Ina's pasta alla vecchia bettola, a largely hands-off method for the most flavorful vodka sauce you've ever tasted; the oven roasting technique works wonders for other tomato-based sauces too!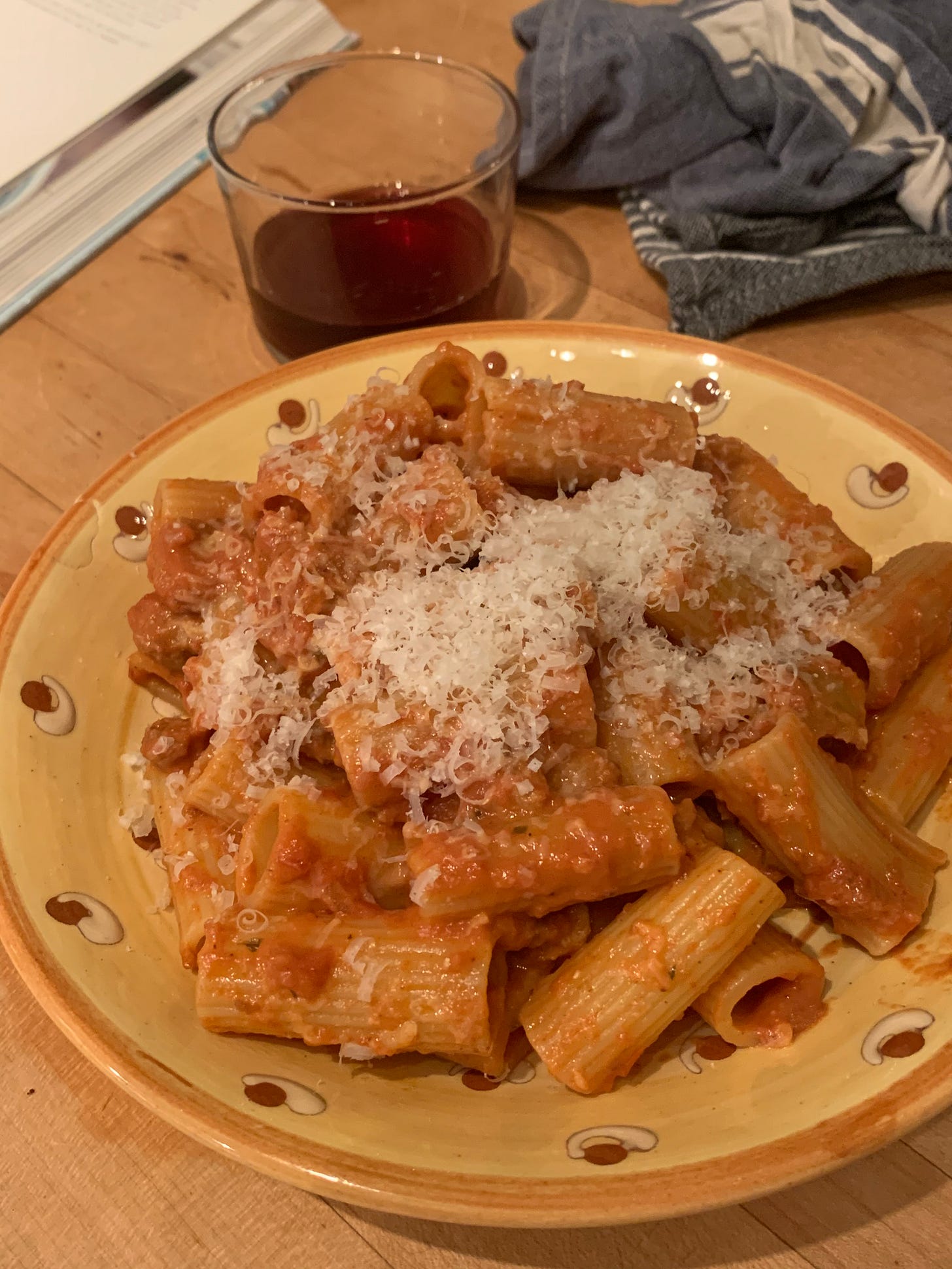 We have changed but we're still the same
---
WISH LIST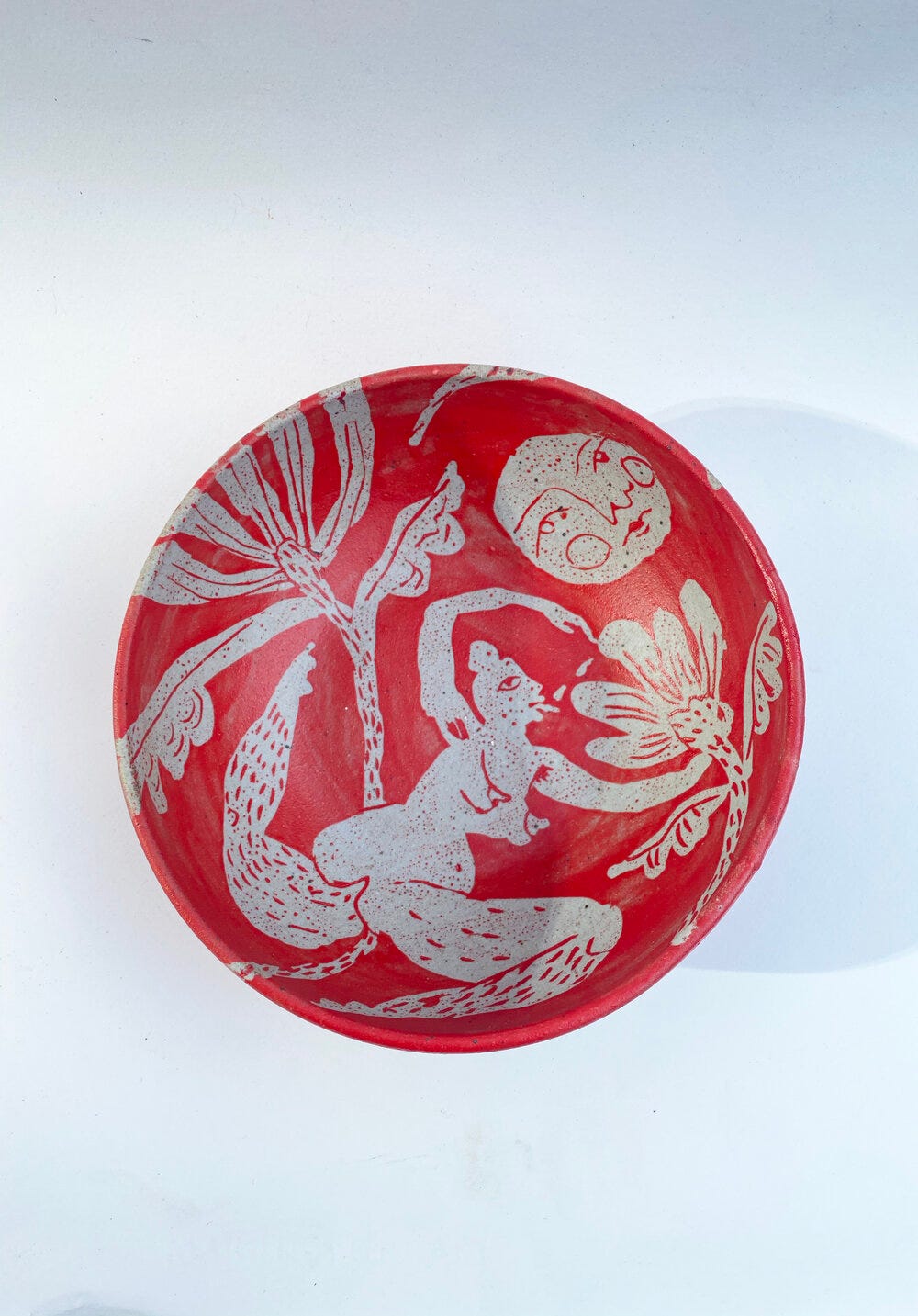 (JS) I regretfully missed Maggie Boyd's ceramics sale last Sunday because I was hiking. Fortunately she's got another one coming up October 28th. I will be setting a calendar alert to acquire some whimsical one-of-a-kind wares.
Also, there are still three Wednesdays left to text bank ahead of the election. Join us tonight and feel a little less terrible!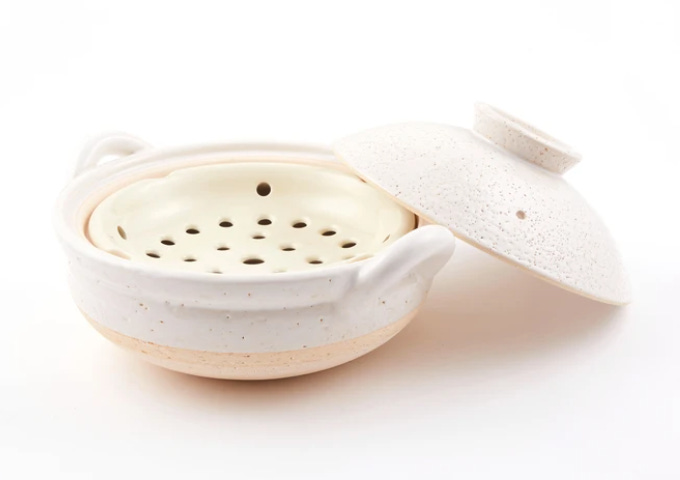 (SB) Inspired by recent posts from both East Fork Pottery and my personal hero Tammie Teclamariam, as well as my experiences with hot oil frying, I'd like both a Donabe and a spider skimmer. It seems I can find both here, without resorting to Amazon.
(JS & SB) We would love to feast our ears on Mariah Carey's latest memoir audiobook, which is unfortunately only available through Audible. Are you all still celebrating Prime Day? Stop!