016: Cookin' the Books
No whitewashed recipes after Labor Day
(JS) Do you hear that, folks? It's the internet's primal scream marking the arrival of September, an anxiety-inducing time I typically associate with back to school dread, and some slice of my social media sphere dives in to the media circus also known as #NYFW. This time around, I find myself for the very first time without a first day of school, and the Twitter discourse has shifted to how to best publicly shame your underpaid adjunct instructor who's maybe trying to do a thankless job under shitty circumstances. I can't say this fall looks quite like I imagined it, but wildcards are about par for the course at this point.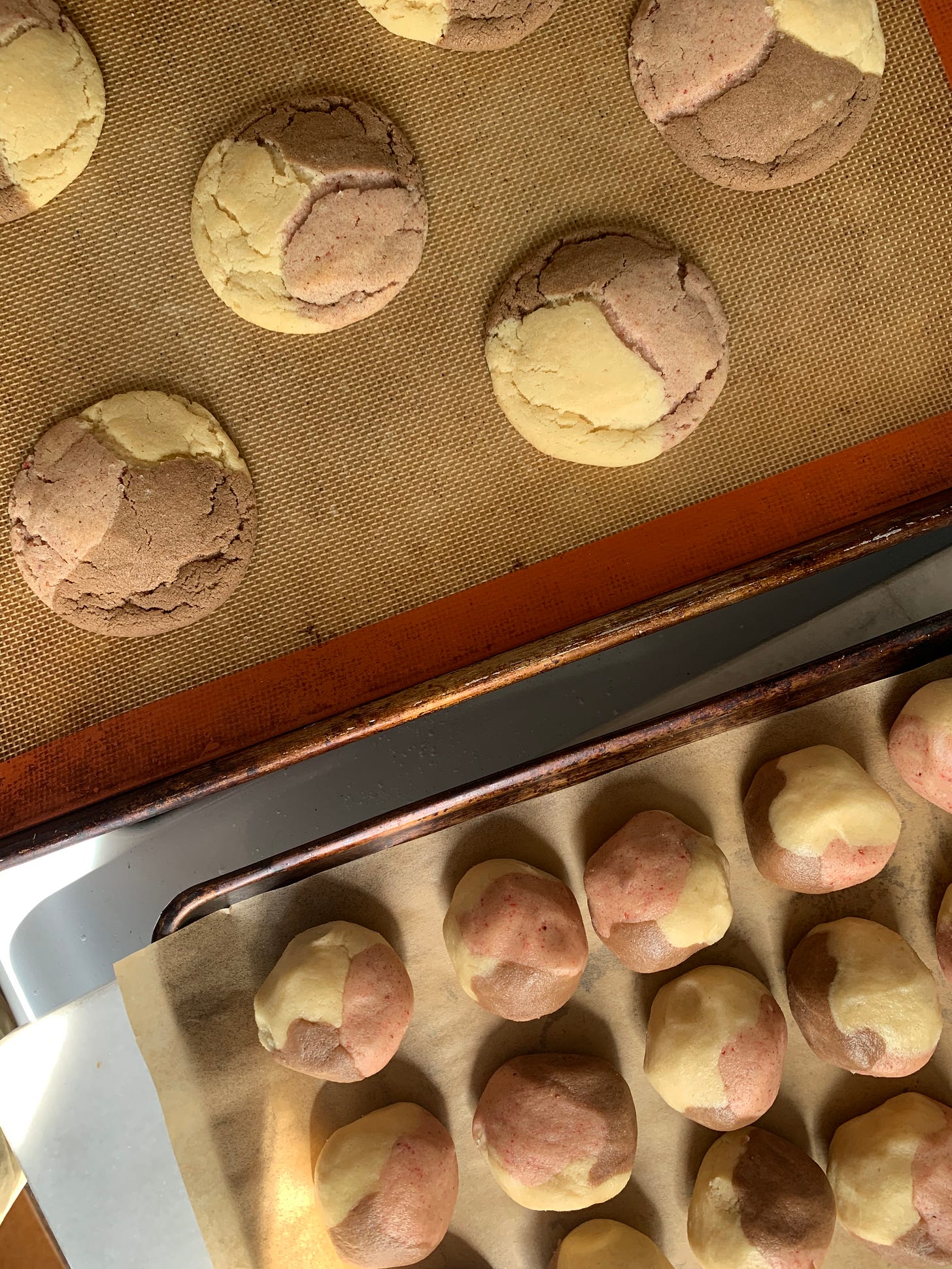 Elena Ferrante is shaking
Markets in New York abound with juicy stone fruit and plump sun-ripened tomatoes, produce fit for a Golden Age still life, replete with its underlying sense of memento mori. Outdoor dining seems to have found its footing, if only until cooler temperatures force us to abandon dining al fresco (looking beyond that threshold, Eater proffers a few suggestions for the restaurant industry's uncertain future). It's the end of the world as we know it, and I? Well, Michael Stipe, I feel fine. Here's what I ate:
Pissaladière, a Ligurian flatbread covered with caramelized onions and an artful arrangement of anchovies and olives. I basically followed Saveur's recipe, which instructs you to cook down some of the anchovies into the onion topping for a nice umami note.

Friend of the newsletter April served us a wonderful beach lunch of kimbap, traditionally eaten in bite-sized slices but in our case enjoyed as noble and dignified logs. 

Neapolitan cookies from Sarah Kieffer's forthcoming 100 Cookies. These highly instagrammable treats were surprisingly easy and delicious; I'm already envisioning a spumoni variation with pistachio and cherries.
(SB) Going home to LA for six weeks was a journey through metaphysical time and space for me. Understandably, my journey back East gave me the emotional bends — it's been a week of fragile feelings, anxious pauses, and inward-directed frustration. In various corners of the internet, from the Nap Ministry to Chani Nicholas's horoscopes for the Pisces full moon, I've seen lots of calls to commit to and allow for rest in our lives. While I'm often still angry at myself for my lack of productivity, I cannot help but be comforted — Chani reminds us that  "Pisces knows the power of restful roaming" and I'm going to go ahead and say that I've been taking notes (JS: FWIW, this pisces has never knowingly roamed restfully).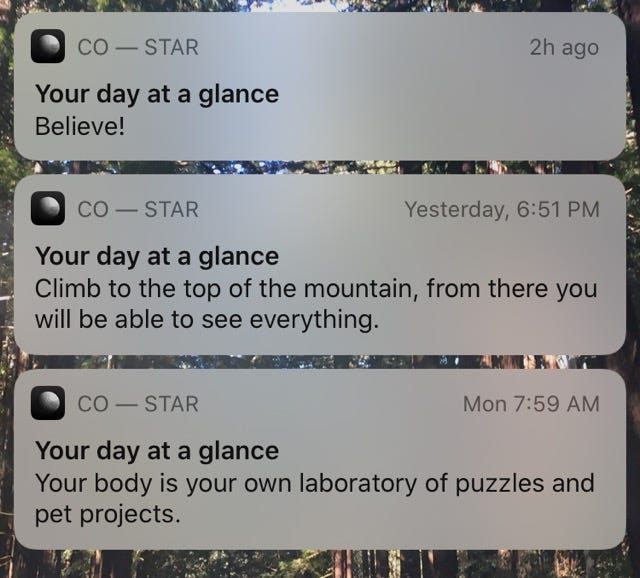 Let me freakin' live?
This season has been about going back to school in my life for just about three decades, give or take some infancy. Absent my own first day of school rituals, I'm thinking a lot about what a raw time it is to be an educator at various ends of the spectrum. A friend told me a story about his brother, a special ed teacher in a landlocked state, who just got word that he's allowed to teach remotely. This was a relief, but the news came with a caveat: he would have to keep his video conferencing software running all day — even when he was eating lunch, or using the bathroom —with a sign explaining his absence. Just yesterday, New York City entered into a truce decision with the UFT to push the re-opening of school buildings for in-person learning until September 21, a precious two weeks to get our sprawling, underfunded school system back into shape. CUNY announced thousands of layoffs and kicked several adjuncts off of their health insurance, as well. I don't really have any analysis to tie this together, but wanted to drag you all down this bleak tunnel with me. 
I haven't cooked much of anything between traveling while obsessively sanitizing my hands, but I did experiment with meeti paratha with my dad, and threw some tomatoes, cucumber, and oregano on hummus as an appetizer last night.  
---
READING LIST: Fall Cookbook Roundup
(JS & SB) After a few months of talking at y'all, we bravely decided to share the mic and see what some of our favorite readers have been cooking. To celebrate the start of the semester, we've gone ahead and put together a little crowdsourced list of cookbooks our friends have especially enjoyed during quar', as well as books they're most looking forward to devouring in the coming months. We hope you find some inspiration in their selections, and encourage you to follow them as well!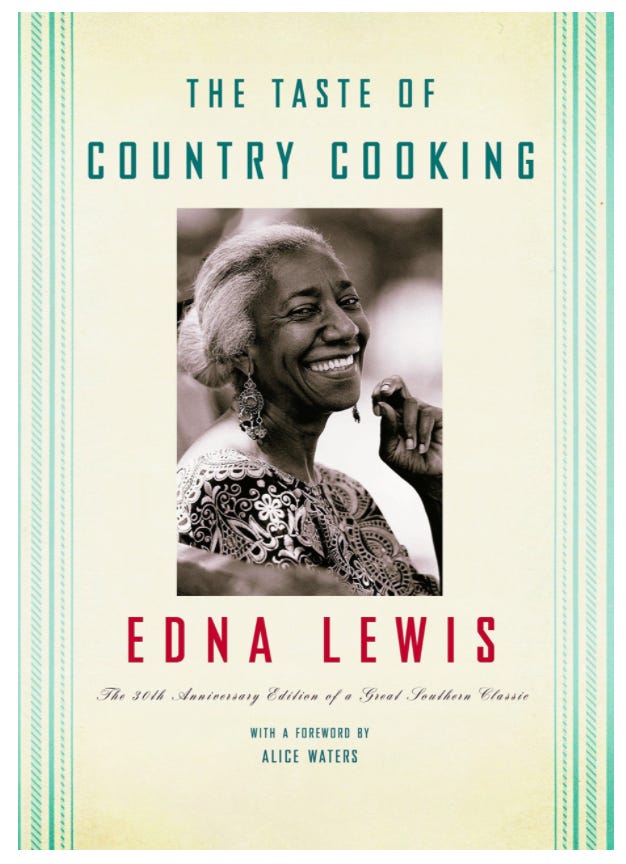 For the reader looking to reimagine the American culinary canon, Dani Dillon, founder of Lunch Group recommends The Taste of Country Cooking by Edna Lewis. "There is something so personal and intimate to Miss Lewis's writing... Each page reads like a nostalgic family story," Dani explains. "The book is organized by composed meals with practically literary titles like 'A Late Spring Dinner with Spring-Hatched Chicken,' 'The Night for a Boiled Virginia Ham Dinner,' and 'Breakfast Before Leaving for Race Day.' Recipes often lead with little anecdotes and the ingredient list rarely surpasses five items. This is a book everyone should have a copy of, and makes the case that Black Southern cooking is the foundation of American cuisine. Also her Garden Strawberry Preserves recipe will change your approach for the better."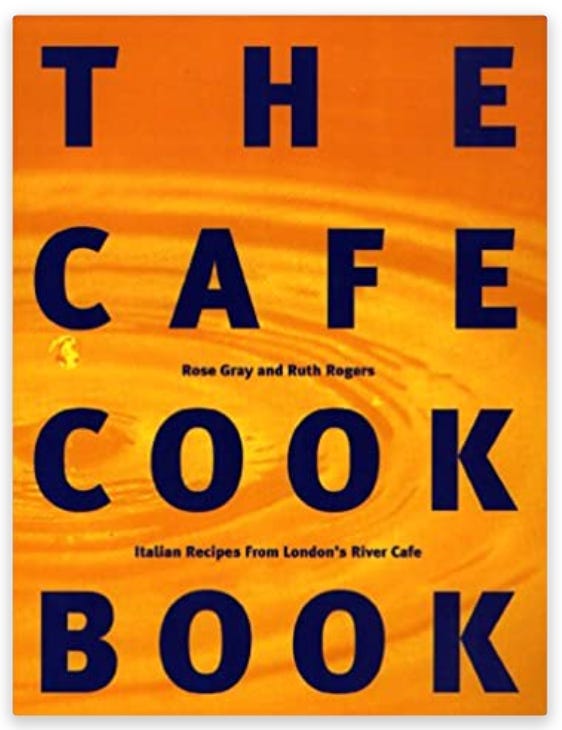 For the reader seeking simplicity, comfort, and a hearty helping of pasta and pizza, costume designer turned mask maven Ava Hama recommends The Cafe Cookbook: Italian Recipes from London's River Cafe by Rose Gray and Ruth Rogers. "There isn't anything in here that's overdone, exhaustive, or over complicated," she explains.  And the book scores bonus points for graphic design, which Ava describes as "impeccable; it doubles as a coffee table book IMHO" (JS: Hama's an authority on all things aesthetic; just look at her pasta).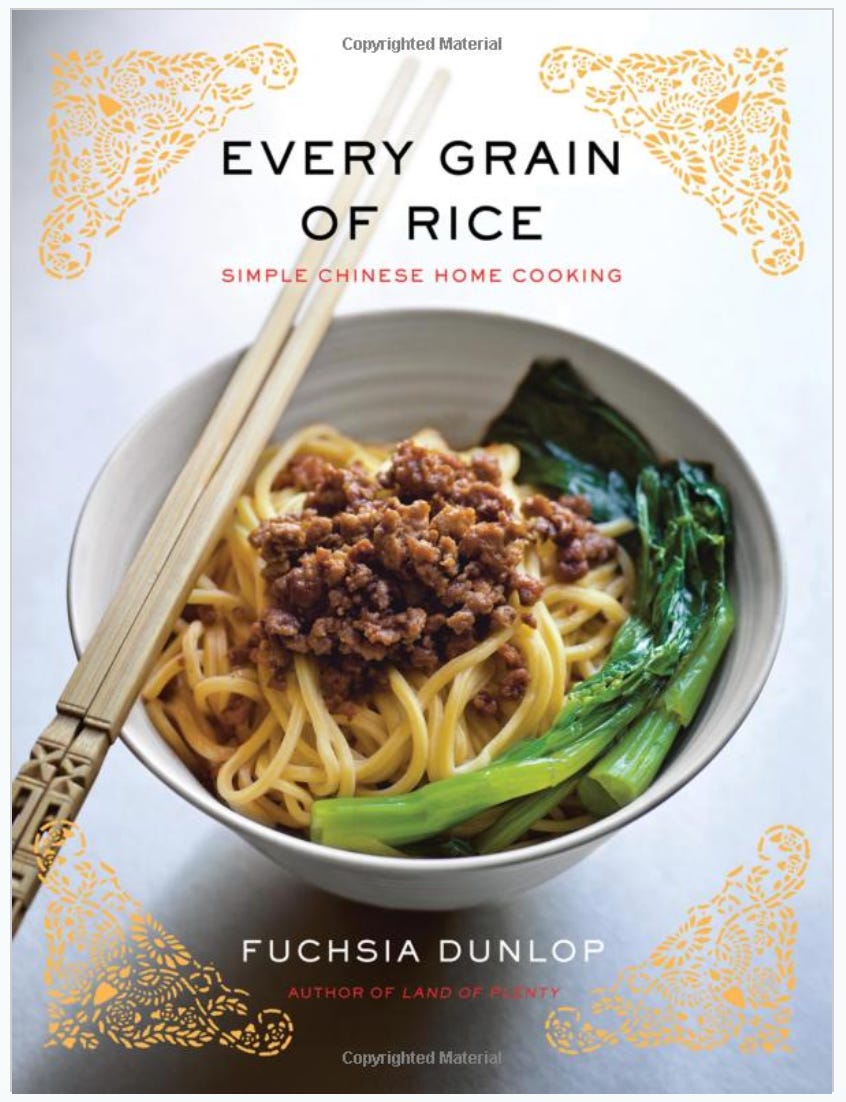 For the reader who's looking to tackle a new cuisine without a full pantry overhaul, formerly landlocked engineer with an excellent grasp of German and a creative flair for peppercorn use Eric Schwartz recommends Fuchsia Dunlop's Every Grain of Rice. Dunlop's introduction to Chinese cooking requires just a few essential ingredients, many of which are nonperishable, and most of her recipes are easily vegetarian adaptable.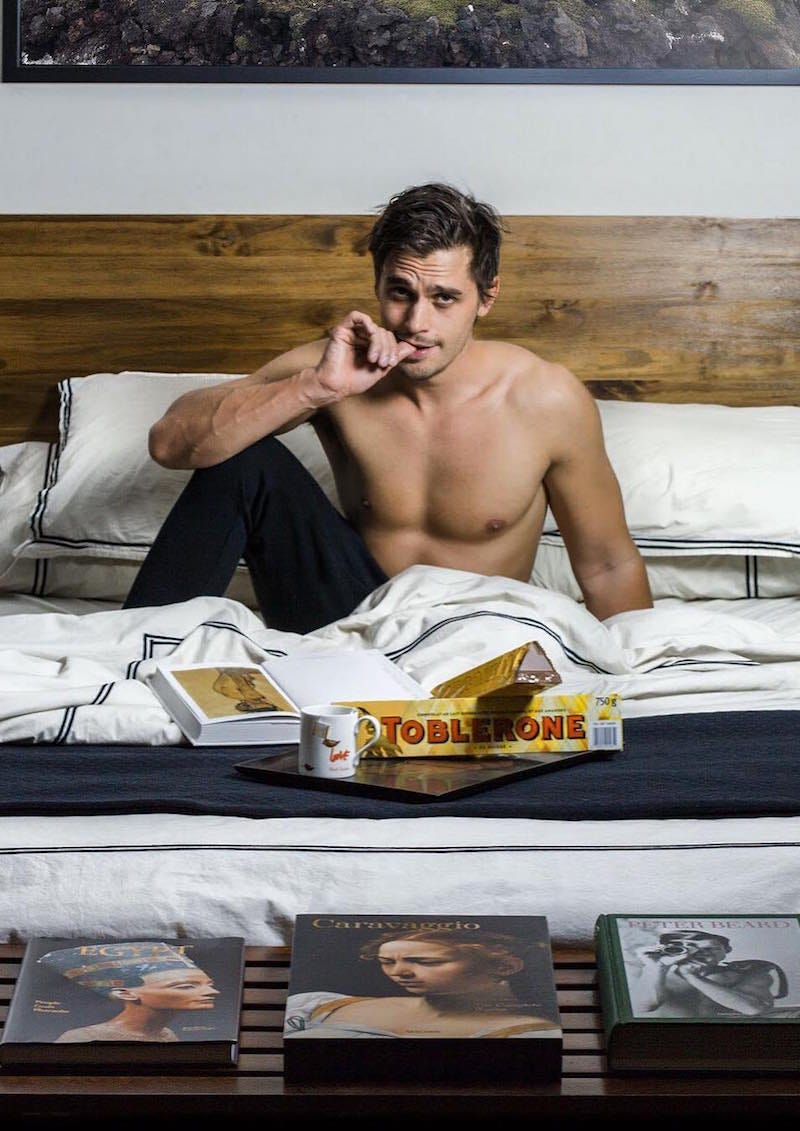 For the reader hoping to get shredded and explore the edges of an avocado, our thirstiest friend of the newsletter Senti Sojwal recommends Antoni in the Kitchen from Queer Eye's alleged food and wine expert. We cannot speak to the quality of the recipes (e.g. the infamous Greek yogurt guac and "fancy" hot dogs), but his sad eyes are indeed appetizing.
For the reader with a taste for fish sauce and robust flavors, restaurant labor agitator Lexi Sasanow is hotly anticipating Angela Dimayuga's forthcoming Filipinx cookbook. In the meantime, you might try her cherry and pistachio salad or coconut chicken adobo as a preview.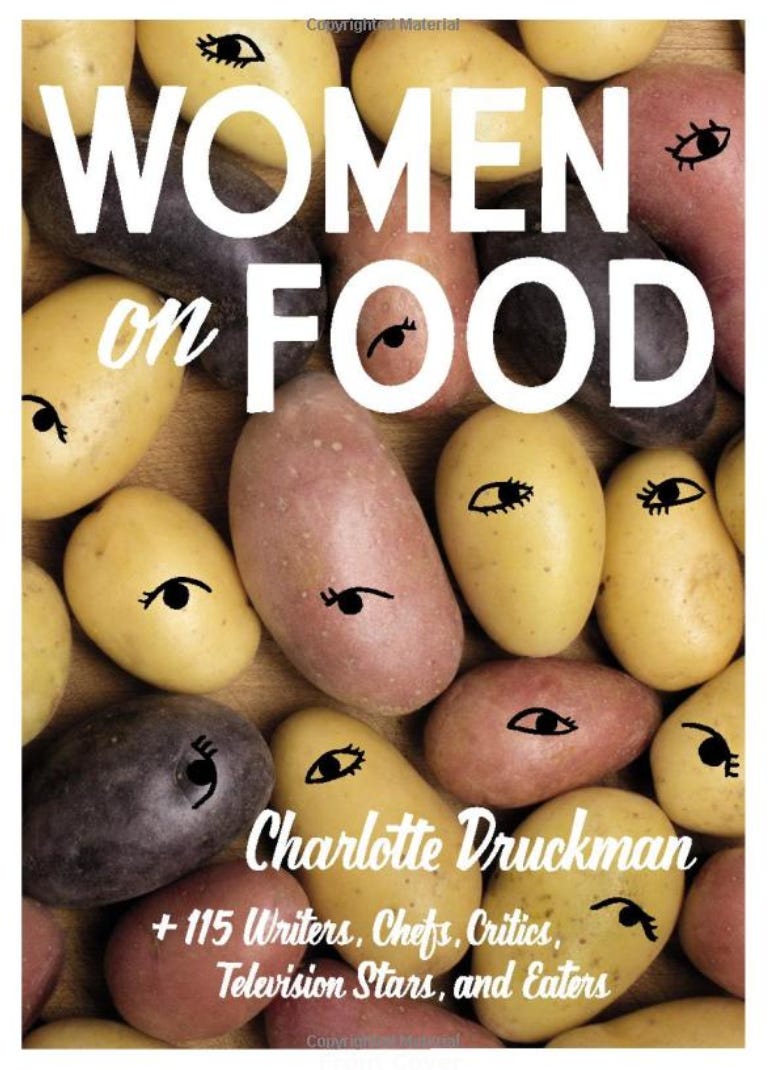 For the reader looking to laugh and think about but not necessarily cook any food, Lexi also recommends Charlotte Druckman's Women on Food anthology. Big ups for anything that we can pick up and put down as our fragile attention spans allow.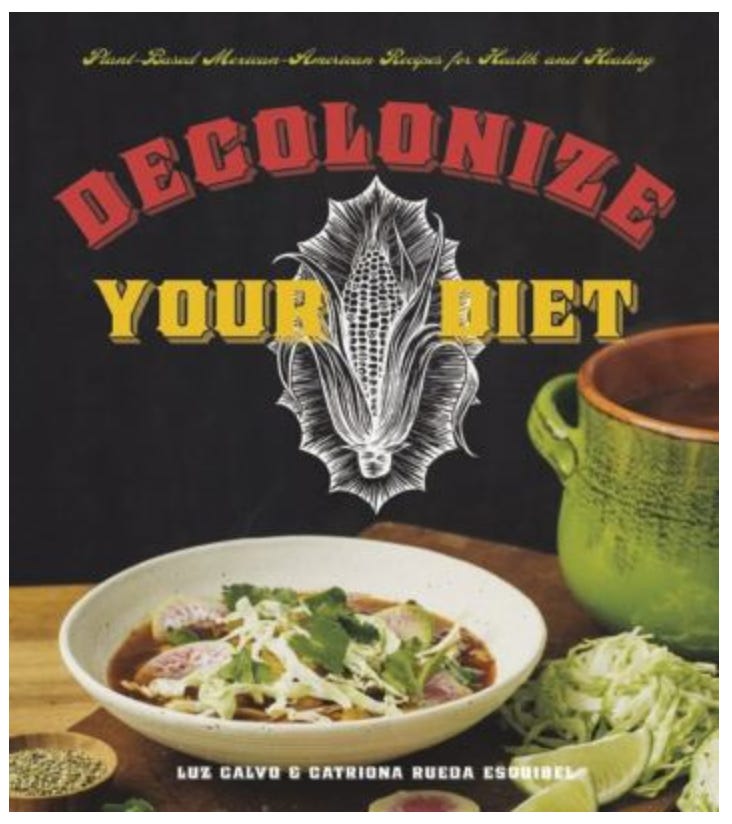 For readers who are seeking a little healing through eating, our favorite disability rights activist and feminist bookstore hype beast Matilda Sabal recommends Luz Calvo and Catriona Rueda Esquibel's Decolonize Your Diet, a cookbook and food history of traditional, plant-based Mexican foods for reviving and thriving. As a bonus: you can buy it from Bluestockings Bookstore!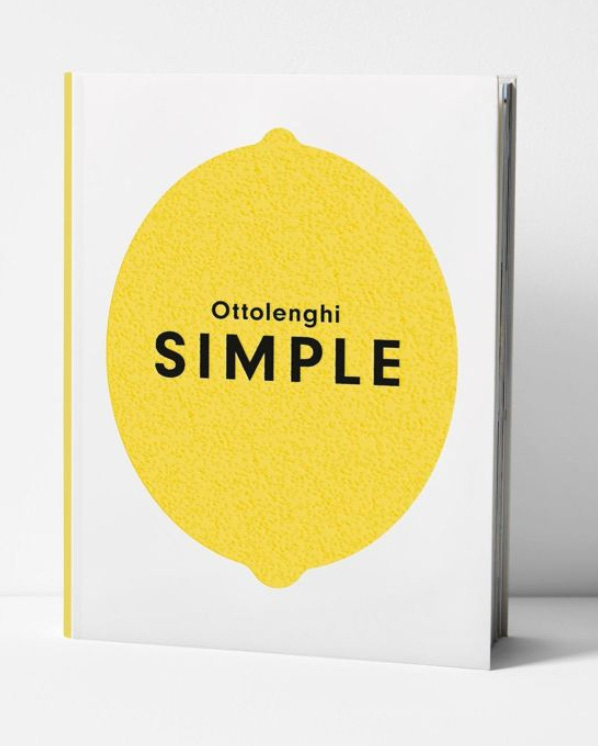 For the reader leaning into vegetable-forward cooking and looking to revive that neglected bag of barberries in the cupboard, friends of the newsletter Maher Ali and Monique Ulysses have found themselves returning to old Ottolenghi favorites. Inspired by his admiration for test kitchen star and fellow Bahraini Noor Murad, Maher has been cooking from Simple. The recipes are easier to riff and adaptthan earlier Ottolenghi books. He especially recommends the deconstructed feta cheesecake. Meanwhile, Monique has been enjoying flavorful fare from Jerusalem, like the roasted sweet potatoes with fresh figs (pp. 26), Na'ama's fattoush (pp. 29), and fried tomatoes with garlic (pp. 50). We would travel to both Bahrain and New Haven to eat at their tables (they seem equally far, for some reason).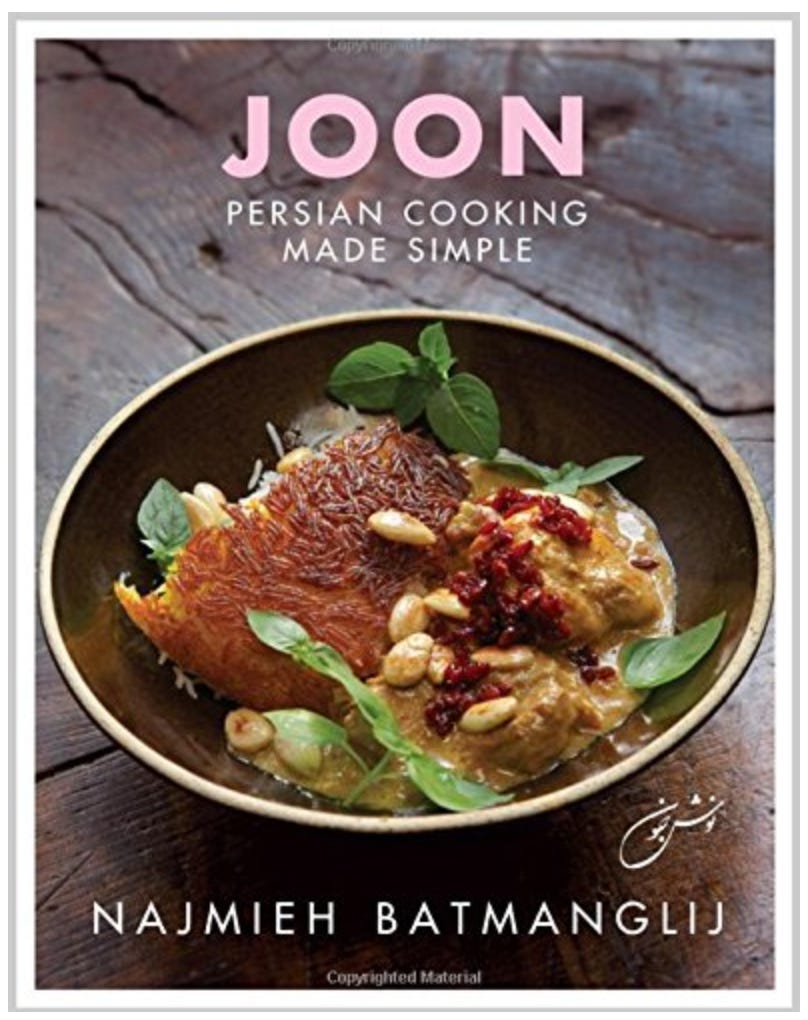 For the reader seeking to diversify their Middle Eastern selections (alternatively: the reader who just can't get enough barberries!), our friends have suggested some additional titles. Maher suggests Baladi from Joudie Kalla, a much welcomed primer to Palestinian cuisine, while Monique recommends Yasmin Khan's The Saffron Tales: Recipes from the Persian Kitchen and Najmieh Batmanglij's Joon: Persian Cooking Made Simple. She adds, "those of us from the rose water cuisines are #blessed and I love getting to try my hand at making dishes from fellow rose water peoples."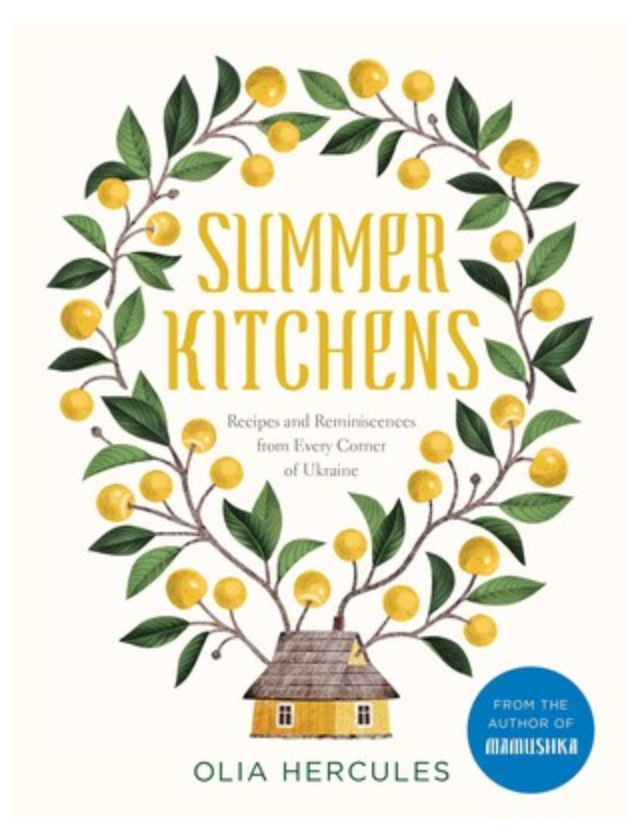 For the reader staving off seasonal depression, I (JS) can't wait to dive into Olia Hercules' Summer Kitchens, a collection of 100 regional Ukrainian recipes inspired by the simple, bare-bones cooking spaces often set up alongside vegetable gardens across eastern Europe to provide space for bulk pickling and fermentation. Also, I'm still on the hunt for a good Ethiopian cookbook, if anyone has ideas.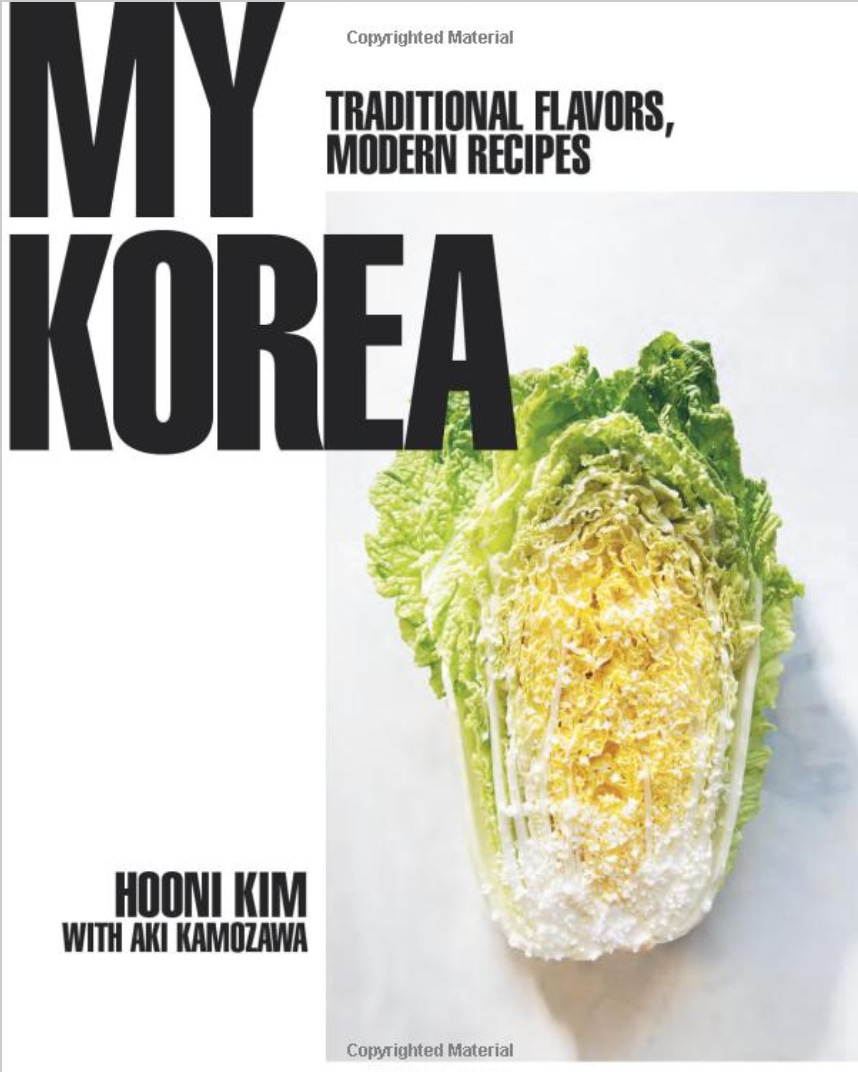 For the reader looking to manage that depression by overspending on pantry expansion, I (SB) am looking forward to checking out Esteban Castillo's Chicano Eats and Hooni Kim's My Korea. The reader looking to cosplay a fantasy life where you get to live in a palatial coastal estate with your mom and EGOT-winning spouse (again, SB) might also mark their calendars for Pepper Teigen's forthcoming Thai compendium.
---
TMYK: Bloody Marys? Bloody Maries? Bloodies Mary?
(JS) It's no secret that here at Digestivo, we like a drink that doubles as a snack. Salonee and I have long sung praises of the Bloody Mary, a savory cocktail all too frequently limited to daytime consumption, and are prepared to fight the mimosa heads for the best hair of the dog title. But if 2020 be the year of "fuck it, no rules," indulge us and embrace the all day bloody movement.
Unsurprisingly, a better bloody starts with a better mix. A quick google search yields many upmarket options (McClure's; Toma; Stonewall Kitchen), but nothing quite compares to Gabrielle Hamilton's signature recipe, a perfectly harmonious blend of likely familiar grocery store staples. The chef herself waxed poetic about her bloody game in a May issue of NYT Magazine, hailing the mix "as good virgin as it is spiked" (this writer cosigns). Hamilton is particular about the brands (Sacramento tomato juice; Gold's prepared horseradish; Lea & Perrins Worcestershire; Tabasco), but none is especially chichi and all are easily attained at most markets. If you're feeling so bold as to swap for something you already have on hand, I'd go with the hot sauce (this is a Crystal house after all) but otherwise I'd stick to her guidelines. A heavy pour of fresh lemon juice keeps things light and punchy, while the prepared horseradish adds just enough body along with some bite. Grab some quality vodka and you're good to go. One could spruce it up with something subtly flavored, or perhaps a homemade infusion, but personally I'd argue this is a less is more situation -- stick to something simple like Tito's or Stoli.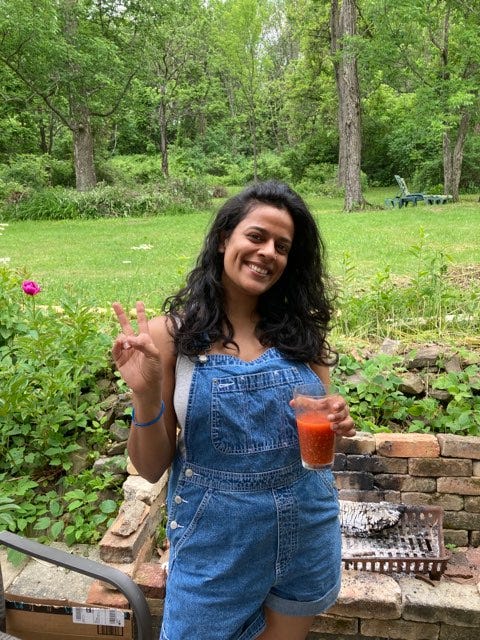 Letting me freakin' live!!!!!
(SB) Above, Jake has taken you through what we agree to be Bloody Mary Best Practice: a well seasoned mixer, available for virgin or spiked drinking. It's unfussy but measured, down-to-earth but not lacking direction. If you only make one Bloody Mary recipe, let it be the one above. 
Some of my favorite Bloody Marys out in the wild, however, have been a little bit dangerous and a little bit unhinged (JS: I can barely breathe). The Bloody at Zeitgeist, the last fun bar in San Francisco, incorporates a heaping tablespoon of horseradish and about a fifth of Tito's — the kind of drink for when you're feeling a little bit more Natasha Richardson in The Parent Trap than Martha Stewart on the WASP scale. The Bloody at the Mermaid Inn (RIP EV location) featured a hearty shrimp claw; when lacking abundant shrimp cocktail, I'm partial to the briny wash of a clamato Mary, myself. If you visited me in college, chances are high that we braved a long line to split the Bloody Mary seasoned with candied bacon at Jacob's Pickles (JS: TBT to more shared mediocre college bloodies at long-lost NOHO haunts The Lobster Joint and L'Apicio). Once, after a particularly demoralizing day in Southern Connecticut, my roommate Henry and I discovered a truly delicious "Slumdog Mary" the size of my head at a strip mall Indian joint. 
That is to say: this is an adaptable formula that, in my opinion, exists to be tinkered with. There's no room for shame in this pandemic. Currently, I'm partial to a combination of V8 Spicy Vegetable, a hearty squeeze of lemon, horseradish, Tito's, a dash of clam juice, chaat masala, and several grinds of pepper. I've had particularly good luck with subbing horseradish for wasabi, aquavit for vodka. I just placed an order for some sambal, and you better believe it's going in a Bloody sooner rather than later. 
---
USE A CONDIMENT: Are Garnishes Condiments? 
(JS & SB) We would be remiss to discuss bloodies and not address the crucial question of garnishes. Traditionalists stick to celery, lemon, and perhaps a few olives, while the more indulgent among us will insist practically anything (shellfish, large and small; sliders; fried chicken) can be speared and or sliced and slotted along the rim. 
I (JS) have been known to enjoy a slice of crispy bacon laid across the top of the glass, perhaps briefly employed as a stirring device and then promptly devoured, but if I had to choose one garnish only, it would be the tomolive, which looks and sounds like an olive but is in fact a pickled green tomato. These babies are excellent in a bloody and even better in a dirty martini (Prune has split the difference with the so-called Ghost of Mary, a vodka martini flavored with tomato water, made by straining down extra bloody mix).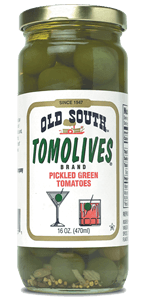 Pickle game strong, branding could use some work (hire me???)
I (SB) am a glutton for basically all garnishes, but am prone to maximalism: why do two olives when you can request six? Classically, I have been a big fan of the too-big-to-fail garnishes of the midwest: give me a beer chaser, cheese stick, and a slim jim and call it a party. On a more reasonable scale, I am partial to all manner of pickles, beyond the traditional dill. You can transform the regional vibe of your Bloody by garnishing with green beans or okra, carrots and jalapeños, or even some pickled green chiles and garlic. 
---
PERMANENT ROTATION: Marian Burros' famed plum torte, a quick and easy solution late for summer stone fruit; I (JS), like my mother, am known to bake these in bulk, as they freeze exceptionally well. You can use an 8, 9, or 10-inch springform — my mom prefers the smaller tortes, which bake up higher, but I usually end up with one of each, because my pans came as a set and the bake time hardly varies.
---
WISH LIST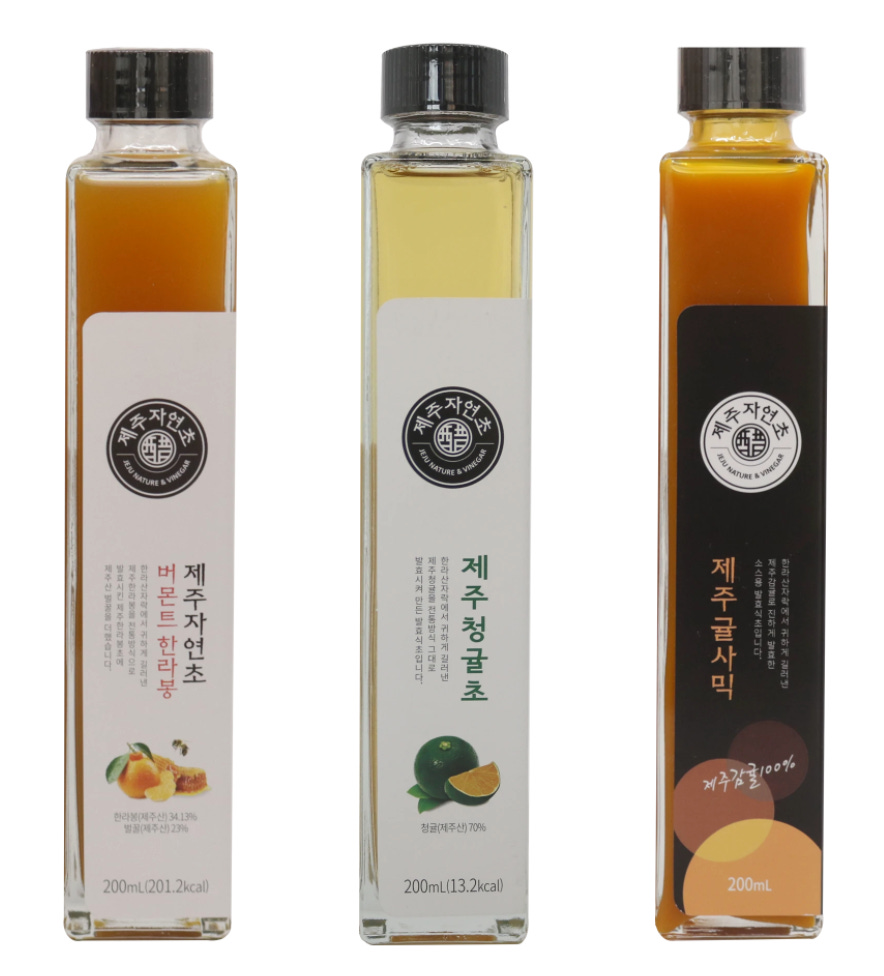 (JS) Salonee's My Korea recommendation reminded me of a Zoom event I attended in May where Hooni Kim plugged online retailer Kim'C Market for premium pantry products. I'm unsurprisingly intrigued by the fermented section, especially this set of three citrus vinegars from Jeju island.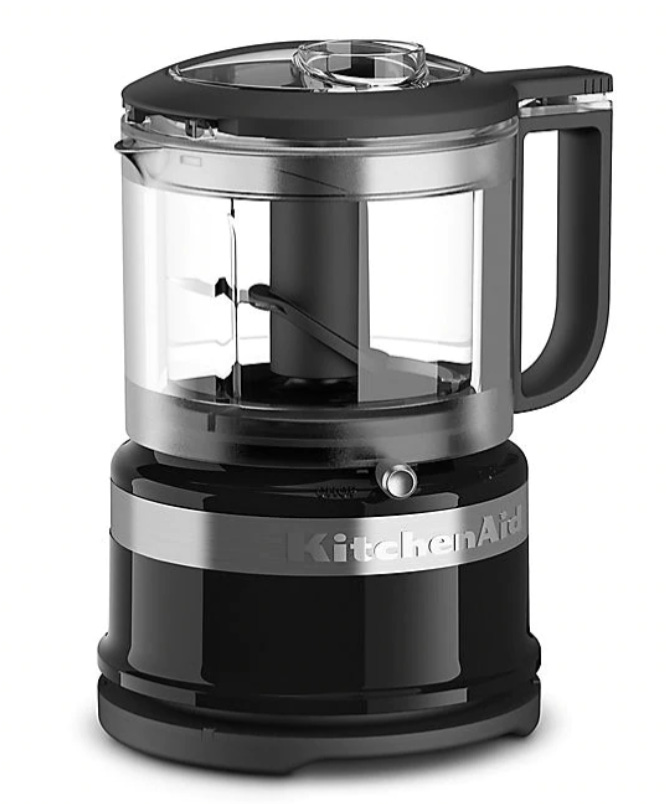 (SB) Counter space is precious (non-existent) in my kitchen, and I've tried to avoid my tendency towards maximalism (JS: lol ok Slim Jim). However, I'm coming around to needing a cute lil' mini food processor.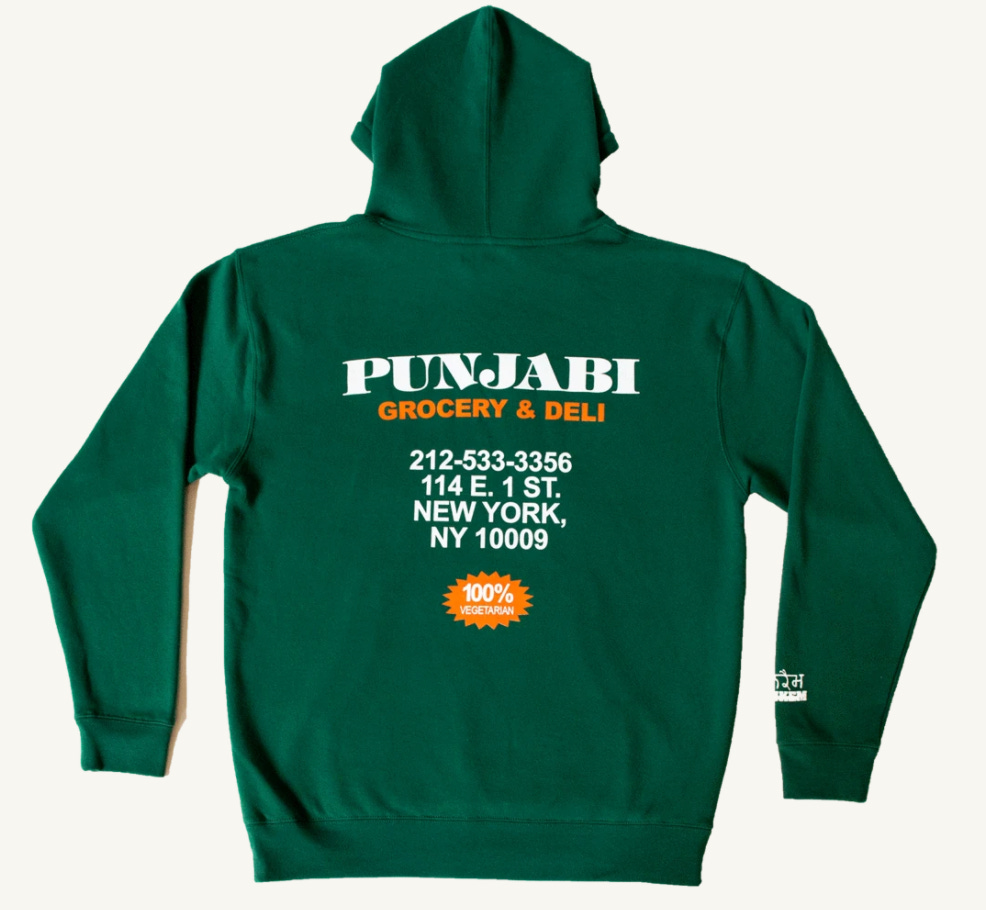 (JS & SB) These sick Punjabi Grocery Deli sweatshirts have all been scooped up, but you can still donate to the extremely worthy cause of keeping this LES essential eatery open in our trying times. Beloved by taxi drivers and hype beasts alike, Punjabi Grocery Deli has a samosa and combo plate for anyone looking for a delicious meal under $6 or a taste of filter coffee while waiting for their boyfriend's gig to get started.