012: Cafe Gratitude
I am expansive. I am dazzling. I am loling.
(JS) My dear, delightful subscribers: thank you kindly to all who reached out to us following last week's apparent downer of a newsletter. While we tend toward self-deprecating humor as a coping mechanism, we also acknowledge how blessed we are to have such caring readers send words of empathy and encouragement during these less than ideal times. We also wish to reiterate that should something in our humble prose resonate with or inspire you, please let us know! We love nothing more than receiving your feedback (also we're deeply selfish).
Somehow we've made it to August and I have basically nothing to report aside from an increasingly unhealthy appetite for television. Per Salonee's rec, I dove into Indian Matchmaking and will reluctantly confess that Pradhyuman, Mumbai's sad-eyed prince of molecular gastronomical peacockery, really charmed me. Speaking of royalty, on Friday the queen did it again with Black is King, a visual feast and much welcomed dose of excitement during an otherwise humdrum weekend. I May Destroy You does in fact destroy me week after week; fortunately The Real Housewives of Potomac is now airing on Sundays to revive me.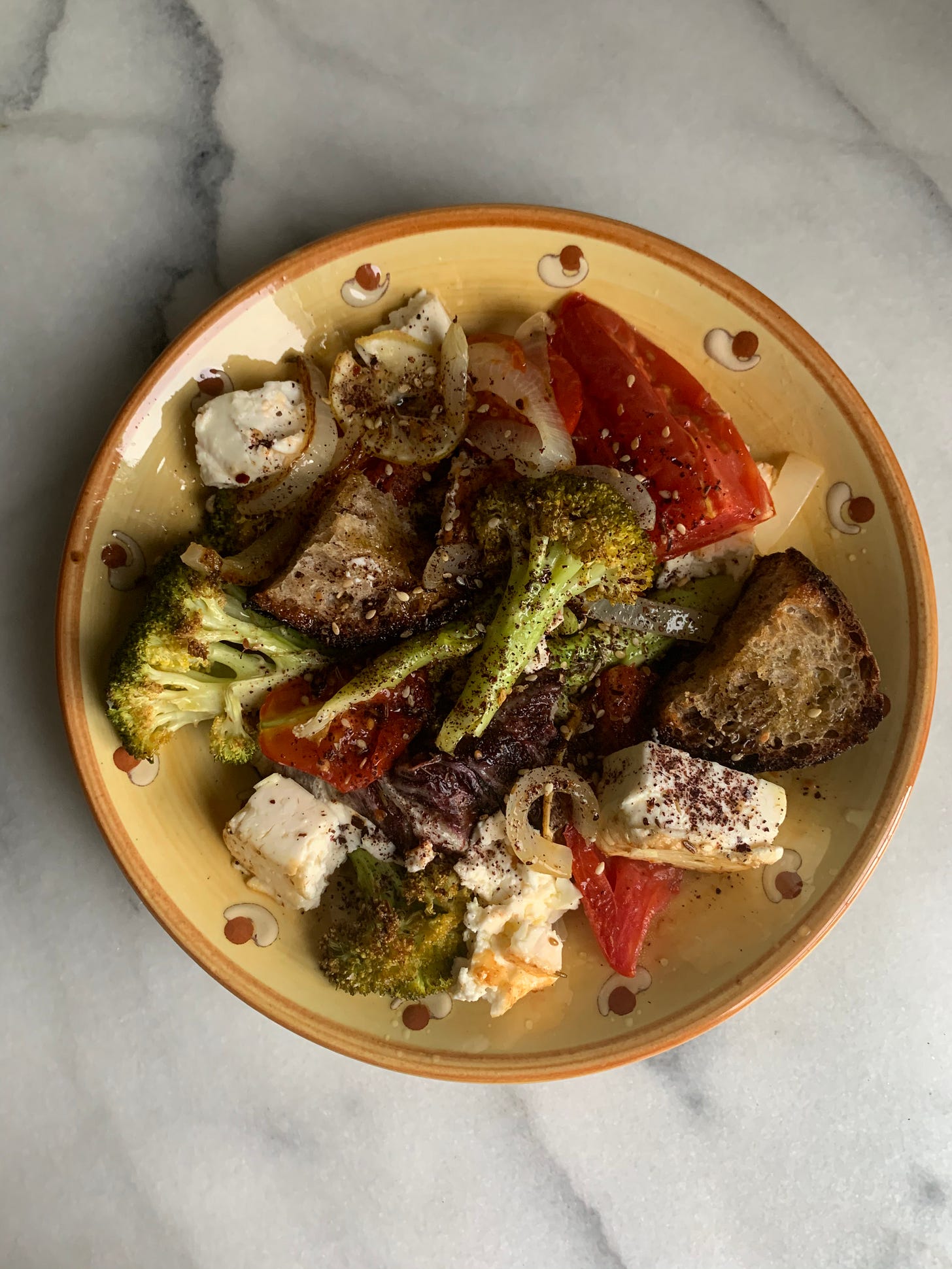 Permanent Rotation feta situ feat. broccoli
TV tendencies aside, I'm still feeling a bit directionless and strangely guilty in a month normally reserved for R&R. I sought inspiration Saturday at the farmers market but was thwarted by social distancing requirements, walking away with a quart of subpar sugar plums and a few rock-hard local peaches selected by the vendors. Changes like this of course pale in comparison to the waves of garbage caused by COVID, but still I find myself missing these simple sensory (and evidently strictly American) pleasures. I suppose this is yet another instance of learning to roll with the punches and be thankful for what I've got.
My Oprah-style gratitude list is as follows:
Tomato mayo toast, in the style of Harriet the Spy (SB: I've been eating a lot of this, too!)

My latest Misfits haul included a comical amount of broccoli. Thus far I've enjoyed a couple cheesier preparations (rigatoni/sausage/garlic; sauteed with melted cheddar) and a Sichuanese stir fry (alongside excellent gong bao chicken, both from Fuschia Dunlop), but I've still got a couple heads left. Suggestions welcome.

The aforementioned plums made for a mediocre clafoutis, but really sang alongside some black cherries in a Jess Hicks-inspired galette with frangipane 
(SB) Sweet subscribers, I will begin by wholeheartedly echoing Jake's comments above; we feel very lucky to have a community of talented and thoughtful people who graciously stepped in to our inbox last week to offer good wishes and helpful prompts to get thinking creatively about all the ways to spend a life. 
As I round the corner on my third week in Los Angeles, in my parents house, my own cooking has taken a back seat to eating both home-cooked and hometown favorites. I've been taking long, early walks on the beach with my mom and spending a lot of time in the car (windows down, masks on) with friend-of-the-newsletter Jessie. Even though this libra has historically been very good at convincing friends and loved ones to drive her places, I've been practicing my own driving, which I tell myself is because I want to choose to take the subway. If our COVID times are divided into chapters, this one feels strangely reminiscent of high school: we're all just teens (JS: I prefer "adult children"), looking for places to socialize that don't require you to order refreshments and where you can't be overheard by any parents.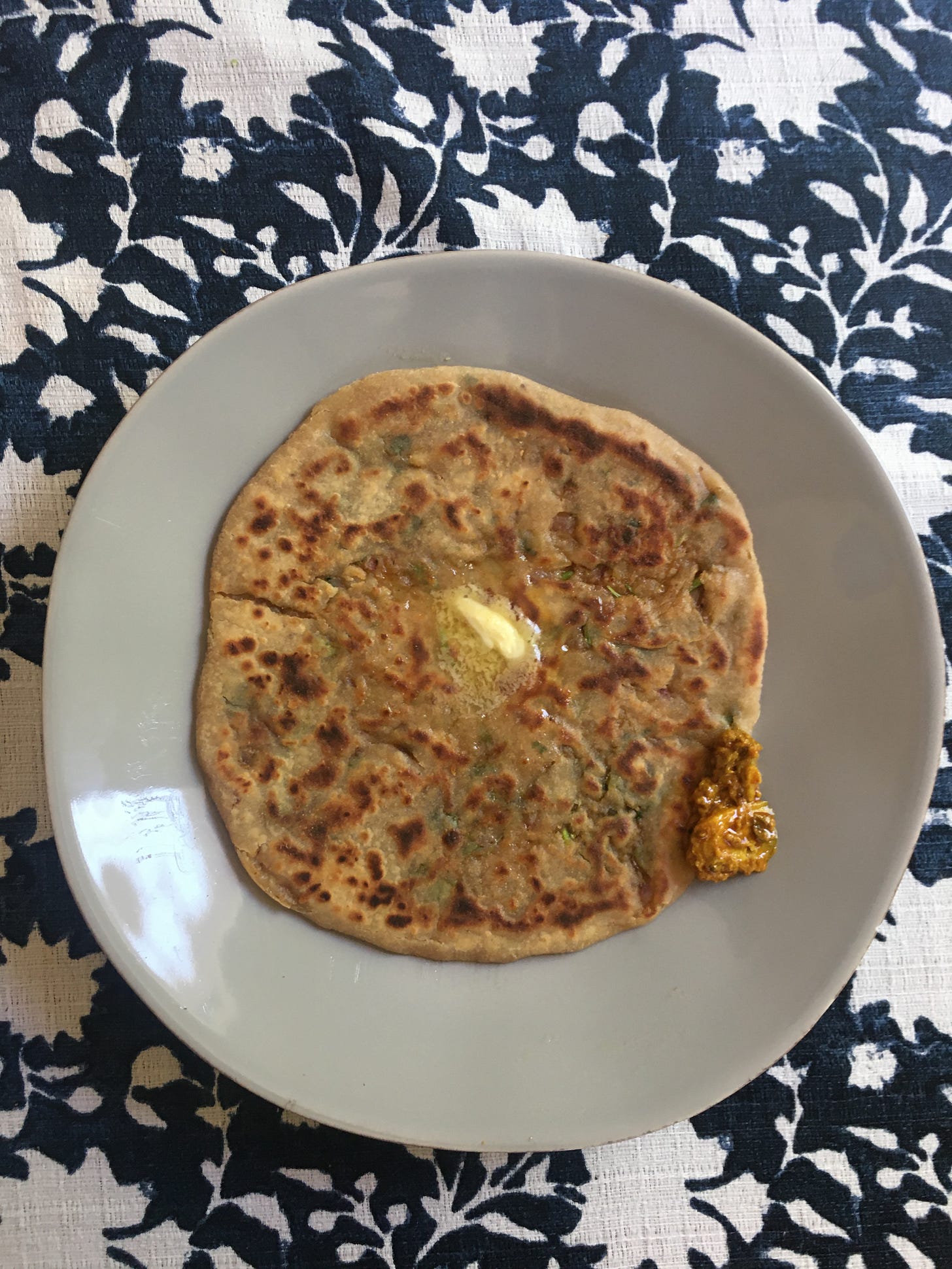 It's layers to this shit
I'm doubly blessed to be able to spend Saturday morning's at the strictly-distanced farmers market, in an orgy of produce so beautiful I bet it would make you cry if you saw it in the middle of February in New York. At the risk of summarizing the wave of "California cooking" books that continue to pervade the shelves, I've mostly stuck to minimally freestyling with these imperfectly luscious tomatoes and delicate berries. I even made peace with the fact that da avocado guy may never make it up to Inwood after purchasing four beautiful and perfectly ripe (in fact, kindly selected to ripen as follows: two for the weekend, one for midweek, and one for Friday) avocados. Live in the moment, you know? 
This week I ate:
Aloo paratha, a weekend brunch by my Dad. Best served with a pat of salted butter, mango pickle, and a nap if you know what's what.

A meal of pan con tomate (JS: aka pa amb tomàquet; shoutout my senior year semester of intensive Catalan) and slow roasted purple tomatillos (onion, olive oil, garlic) with quinoa and lentils.

Crispy paneer! It should squeak when you bite it, babe. 

This wasabi-tahini chicken salad from the NYT's Sue Li, which ran a little dry for me.
---
TRASH TALK: Berries With Bite
(SB) To be frank, a moldy berry has always felt like a searing indictment. They stare up at me, from their little compostable crates, fuzzy with evidence of my laziness and neglect, and seem to say "See? Which was it? Were your eyes bigger than your stomach, or did you hoard me for some special purpose that will now never come to pass? Did you forget about my sweet tender kisses?" To make your berries last, you shouldn't wash them until you're ready to eat them. If you're lucky enough to catch early signs of something awry or moldy you should technically toss the whole package. If, like me, your attitude is a little more "sure, spores, whatever" (JS: wow three weeks in LA and she's gone full Sqirl) you can discard any berries with obvious mold and soak the remainder in a 1:3 white vinegar : water solution.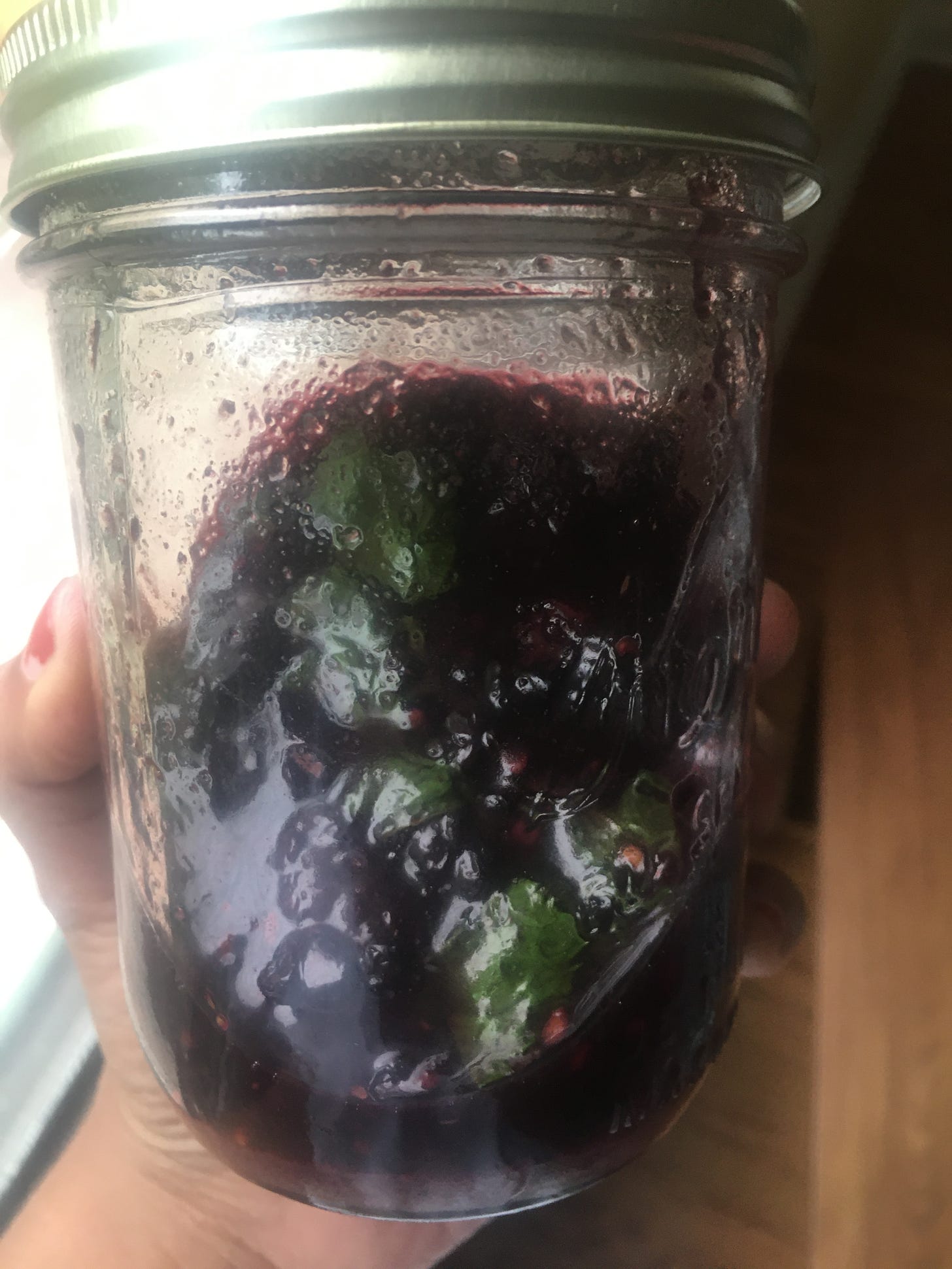 Making the most of mold on
the west side
Then, you can either cook them into a little coulis, or crush them into a cocktail mixer. After investigating the process of making a shrub with my over-the-hill blackberries, I settled on a preparation I could enjoy without a four week fermentation. Essentially a riff on Deb Perlman's blackberry gin fizz, I combined about a cup of blackberries with roughly the same amount of sugar and a few sprigs of mint in a jar and let the whole thing macerate overnight in the fridge. Then, I crushed the berries with the back of a spoon and strained the mixture through a sieve. Mix with gin, pour over ice, and top with seltzer. 
---
HOT IN HERRE: Marinated Veg
(JS) Hot take: while an artfully arranged platter of grill-marked summer's bounty may thrive on the 'gram, summer produce fresh off the barbie often lacks flavor. Luckily with a little forethought and a few pantry staples you can easily perk up your vegetables for optimal eating. 
First off, I'd recommend serving your vegetables at room temperature. Anyone who's tasted a vigorously bubbling tomato sauce can tell you that hot watery vegetables will taste… well, hot and watery. Unless you're making fajitas, resist the desire for sizzling presentation and let those bad boys rest. Much like with a hot steak or warm cookie, a little wait time will seal in natural flavors and yield a slightly more toothsome texture.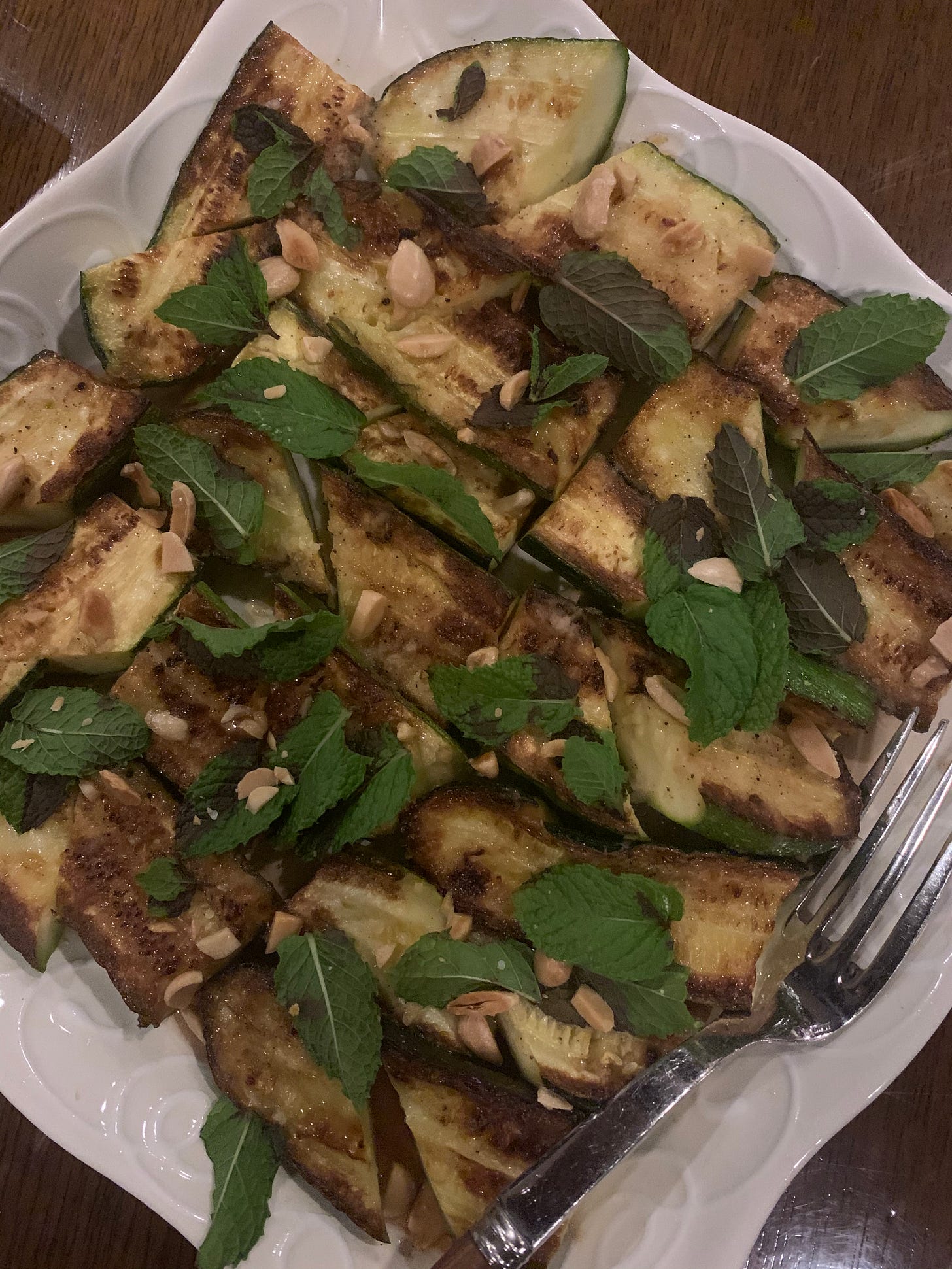 Zukes marinated in chive blossom vinegar with marcona almonds and mint
While your vegetables are cooking, whip up a zippy marinade using your preferred wine vinegar. I'm partial to sherry, but feel free to experiment. Combine roughly 2:1 vinegar and olive oil, add a pinch of sugar and salt to taste. Feel free to jazz it up with some grated garlic and chili flakes, or perhaps a couple spoonfuls of capers. Pour this over the veg while they're still warm, tossing them in the marinade to make sure they're evenly coated, then let them cool to room temperature, at least 30 minutes. Finish with a flurry of fresh herbs. Mint and basil are especially lovely in the summertime, but use whatever you like.
This technique is great for summer squash and zucchini, but also works wonders with onions, peppers, eggplant, and mushrooms. And if you're not up to grilling, you can also try this with sautéed and oven-roasted veg.
---
TMYK: #EggplantWednesdays
(SB) Eggplants require intentional cooking. In my experience, they can be complex, silken, and full of flavor, but often tend towards bitter and a little spongy. Here, I offer you all some aggregated eggplant thoughts (JS: off the Twitter but h*rny on main).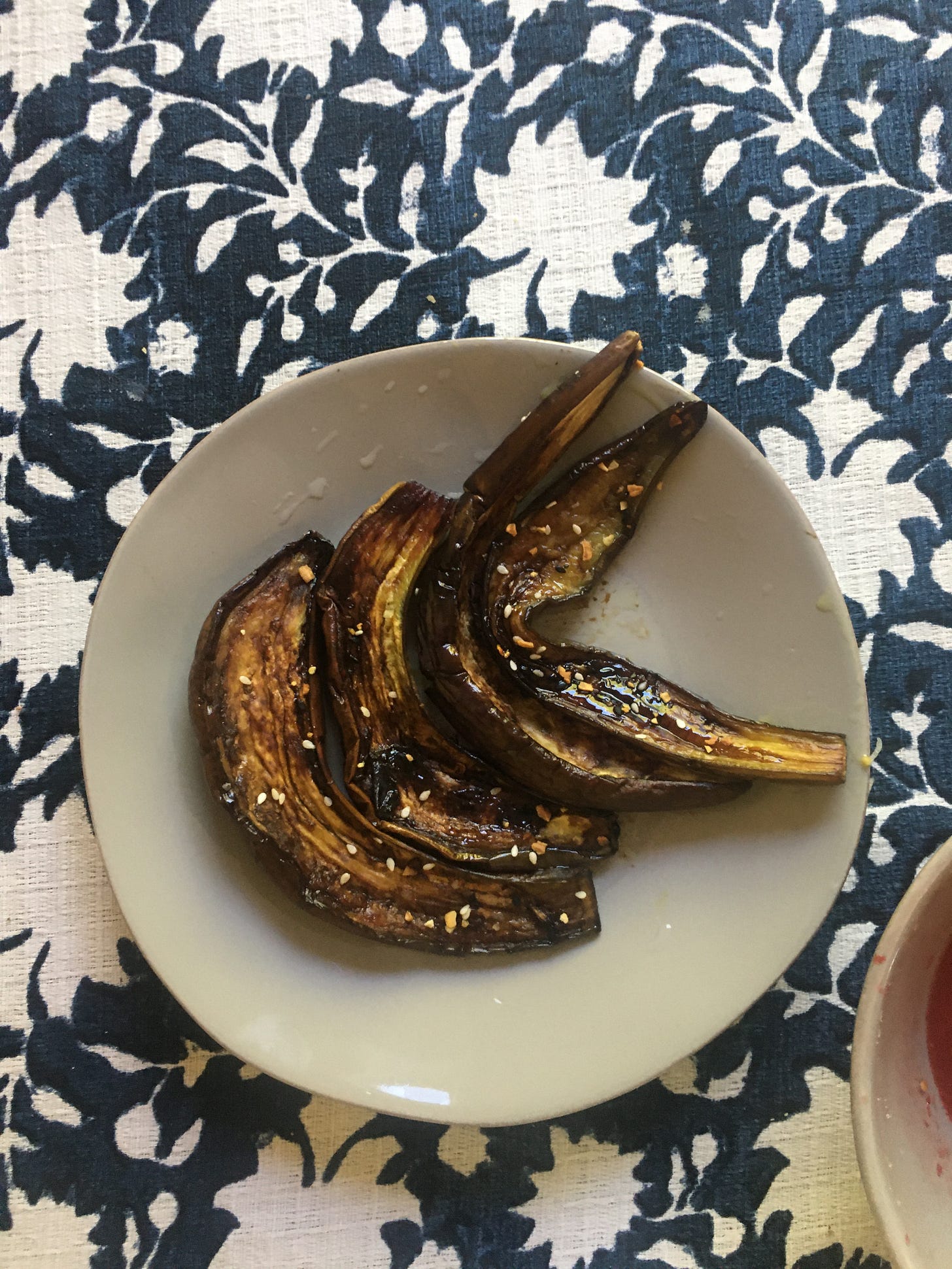 First, if your eggplant dish involves dicing or slicing, salting the eggplant's flesh and letting it sit for as long as you can wait goes a long way towards reducing both cooking time and bitterness. Wipe off the condensation before cooking. If you're cooking a whole eggplant over a flame, a la baingan bharta, note the size of your eggplant (JS: 😈) and plan accordingly -- it'll take a lot longer for a larger eggplant to cook through than it will for the skin to blister and char. You can always wrap your hot eggplant in some foil, or place it in a bowl and cover with saran wrap to take advantage of the residual heat. I believe that you're best served by discarding the seeds when you finally peel it, as they can be bitter and unpleasant. 
If you're lucky enough to find long, rather thin Japanese eggplants in your part of the world, this loose preparation has been on repeat in my household. In short: slice your eggplants lengthwise, salting both halves. Lightly score the backs of eggplants and blister them in a hot, preferably nonstick, pan, with a little slick of olive oil. You can start on either side of the eggplant, but make sure to leave them untouched for about 5 minutes a side. Then, cover your pan and let them steam for 2-3 minutes. The eggplants should now be mostly cooked through, and you can transfer them to a sheet pan to season, skin side down. Prepare a glaze: you might try a combination of miso paste, ginger, and garlic; tamarind paste, sesame oil, and honey; maple syrup, soy sauce, and gojuchang… the possibilities are endless. I like to go a little salty and sweet, most of the time. Brush the mixture on the eggplant flesh, and broil them for about a minute.
---
PERMANENT ROTATION: Baked feta. Try it basted with honey and thyme for an easy appetizer spread, or add slices to a sheet pan stacked with broccoli, tomatoes, onions, and whatever else you've got (JS: radicchio wedges and bread heels!), bathed in olive oil and roasted for a quick weeknight dinner. Spice as you wish and don't forget a squeeze of lemon.
---
WISH LIST
(JS) I'm still trying to wrap my head around Tuesday's explosion in Beirut, a city that has historically weathered such multilayered hardship but remains among the most hospitable places I've ever visited. Both this guide and the Impact Lebanon campaign have been circulating on my social media feeds, and GQ Australia has compiled a few other organizations related to food and housing services as well as mental health, but if any of our readers know of verified, more direct ways to help, please let us know.
(SB) Tenants in housing court are far more likely to be evicted if they lack legal representation. Though New Yorkers 200% below the federal poverty line are technically entitled to counsel in housing court, many are still left without reasonable access to representation if they face eviction. Half of the proceeds from band-with-the-newsletter Northern Ramble's new cover of The Weight will benefit Right To Counsel NYC. The other half will be sent to The Food Bank For NYC. Both are worthy causes to rock out to, in my humble opinion.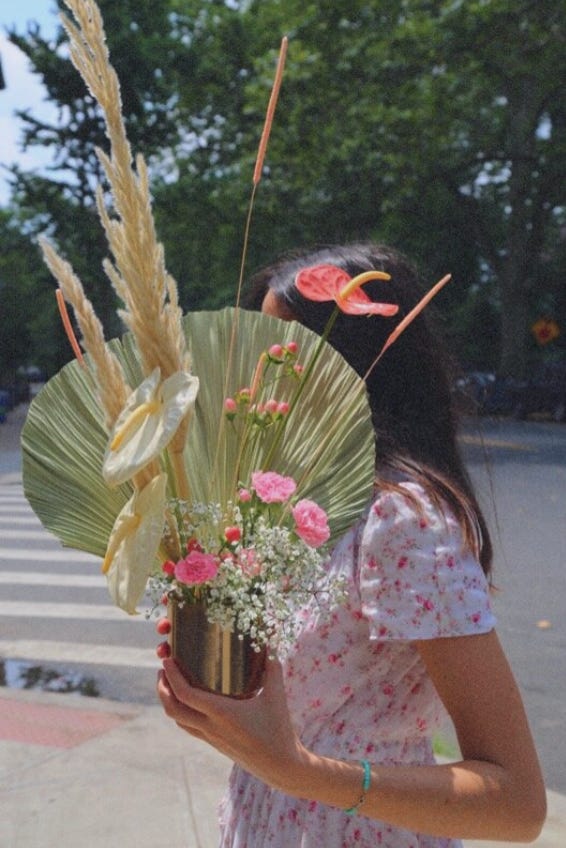 (JS & SB) We're eyeballing arrangements from friend of the newsletter Kyla, who just launched her floral design studio Tiny Feelings here in the city. The flowers are simply gorgina, and we love her mission to find joy in the everyday, as well as her commitment to waste free packaging and production. Preorder now at her website.