011: A Tepid Cup of Ambition
You would think that we would deserve a fat promotion
(SB) Hey beautiful subscribers, how's it going? Not to be weird and jump right in, but how do you find a job? I just turned to the 1-800-CONTACTS online eye exam for the third year in a row (!) and the experience has sent me into a little bit of a tail spin thinking about the glorified ponzi scheme I chose as a career (JS: what's a ponzi scheme?). In addition to dental/optical insurance and a living wage, I miss the sense of self worth and confidence that I experienced in work settings that don't rely primarily on negging and gaslighting as tools of labor control (JS: I don't know her). Fellow reddit/r/relationships lurkers will be familiar with the strains of "sunk cost fallacy" currently worming their way through my brain, and I'm now turning to all of you to be my tough love commenters: how do you find a job, when you've been out of the game for a while? What do you all think I'd be good at? Should I take a freaking data science class? Did you know you have to go to school for hundreds of years to be a therapist, even with a lifetime of experience? What is law school? In lieu of a coherent plan for my life, I extend to you all a genuine offer to commiserate about your professional lives -- bad bosses, layoffs, microaggressions -- text me!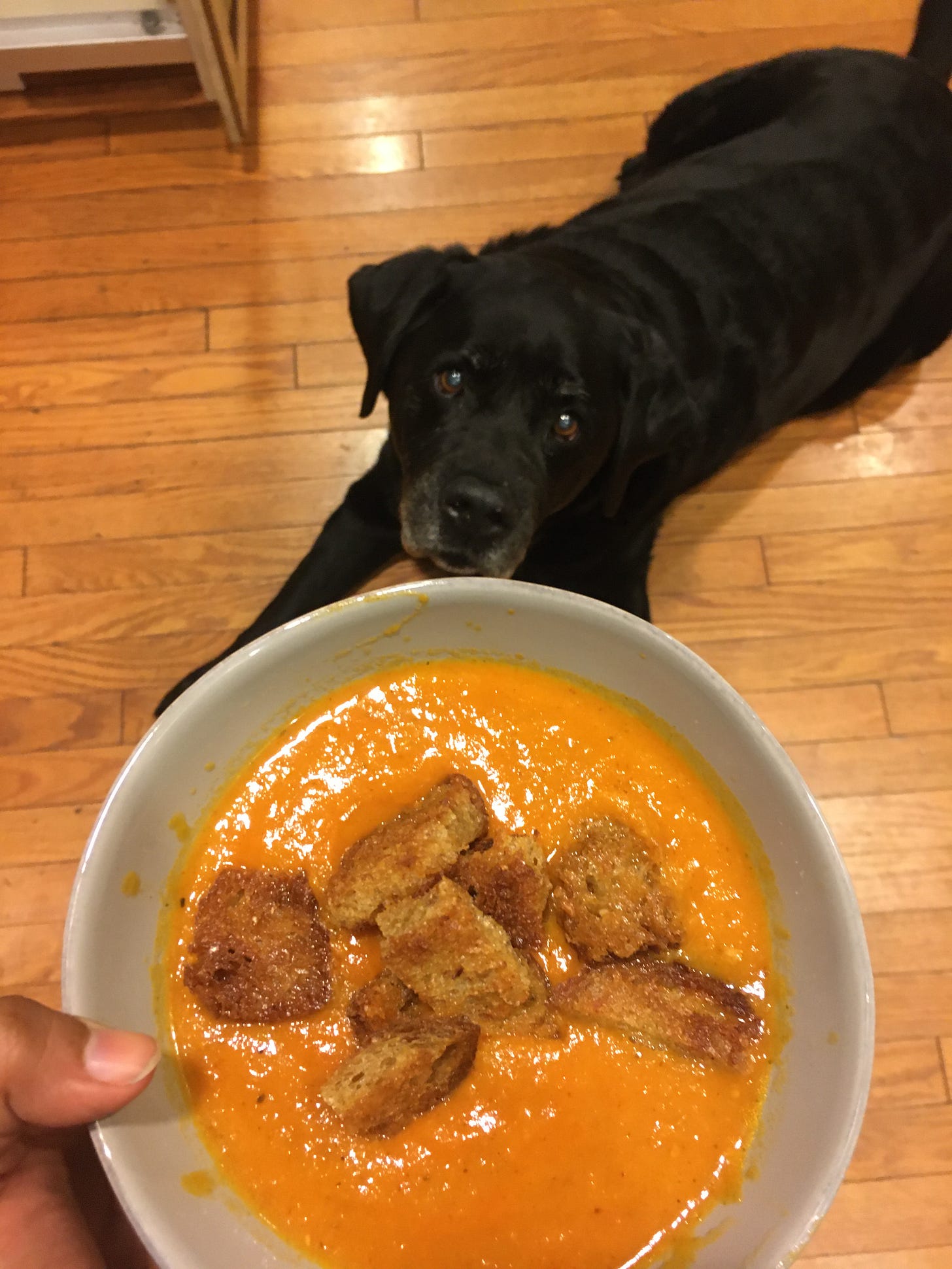 Soup (there it is)
As every anti-union graduate student I've ever had a conversation with is quick to point out, knowledge workers (JS: 🙃) are fairly well off in the grand scheme of things. This week, news broke that natty wine darling and Calcarius producer Valentina Passlacqua's father has been accused of underpaying and exploiting workers from West Africa, Albania, and the Italian countryside, raising questions about labor practices industry-wide. While I'm no stranger to the fact that wine is both fun to drink and a speculative commodity fetishized by old and new money alike, this story was a reminder that even girlboss-endorsed natty wine producers are worth holding accountable. If you're thinking about agricultural labor exploitation and want a some reading suggestions, I recommend* spending a little time learning about the complicated and brutal ways our own (American) immigration system leverages unequal global power to exploit workers everywhere from car washes, retail stores, sugar fields and resorts, and warehouses. Unfortunately, I haven't been able to read a book in quite some time, so here's what I ate this week:
My father, however, made a very tasty dosa & Mangalorean kori gassi meal, plus this excellent take on tomato soup from chef Ranveer Brar.

Lazily, I also let farmers market produce do the work for me by making friend-of-the-newsletter Lexi's berry and honey salad and sliced heirloom tomatoes with basil, sea salt, and olive oil. Classics! California: America's produce basket!
*While institutions are slow to recognize and compensate me accordingly, I am actually good** at my job.
**Is this arrogant and self important? Help!
(JS) I, too, would absolutely love to know how people are finding jobs these days. The only promising lead I've come across these past few months appears to have ghosted me (apparently it's a trend!), so I'm back to trolling the bowels of LinkedIn and AngelList. I've spent the better part of the past week crafting carefully worded cover letters to justify my gamble with graduate school and provide a taste of my charming personality, all the while relieving myself with periodic Instagram breaks to cross check my running list of which women support other women (conspicuously absent: @Salonee). (SB: It's true, the silence is deafening: I was not asked to participate in the #challenge. I guess I inspire/support NO ONE.)* In the meantime, if anyone can solve the riddle of how most "entry level" job postings on these websites require "at least three years relevant work experience," please let me know.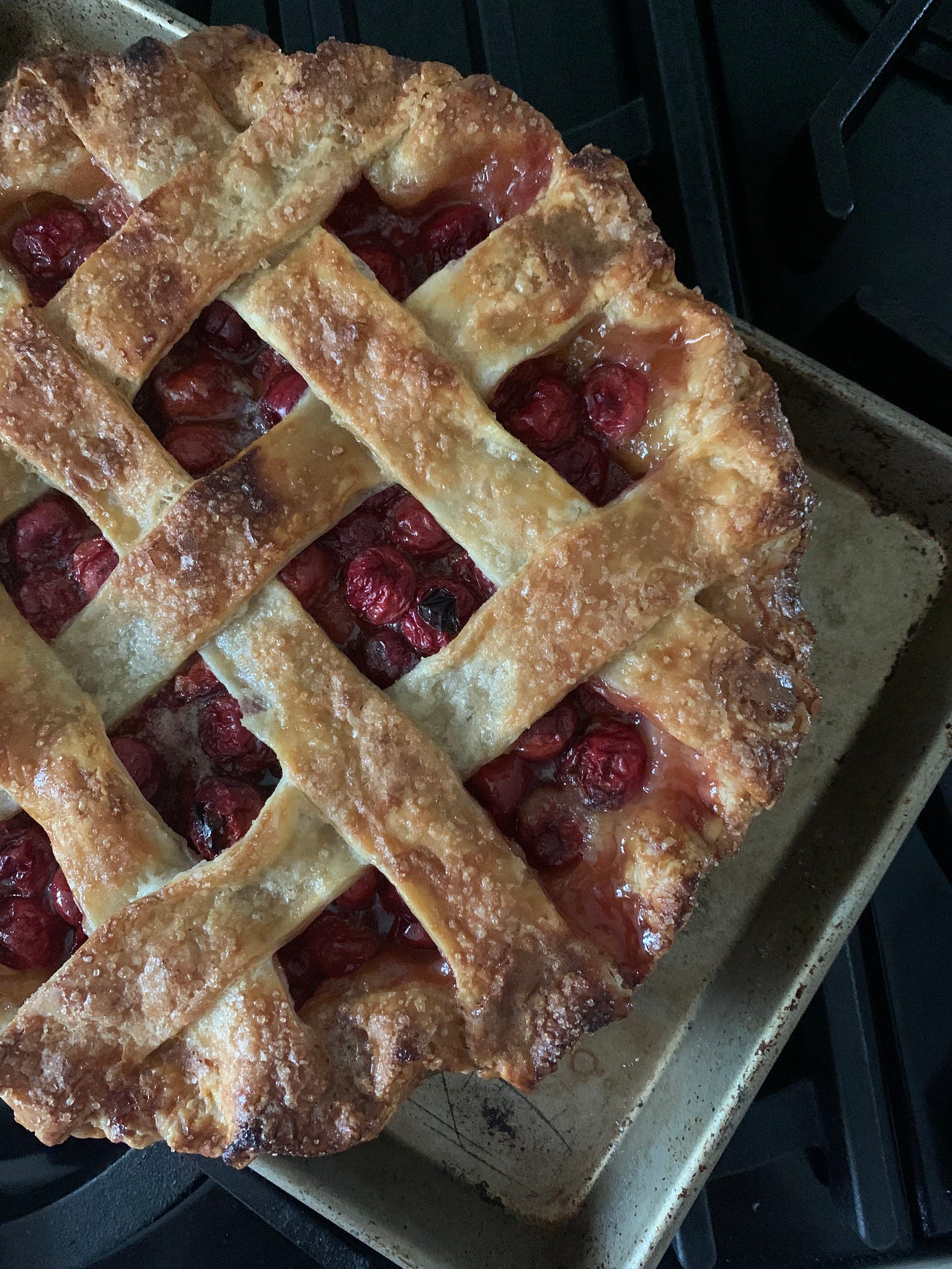 TY David for the crust assist
In addition to pimping myself out to hiring algorithms, I've continued to foster an expat pipe dream, absentmindedly googling fixer upper farm houses across southern Europe as our nation's rushed attempts to reopen appear increasingly misguided and generally unethical. Shockingly, Wikihow's explanation for "how to move to Italy (with pictures)" does not include a subsection on what to do when your shithole country wildly fumbles its opportunity to contain a pandemic and its citizens are therefore barred from entering. For now, I suppose I'll have to keep eating/praying/loving locally. On that front, here's what I can tell you:
Should you feel like turning on your oven, Jerk ribs a la Kelis are a summery delight for the grill-less among us; her brown sugar caraway rub is apparently also great on wings.

I've been experimenting with this Thai-style omelet from Leela Punyaratabandhu, but fear I'll need to invest in a wok for maximum crispiness.

Friend of the newsletter Kinga and and I had an elaborate plan to pick our own sour cherries at Fix Brothers Farm near Hudson, but were disappointed to learn the entire crop was completely picked out in less than a day; I settled for a couple pints from the farmers market and made the sour cherry bourbon pie from the Sister Pie cookbook.
*Should you be seeking alternative ways to combat femicide in Turkey, friend of the newsletter Pınar suggests donating to Mor Çatı, a shelter and solidarity center advocating for women's rights.
---
TMYK: Hummus
(JS) We are nothing if not self-aware at this lil' newsletter, and so I will grit my teeth and hop on the train of sometimes problematic white people imploring you to eat more beans. Specifically, I want you to eat more hummus, and I want you to make it yourself. I know times are hard and Trader Joes has no shortage of intriguing, revolting, and/or deeply problematic flavor options, but I promise that once you've had a taste of the homemade stuff, there's no going back. Firstly, a linguistic aside: hummus is the Arabic word for chickpeas, so please save yourself some time and stop calling it "chickpea hummus" (same goes for "chai tea" and "naan bread").
The hummus you're most likely familiar with is probably hummus bi'tahina, a creamy blend of chickpeas, tahini, lemon and garlic that is a staple of the mezze table, but there are a number of regional varieties that are equally alluring. Personally I'm partial to a tahini-heavy hummus, but if you're looking for something lighter you might try Rawia Bishara's hummus bi'zeit. In this preparation she adds extra lemon juice and a healthy glug of olive oil, mashing the chickpeas by hand for a somewhat chunkier result she serves warm with a drizzle of tetbileh, a garlicky green hot sauce. Alternatively you might go for a richer Turkish style hummus, using butter in place of tahini and often finished with chopped bastirma. Despite what sad crudite platters across the states might lead you to believe, hummus is not infrequently used as a vehicle for meat. Hummus bi'lahme, a hearty brunch favorite, is served with lamb or beef cooked in warm spices and finished with chopped nuts.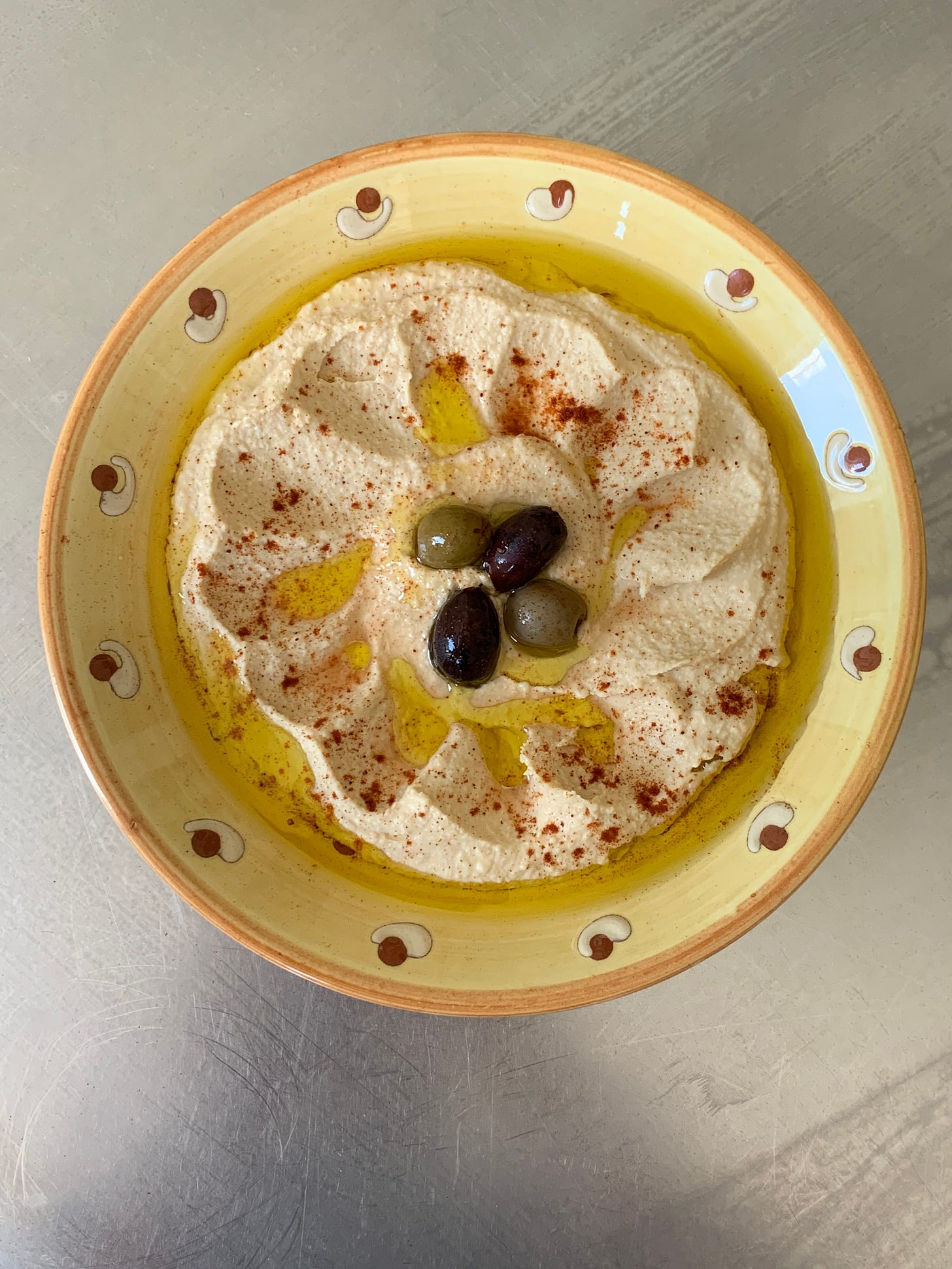 Give chickpeas a chance
Some hummus heads will insist that you soak and cook the chickpeas yourself, as it leads to a silky smooth texture they claim is unattainable when using the canned version. Many such recipes will have you add a bit of baking soda to the cooking liquid, which softens the outer skins of the chickpeas so they disintegrate, ultimately yielding a creamier product that's also easier to digest (Cooks Illustrated has modified the technique for canned beans, though I haven't tried it out myself). I, with no particular sense of authority, will suggest that you can produce a perfectly acceptable hummus using canned chickpeas that far exceeds anything store-bought, but would also propose you give dried chickpeas a chance sometime in the nebulous pandemic future.
The takeaway here is that hummus need not be restricted to mere mezze fare: grab yourself a bowl, pile on the toppings of choice (vegetables, raw or roasted! Nuts! Pickles!), and enjoy, preferably with warm, fresh bread for mopping up any remains.
---
Hot In Herre: No-Cook Pomodoro
(SB) Yesterday, temperatures in New York City pushed 100 degrees, and I bet it felt even hotter in many apartments. If you can stand to turn on your stove to boil pasta (or, I guess, use an instant pot), a no-cook tomato spaghetti might be the saucy, slurpy bite to get you through the day.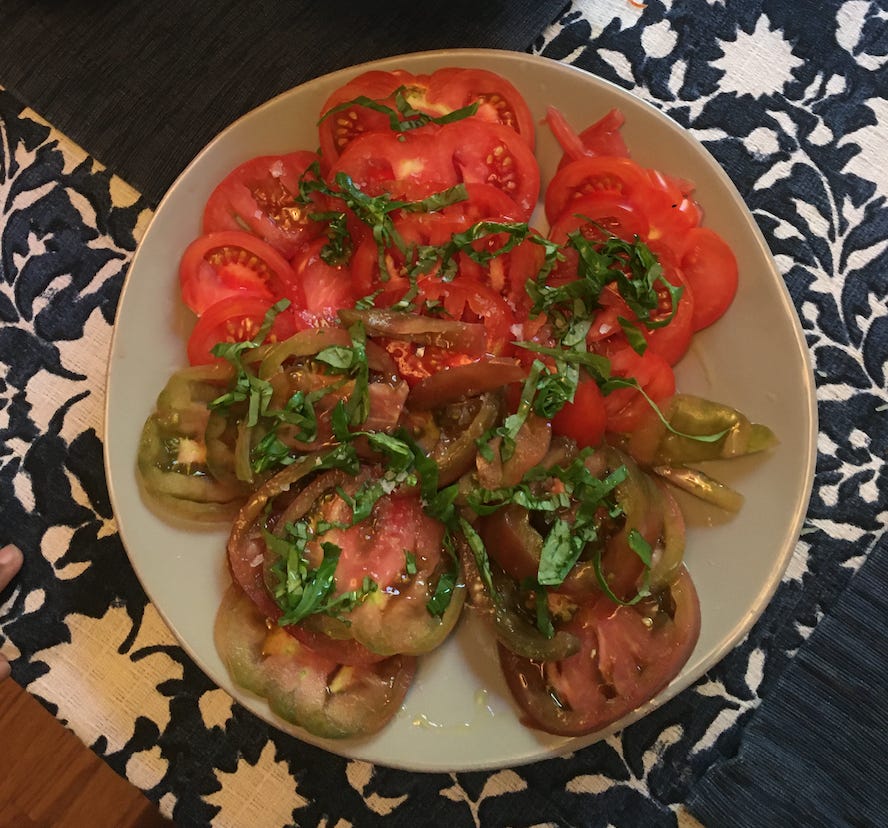 Nooo dont cook ur tomatoes theyre so sexy aha
Missy Robbins and Basically both have no-cook tomato sauce recipes that I recommend combining and tweaking to your taste. The latter technique is best for fresh, peak-of-the-season summer tomatoes, if you have them. Throw some calabrian chiles a la Missy into your tomato-butter-olive oil-cheese mixture, and don't be shy with those slivers of basil. In my experience, some garlicky breadcrumbs are also nice on top. Obviously, I use twice the garlic, but I also like to live on the edge and breathe fire.
---
GLD: Blueberry Cake
With August just around the corner, we're nearing peak blueberry season here in the northeast. If you've somehow tired of pies and crumbles, or perhaps are seeking something a bit more portable that could double as a respectable snack, look no further than this cake. This week's dessert comes to you from my late Nanny Reeva, arguably the most influential baker of my childhood. Nan's desserts afforded the rare combination of deep flavors and precise execution -- how she managed to eyeball such a perfect grid when slicing her brownies continues to baffle me. Her recipes were rarely complex, but it took a seasoned hand to produce such a consistently perfect result. This one -- basically a sour cream coffee cake studded with plump blueberries and topped with a rich cinnamon streusel -- was a summer standby that I've long sought to replicate to her standard.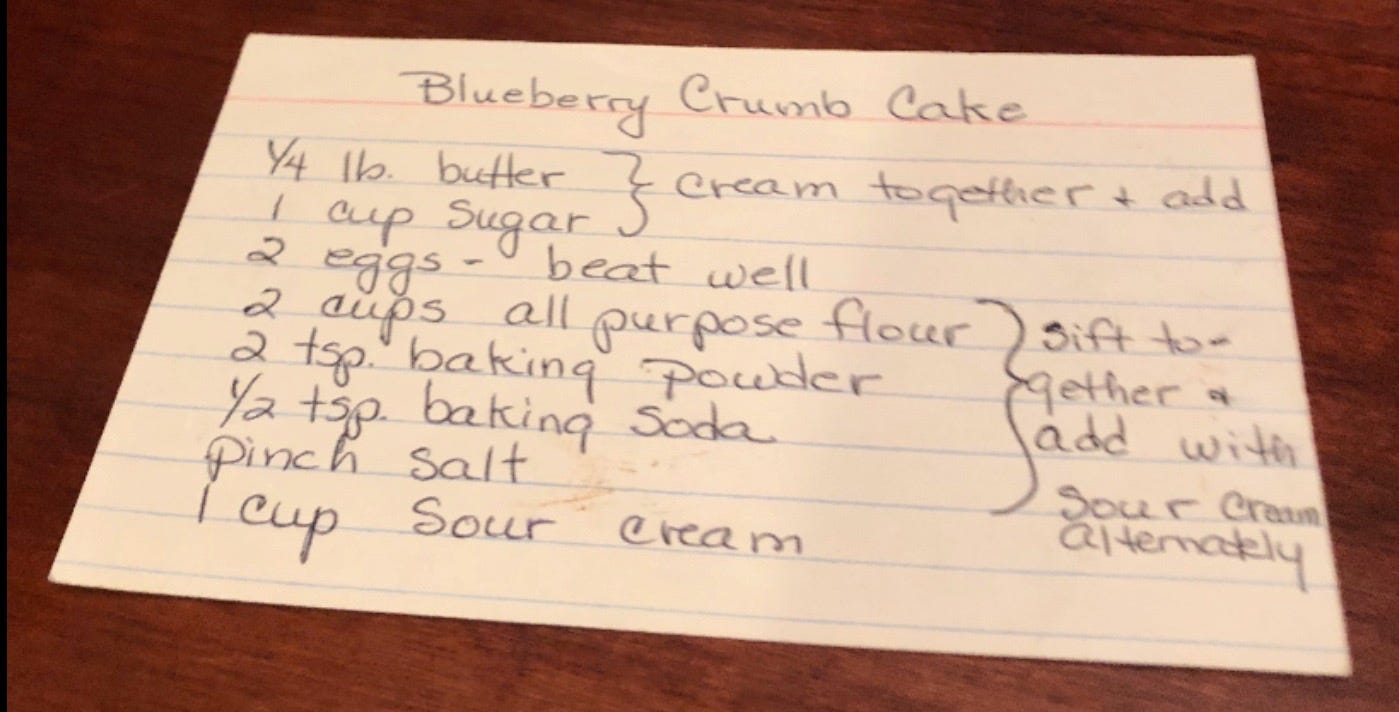 The blueberry cakes of my youth were defined by that topping (real fans may recall its cornflake laden cousin in a recent bread pudding, inspired by Nanny Reeva's widely celebrated noodle kugel). The cake itself is quite simple, but I really don't know how she managed to get such large chunks of buttery goodness. For all her meticulousness, the handwritten recipe card is frustratingly vague in explaining the topping: "mix until crumbly." My hack -- if it's kosher to hack your deceased grandmother's signature recipe -- is to double up on the topping, using cold butter and hoping for the best. You might not end up with the craggy streusel of my memory, but it definitely won't suck.
This will keep for a few days at room temperature, becoming increasingly pudding-like as the blueberry juices seep out into the cake. I like it best on day two, but I encourage you to methodically taste and document its changing flavor profile (for research purposes, of course).
---
PERMANENT ROTATION: Gheenoa, inspired by ghee rice and a love of protein-and-fiber rich pseudo-grains. Measure out dry quinoa (1 cup dry gets you about 3 cups cooked quinoa), and start by sauteeing it in some ghee. Add an appropriate amount of salted water, and cover until mostly fluffy. Top with some onions, chili powder, golden raisins, and cashews tempered in more ghee.
---
WISH LIST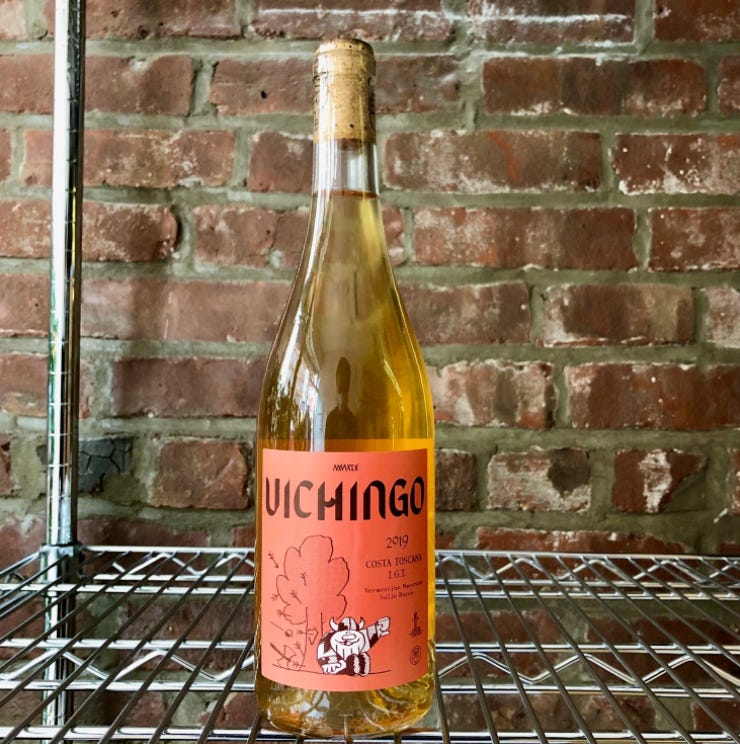 (JS) I thoroughly enjoyed this Vermentino last weekend and am contemplating buying a case. A word to the wise central Brooklyn winos: Leon & Son is offering 15% off any 12 bottles of wine, with a sizable free delivery zone.
(SB) A giant bowl full of pool balls! Just kidding. I am kind of back on my Los Angeles bullshit though, and thus am coveting candles, planters, and a chic beach chair.
(JS & SB) Direction. Jk haha… unless... considering all the garlic we've been mainlining, it could be worthwhile to upgrade our oral hygiene regimen. How about some samplers from Marvis and Cocofloss?
---