005: L'Agrodolce Vita
It's just a sweet sweet and sour fantasy, baby!

(JS) Between Sunday's record-breaking turnout for liberation at the Brooklyn Museum and a landmark Supreme Court decision barring workplace anti-LBGTQ discrimination, it's been quite a week for the queer community. In short, we eatin', and once again that is in no small part thanks to Black trans organizers who remain at the forefront of the movement. Let's keep that energy up with calls and emails to our representatives telling them to repeal the walking while trans law and defund the police.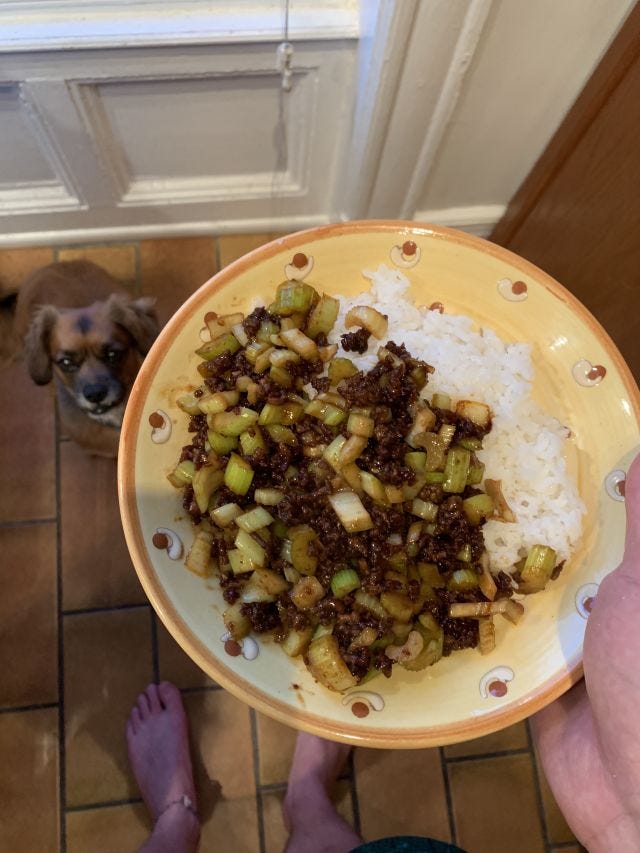 Please excuse my swollen feet
Workwise I'm feeling both restless and spread a bit thin, with lots of parbaked projects but little sense of my long game. Zoom fatigue (and whatever its decidedly less chic M*crosoft T*ams counterpart is called) is wearing on me and my computer alike. Allegedly my battery is failing but with Apple stores still closed, so I guess I'm just gonna ride this one out? Cooking has been a much welcomed respite to these daily frustrations. A few things I've enjoyed lately include:
Sabrina Ghayour's mirza ghasemi, a Persian staple which puts the egg back in eggplant

Fuschia Dunlop's Sichuanese chopped celery with beef, a much welcomed alternative to celery salad shared with me during the early quar' recipe exchange (#tbt ty Eric!)

Lindsay-Jean Hard's banana cake with penuche frosting, an airy alternative to banana bread that's equally delightful with chocolate sour cream frosting, perhaps for a loyal reader's socially-distanced birthday surprise (ahem sweet baby April!)
(SB) It has been a really hard week, subscriber-friends. I would rather spare you all the gory details, but suffice it to say, navigating an academic institution is a little like using a large, emotionally volatile mandoline: one second you're preparing paper thin slices of watermelon radish, the next, you need to rethink your attachment to the top of your finger. I share this mostly to acknowledge that this week, my most inventive and ambitious kitchen projects were various takes on the bloody mary* (Jal jeera! Cholula! Sriracha!) and that's okay.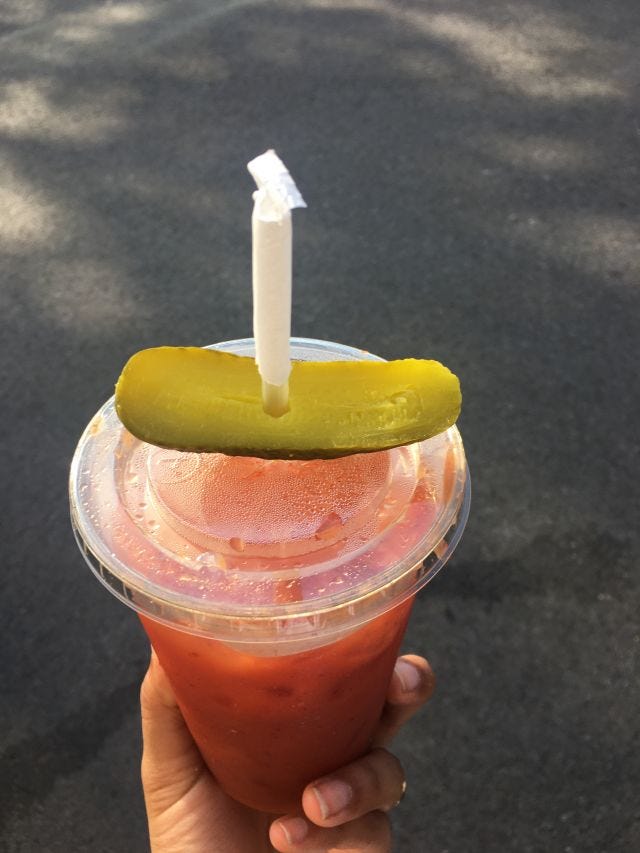 Say her name in front of the mirror three times and maybe she'll appear
I want to encourage those of you in Queens and/or Asian America and/or who have found your inner ACAB spirit to investigate your local elections in advance of the June 23 NYS primary. There are elections that matter! Of particular note: piece of shit anti-abortion, anti-sex worker, former-cop Steve Lee is currently waging quite the campaign to unseat progressive incumbent Ron Kim. Vote!
Finally, so that I don't pull a fast one on all of you, I'll confess that Willis (my boo! Friend of the letter! Best drummer west of the Ganges!) and I have been up at his mom's in upstate New York since late Thursday night. I expect to return soon, but I also frantically threw some of my spice cabinet and perishables in a bag, and it's been nice to cook a little less.
We were lucky enough to hitch a ride, which I used as an opportunity to defrost some mutton for Camellia Panjabi's Meat Curry with Jeera Potatoes. Shoutout to my dad who told me to make this instead of biryani. Shoutout to Tannat for being my Mutton connect. Best eaten with basmati and yogurt if you got it.

I took a brief break from my bloody mary to try this really delicious pet nat from the Fingerlakes; I'm a wine novice but I'd describe it as "funky lychee"

I sadly roasted my kabocha squash this weekend, but I'm about to braise a butternut like this
*The drink of the summer, you heard it here first.
---
TRASH TALK: Fromage Fort
(JS) Over the years I've worked to strategically unlearn a sort of Holocaust-era hoarding mentality passed down from my mother. At best this mode of thinking manifests itself in always having a snack or four at the ready, but more often it leads to thoughtlessly overstocked cabinets and a refusal to let go of refuse. I find myself drawn to stone soup inspired solutions, recipes which stretch a few odds and ends into something unexpected. For instance, with just a few tablespoons of lentils, cracked pasta dregs, and a bit of rice, you're well on your way to an improvised kosheri. Today we're tackling the cheese drawer with a quick fix for odds and ends: fromage fort.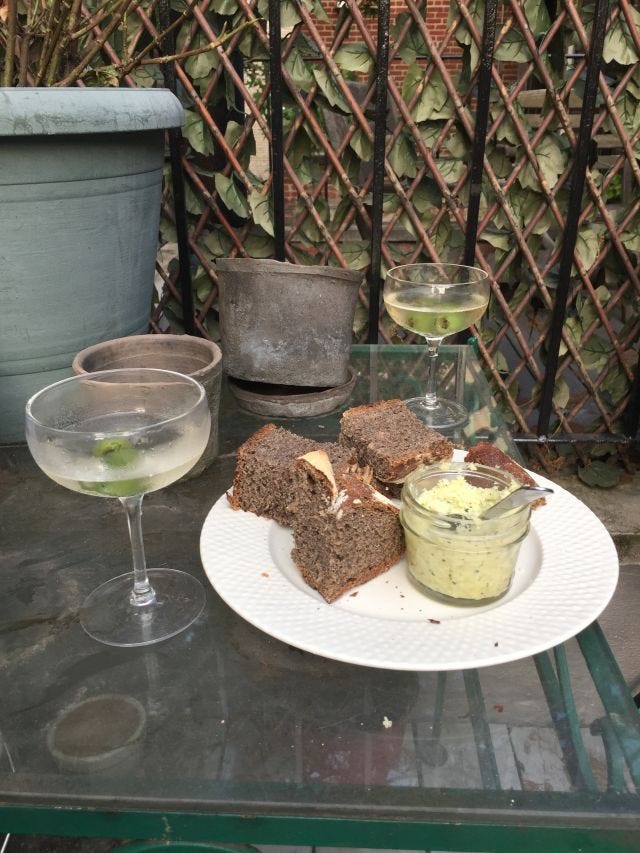 A truly dirty tablescape
In terms of technique, this "tasty by-product of French frugality" is not unlike the American cheese ball, a Midwestern party staple praised by Amy Sedaris. Blend room temperature cheese scraps with cream cheese or butter, garlic, and a healthy splash of leftover wine or vermouth, then season to taste. The spread will keep for 3 to 5 days in the fridge, but keep in mind that the flavors will deepen with time. The spices are up to you: black pepper is classic, but white, Aleppo or Urfa pepper would also work. Cayenne provides heat, but you could also add fresh chiles or a few drops of hot sauce. A little garlic goes a long way: Deb from Smitten Kitchen sticks to one raw clove per pound of cheese, but you could probably get away with more if you roasted it. You could throw some chives or herbs in if you've got 'em. Gabrielle Hamilton serves her fromage fort on toast with a quick salsa verde, made from chopped leafy, watery herb stems, finely minced shallot, and a few drops of walnut or pistachio oil, "to keep the condiment from looking like lawn mower debris."
---
HOT IN HERRE: Aam Panna
(SB) Sometimes, it's just too hot to do much of anything more than go to the movies. Unfortunately, that's not really an option this summer — so crank up your oven, and let's go for the full hell experience! Just kidding. This will be a recurring feature of things we make to either beat the heat or you know, simply survive it without using the stove too much.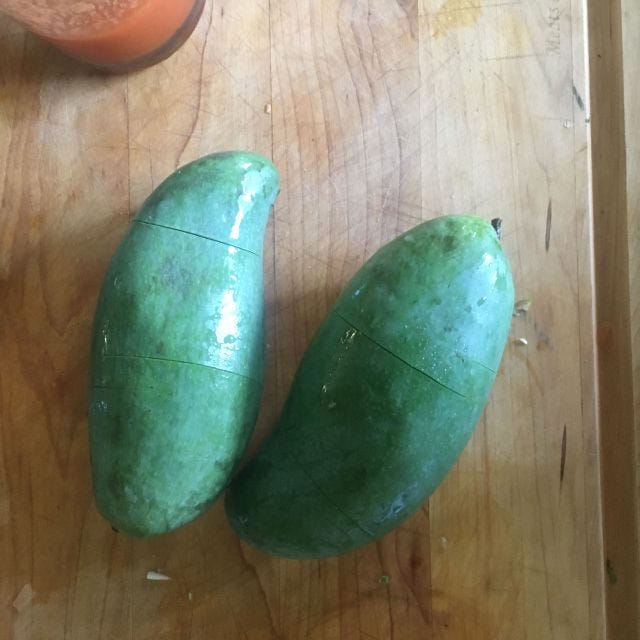 It's actually not easy being green
First up, aam panna. For obvious reasons, the subcontinent is rife with hot weather remedies. If you can get some green mangos (Misfits had some this week!), this sweet 'n sour cooler is real restorative. I basically halved the sugar (wish I had some jaggery) but taste your cooked mangos and proceed accordingly.
---
GLD: Crumble Tart
(JS) Claire Ptak's wild blackberry crumble tart from The Violet Bakery Cookbook is a recipe I cherish for its speed as well as its versatility. The headnotes explain her brother Louis inherited the recipe from Norma Wells, "a good baker and a great tennis player," and that Louis prefers to make the tart with wild huckleberries, "which grow abundantly on the West Coast from Northern California to Canada. Bears especially love them." I think we can all agree this copy alone is more than a little gay.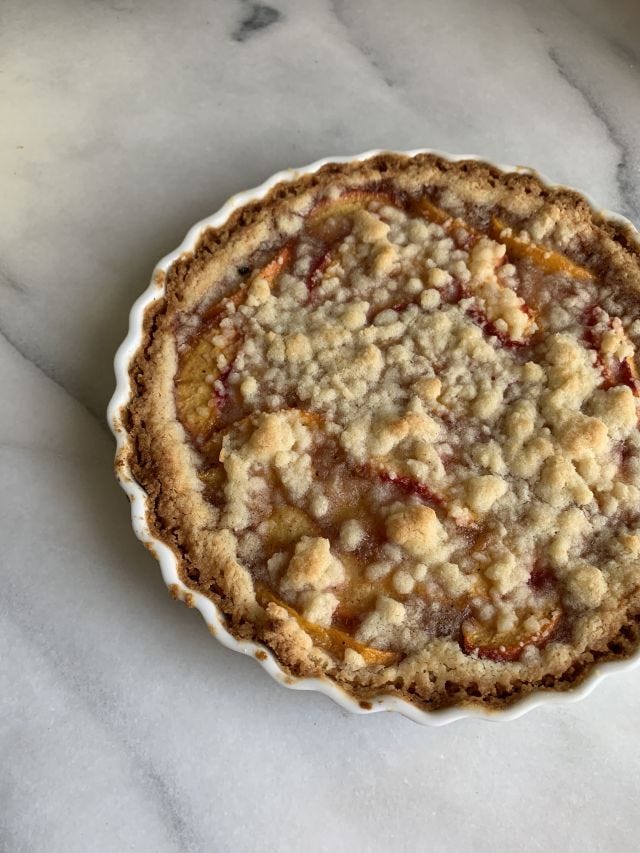 Queen of Tarts
The recipe is quite simple. Prepare a quick pastry dough in a food processor, which you then press into a tart pan, reserving some for the topping. That's right, we're using the same dough for crust and crumble: a true vers, as pastry goes. Mix sugar, flour, cinnamon, and salt, then sprinkle most of this over the crust, tossing the remainder with some berries. Pour the macerated fruit into the pan and crumble the remaining dough on top, then bake at 390°F (converted from celsius, innit?!) for forty minutes or so. Excellent with vanilla ice cream, and allegedly delicious for breakfast, maybe with a dollop of yogurt.
Given the speed with which it comes together, the pastry is pretty perfect, though I wouldn't fault you for scaling up just a tad for a little extra crumble. I've messed around with the filling and find it's best suited to summer fruits: blackberries can easily be swapped out for peaches, nectarines, strawberries, raspberries, or any combination of these. You could also play around with other spices. Some allspice and/or cardamom would pair nicely with stone fruit, or try a little coriander with strawberries.
---
PERMANENT ROTATION: Radha's Egg Curry
(SB) This is a deceptively simple and extremely tasty way to make it through a lean week, avoid going to the grocery store, or summon the flavors and comfort of your family kitchen when you are thousands of miles away and surrounded by white people you also love very much (turmeric is a household staple now, have you heard?). I've seen versions that include tomatoes, but I like to take my mom's lead here and (for once in my life) keep it simple.
---
WISH LIST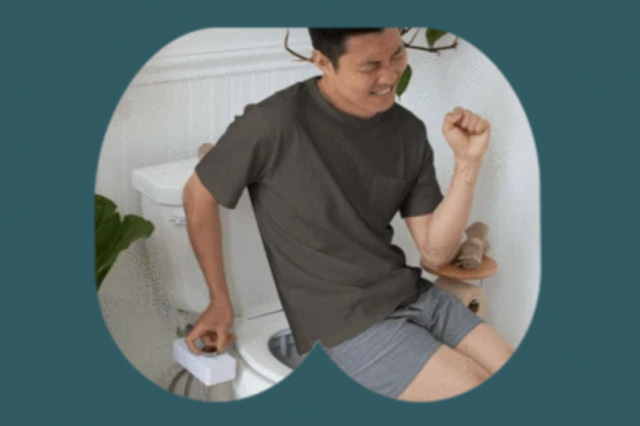 (JS) At the risk of oversharing, I think I'm ready to take the plunge (or better yet, avoid future plunging) and finally invest in a bidet. Frankly I'm shocked I made it through four weeks of newsletters without mentioning my kooky crazy chronic GI issues, but I suppose this is just the natural endpoint for discussions surrounding food. I'm enticed by the Tushy, partly because their social media manager is conversant in my particular brand of batshit, but would welcome any recommendations.
Also, as part of Amistad Press' #BlackoutBestSellerList initiative, I've also treated myself to copies of Michael W. Twitty's The Cooking Gene and Edna Lewis' classic The Taste of Country Cooking. Let us know if you've got titles to recommend!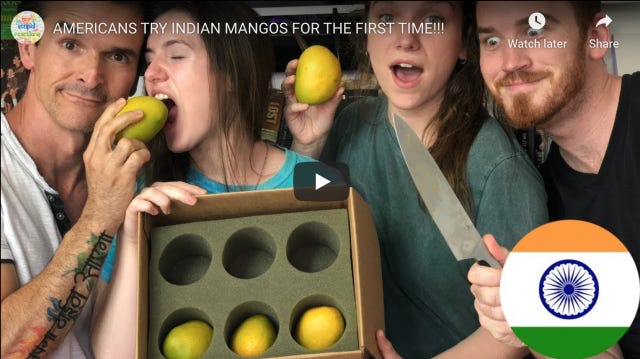 (SB) In non-pandemic years, I usually splurge on a crate of Indian mangos in mid March. It costs too much and some of the mangos are inevitably too soft, but I've treasured my trip to pay the Gujrati piper at 27th and Lex for the pleasure of ten delectable, floral, life-affirming mangos that I then get to disperse among those I love the most. This year, just around that time, the world shut down. Dare I wish for a subscription to MangoZZ.com?
As a follow up from last week, I recently found my way to the National Black Food Justice Alliance. They have a host of ways you can support their mission to empower Black farmers, strengthen foodways, and foster food sovereignty here. (In case you're a little strapped for cash, there are some petitions you can sign, too.)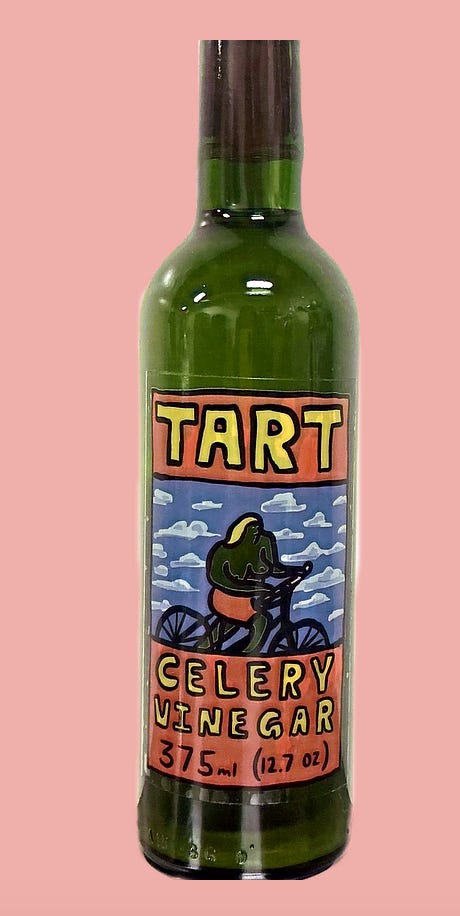 (JS & SB) How about some heirloom vinegars for these bittersweet days? Brooklyn-based Tart is turning out some interesting flavors like rose and celery vinegar, with artful packaging you'll want to proudly display on your counter. We're also intrigued by a couple products from Noble Handcrafted: Tonic No. 4 is a mature white wine vinegar flavored with Egyptian heirloom lemon peel and pith, while Tonic No. 5 is a refined finishing vinegar made from sherry, maple syrup and bourbon aged in charred American oak. The bold bottling has us ready to sample these neat, like respectably senile grandpas.
---