004: Bad Apple Tea
Summertime and the livin' is complicated!

(SB) Beloved readers, how is everyone doing? This week, my brain has been all about the receipts: the internet is alive and roiling with the energy of righteous truth-telling. Twitter seems to have become some kind of People's-EEOC, shaking the trees and shedding light on glaring salary disparities, book advances, cultures of work-place racism. What's incredible is what falls out: resignations, apologies, and the distinct sense that the word is out and bullied employees are not protecting their racist ass bosses anymore. If you've ever had the feeling of being gaslit, undermined, and being told you should be grateful to work or learn somewhere that's in fact rather lucky to have you, it feels overdue.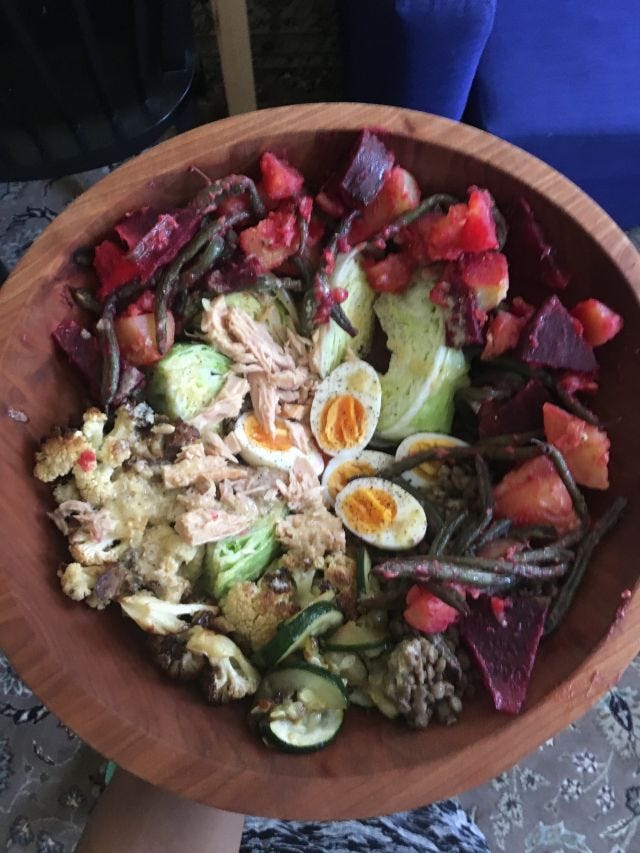 Does Niçoise remind anyone else of
White Chicks
?
These media tell-alls are, of course, only part of the picture. Keep calling your local pols (it's working) and talk to them about defunding the police. If you're still not sure that's a reasonable thing to demand, I highly recommend a different set of 8 vital pillars from abolitionist organizers. These 8, I hope you'll agree, really cannot wait. If you've got some time, I also got my greedy little paws on a free e-book, The End of Policing, courtesy of Verso (#notallpublishers, amirite).
I'll tell you what we ate, but I'll also tell you: it's hot in this apartment. Send me what you're eating to stay cool and sane!
I went all in on Meera Sodha's Fresh India (one of my all around fave cookbooks) and made a really bright and satisfying chard saag aloo, moong dal, and peaches and cream lassi. I even made chapati!!! (I liked this recipe)

A large Niçoise with some Spanish tuna from Tannat

Tater tot chaat, one of my more deranged/inspired creations. Tots! Spicy cilantro chutney! Sweet red pepper chutney! Onions! Chaat Masala! Proper recipe to come.
(JS) I hope this message finds you well!!!!! Just kidding. I mean, I do hope you're well but if I also hope we can move on from email platitudes of the past and just dive into the issues. I want to echo Salonee's comments last week about the naiveté with which we first approached this little side project, imagined as a playful respite from the critical thinking inherent to academic writing (CW: that link includes a clip of B*n Sh*piro, whose voice I had never actually heard before and have since decided is, in addition to his generally shitty takes, #BadForTheJews*). This week's belated reckoning in food media has brought long whispered and occasionally published inequities into the spotlight, and while the BPOC-led ousting of Ad*m R*poport (also arguably #BadForTheJews) is a step in the right direction, the publication and the industry more broadly have a long way to go toward making fruitful change.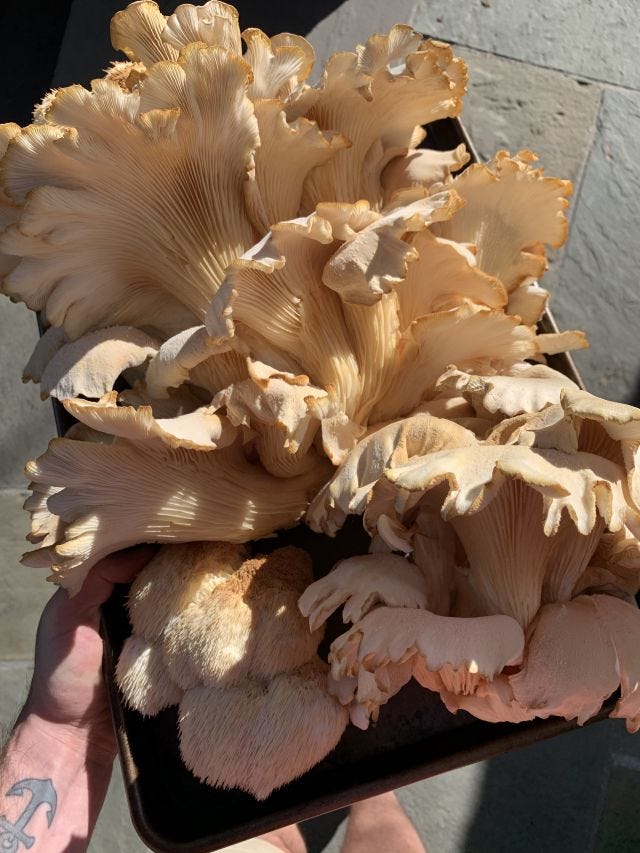 Home grown bounty
I'm also thinking about my role as a consumer of (food) media and my responsibility to seek out and support other voices, particularly if I imagine my thoughts on the subject to be worth reading. There's an interesting comparison to be drawn with Bravo axing Stassi and Kristen from Vanderpump Rules, a move which Madeleine Davies expounds as performative while also owning up to her complicity as a viewer. The company could be doing a lot more to change its effectively segregated reality programming, but I am also responsible for diversifying my own media intake. I suppose this is a long winded way to say that lately my guilty pleasures feel a lot more guilty and a lot less pleasurable. Decentering (or deplatforming) white mediocrity is up to us too.
Here's what I've been eating:
*For those who don't know me: I can say it
**Echoing Salonee a second time, it really is so fucking hot and it's only June
---
TMYK: WaPoPiPa (Washington Post Pineapple Pancakes) Redux
(SB) I've been largely unmoved and unimpressed by pancakes for most of my life. If I'm going to opt into a breakfast where the maker must stand in front of the stove flipping individual items that are ideally eaten immediately, I'd like it to be savory (dosa, etc.) That said, quarantine has taught me that there's something perversely luxurious about a baking-adjacent, long-form morning routine that reassures me I will not have to get on a zoom call unless it's to do exercise (brave new world). My friend Alison also hooked me up with some of Ithaca's finest maple syrup, and it's made the pancake a real treat.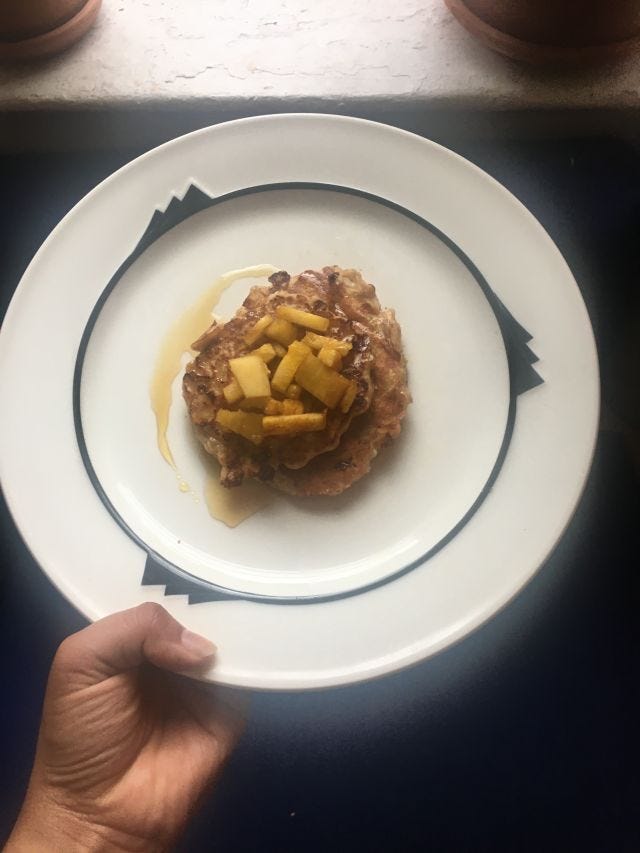 A well-balanced breakfast
I've been experimenting with pancakes on the weekends, and this nutritionist-penned
cottage-cheese-and-pineapple
number caught my eye on the WaPo website. I've read enough recipes to put this one in the (misguided) "health pancake" category -- basically, a cousin of a fluffy ricotta pancake trying to lose some weight for the summer (
JS: problematic?
). The headline for the recipe, which implored readers to "give cottage cheese a chance," alludes to tortured associations (images of t
he yellow polka dot bikini crowd
). Unfortunately, the recipe as written did little to rescue these delicious little curds from those aspersions, so off the bat, I added some fresh ginger, unsweetened shredded coconut, and a generous handful of toasted cashews (summarized by JS as "Kerala penicillin", not wrong*). I also added a couple of tablespoons of coconut sugar into the batter and atop the pineapple topping to macerate. I tried both coconut oil and butter on the skillet, and preferred the butter. Don't skimp! Fat is our friend.
Every
body is a bikini body. The end result was pretty delicious when covered in the macerated pineapple and doused in some really good syrup. The cottage cheese curds get gooey, providing a nice savory note alongside the pineapple.
*While this is indeed a classic south Indian combo, it also reminds me of a Hawaiian-ish palate. Ironic, as the pineapple is native to neither Hawaii (my friend Aanchal tells me "pineapple" in Hawaiian is hala kahiki, with kahiki meaning foreign) nor South India. Tropical places, tropical flavors… it's simple but also not (JS: me in a seminar). I find the pineapple either conjures up images of a retro white home-maker culture (those weird jello salads, the Dole Whip stand at Disneyland, tiki drinks) or a complicated and brutal history of colonialism and plantation labor. Both make sense. The pineapple was first cultivated by indigenous peoples in Brazil and later through Mexico and the West Indies. The fruit was sometimes a symbol of hospitality and abundance, and later, when white settlers and travelers brought them back to Europe as gifts evidence of their colonial exploits, power. It was this same vibe that undergirded a particularly American embrace of the pineapple as it became the signature fruit of its own, newly annexed, colonial holding of Hawaii.
I won't digress too much (JS: respectfully, lol), but suffice it to say the history of the pineapple includes both brutal colonial labor exploitation and diaspora. For a more comprehensive look at the fruit across the tropics, you might start with Gary Okihiro's Pineapple Culture. There's also been some excellent work on tourism, paradise, and American imperialism as a cultural and military project -- Aloha America, The Purposes of Paradise, or Securing Paradise are all great. For a great article-length read, Haunani-Kay Trask's "Lovely Hula Lands" gave me a lot to think about.

---
POT CHEF: Baked by Melissa but Make It No-Bake
At the risk of belaboring the point, I must admit The Real Housewives of Beverly Hills hits different during government-mandated curfew. Throw in early summer humidity and attendant corporal stickiness, the dystopian whir of police choppers, plus a well intended but gravely overzealous bong rip, and your midweek self care just might veer into thoroughly unfamiliar territory.
Fortunately, our friend and requisite still unproblematic white woman Melissa Clark is here with a no-bake recipe to help you chill the fuck out. Her buckeye*-inspired chocolate peanut butter bars are instantly customizable. Brown some butter in a skillet, then mix in nut butter and a binder. MC used almond flour heavily sweetened with confectioner's sugar. I went with almond butter and some crushed McVities Digestives, though I think I could've added some additional sugar or honey. Spread the mixture into a shallow pan lined with parchment, top with melted chocolate (semi-sweet at least) and flaky salt, and pop 'em in the fridge for an hour or so.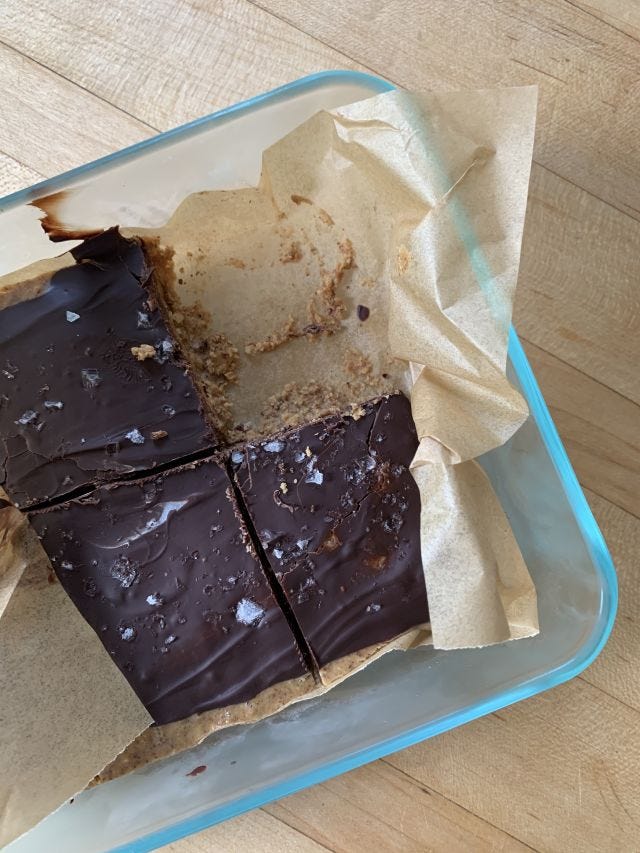 Sometimes you feel like a nut, sometimes... you can't.
These are infinitely riffable, you might just fill up a Nuts.com cart with ideas. Melissa tops her dream iteration with pretzels, but I'd be keen to try crushed potato chips (Cape Cod, preferably) or Corn Flakes. M&M's would gild the lily. And with only 3.5 tablespoons of butter per recipe, even a full substitution of cannabutter won't knock your socks off.
*Looked it up, it's a nut that looks like a deer's eye (i.e. shockingly not racist)
---
TRASH TALK: Oleo Saccharum
(SB) Recently, my Misfits hauls have featured more fresh citrus than we can comfortably eat. After reading Ann Patchett's Commonwealth earlier in quar (not only am I a huge nerd, I am also slow on the book trends) I became pretty obsessed with fresh squeezed orange juice & gin. Every couple of weeks, I do a big squeeze of all of my citrus, combine with some gin, and a little saffron simple syrup.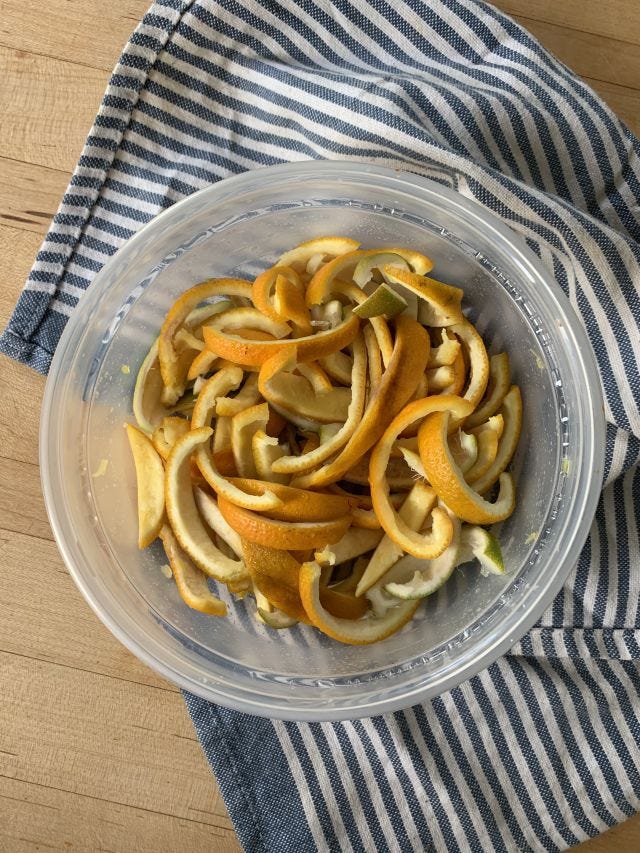 Extraction in progress
The leftover rinds and peels were so fragrant, I thought I'd try my hand at something my friend Eric first showed me when making a New Years punch: oleo saccharum! Basically, you place the peels in a jar or a tupperware, dust them with a generous sprinkle of sugar, and let them sit overnight. I've let them sit for up to two days, and haven't yet died. The sugar and oils from the rinds create a syrup you can drain and refrigerate for your next cocktail hour.
Have you ever walked around LA at dusk, after the sun has heated up all the oranges, and they leave that lingering smell in the air? That's what this tastes like to me -- a little fecund, a lot floral. Orangier than orange juice. I've tried with lemons, limes, and grapefruits, as well as a mix of all three.
---
PERMANENT ROTATION: Joy Huang's slow-roasted ginger scallion salmon. Even now I'd turn my oven on for this.

---
WISH LIST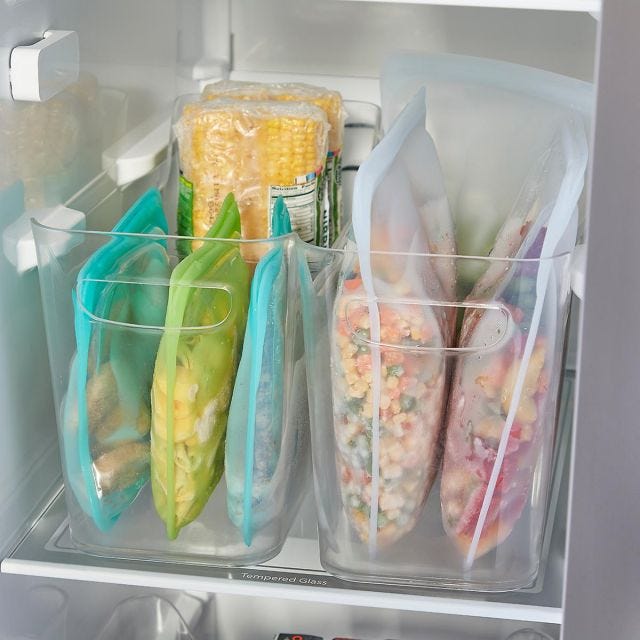 (JS) I wish a certain workplace would talk about police brutality instead of sanctimoniously illustrating lukewarm messages of support with works by Black artists (without their permission). Bloop! But also I wish I had a way to organize my freezer. Salonee has generously offered me her castoff Yamazaki Home dish riser, though I wonder if I'd be better served by bins. If you have a freezer storage solution please feel free to email me. I can't keep this Tetris game up much longer.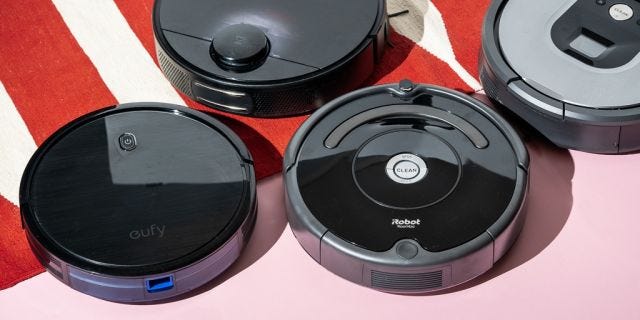 (SB) I'm pretty inspired by stories of people taking care of each other in this pandemic, and wishing that every neighborhood had access to food. I also recently learned of the term "food sovereignty" (s/o to Monique) and wish to spend some time this summer reading my way through a food justice syllabus. Any book or article recs? Send 'em my way.
Less piously, I wish I had one of those little robot vacuums. A roomba will do.
Milk Bar Could Never!
(JS & SB) Now more than ever we fuck with a bake sale. Here in Brooklyn, Permanent Bake Sale is running an anti-racist fundraiser, with bread, merch, and more in exchange for your charitable dough. Los Angelenos might satisfy their sweet tooth with goodies from friend of the newsletter Miss Lara Aya, who's been raising money for the George Floyd Memorial fund with her new biz, Fleurs et Sel.
---

Apologies about the spacing, TinyLetter still sucks. Love & light & lolz.