002: Just Can't Get Enough
Oh hello there!

(SB) I'll be the first to admit that the things that thrill me in this socially distanced world are few and far between. This week, it was my first delivery from Pierless Fish (which comes all the way uptown, now!!!) that set my soul aflame. I'll spare everyone a deep dive into the truly unhinged level of delight I felt when staring at the sea's bounty that arrived last Tuesday, and instead note that all of my cooking decisions revolved around prioritizing these fine filets. The meal plan I dutifully made after sending out the newsletter on Tuesday largely went out the window except for a (planned) lentil soup that turned out well. The rest of the week was spent chasing this fresh fish dragon. I will confess that I did have one stress dream about hamachi crudo.
Am I a tartare or am I a crudo? Who's to say really?
In any case what we ate this week included:
A bevy of raw fish dishes: a ginger-y mango and avocado salmon poke, a tuna tartare I topped with crispy fried leeks, and a hamachi version of Gabriella Camara's ceviche Contramar (We had them all with a choice of toasts or chips)

​A real beauty of a king ora salmon filet ("the wagyu beef of salmon") en foil, with tomatoes, basil, scallions, ginger, and shiitakes (plus butter, a combination inspired some time ago by this Healthyish recipe)

Learned-my-lesson lentil soup w/ green lentils, tomatoes, and harissa. Especially delish with some sliced delicata squash
(JS) Knowing seasonal gatherings are still frowned upon in my neck of the woods, I had hoped to enjoy some contemplative yard time over Memorial Day, but mother nature/a couple Italian broads had other plans. I spent much of the weekend indoors, cycling through Dedicated Side B and the aforementioned precipitation anthem, gradually losing interest in Normal People (but not Connell's chain) in favor of Elite, and periodically misting the mushroom grow kit I impulsively bought off Instagram. As Gaga didn't say but the internet collectively heard: I'd rather be drunk but at least I'm alive.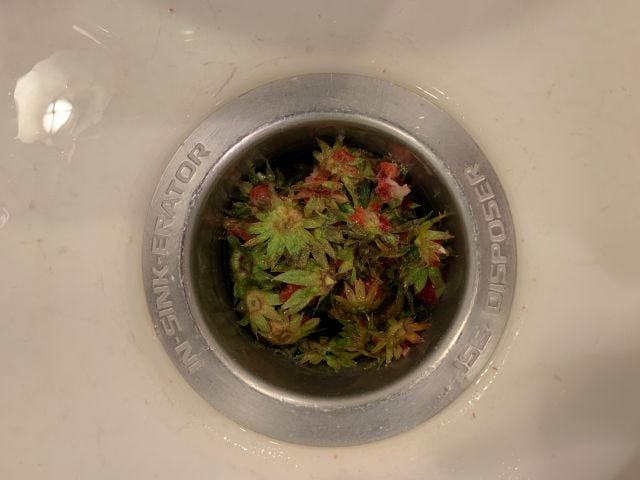 Suburban pleasures
Our celebrations may look different for the immediate future, but we still gotta eat. I've already drafted a shortlist of recipes to cook from Serving New York, the new e-book benefiting ROAR. Here are a few other things I've enjoyed recently.
Maangchi's buldak (aka fire chicken), my first foray into the world of sliced rice cakes and mozzarella

Gabrielle Hamilton's swordfish piccata, perfect for imperfect grilling weather

In attempt to salvage a couple sourdough heels, beet kvass from the Bar Tartine cookbook
Before we dive into the rest of this week's letter, we'd be remiss not to exclaim: sweet friends and subscribers, it's been a delight to see your names pile up in our shared inbox over the last week! Your support delights us. Please keep writing in with your questions, recipe requests, suggestions of recipes you've had on permanent rotation for us to try, etc etc etc.
Also, a bit of housekeeping: we're going to put full recipes from our features in a separate google doc that you can access here! And feel free to ask for anything we haven't included.
---
TMYK: A Tortilla by Any Other Name
(JS) The tortilla de patatas is a classic example of a whole surpassing the sum of its parts, though the traditional stovetop method of preparation comes with a steep learning curve. I attempted versions from Smitten Kitchen and The Basque Book a handful of times, following the guide from Ximena at Lobstersquad on how to properly flip, but I could never quite nail the choreography of sliding the half-cooked tortilla onto a plate and deftly turning it back into the skillet. I blamed the first few fuck ups on my choice of rimmed plates and eventually tried using a cutting board instead, hoping the flatness would do the trick. Instead that tortilla spread outward in all directions, sending partly cooked potatoes and onions across my counter and onto the floor. I felt impotent and out of control, which I really hate. You'd think such wristwork would come naturally, since I'm you know… but we digress.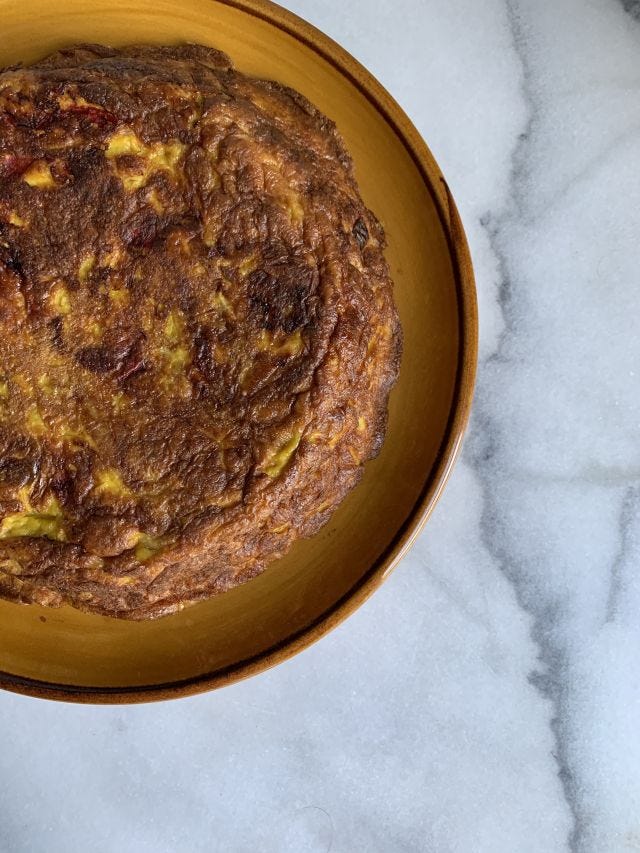 Are you my tortilla?
This arduous technique is precisely what distinguishes your Spanish tortilla from its Italianate cousin, the frittata, which starts on the stovetop but finishes in the oven. An overcooked frittata is an offensive thing, not to mention the fact that many frittate are prepared in a sort of set-it-and-forget-it attempt to save decaying produce and other fridge odds and ends. This is not to suggest that reviving leftovers in a frittata is categorically bad (see David Leite's pasta frittata, inexplicably prepared using the aforementioned tortilla technique), but to say that a better frittata takes both time and forethought. Patron saint of the newsletter Gabrielle Hamilton has persuasively argued a similar thesis as it pertains to quiche.

Kelly Mariani's roasted red pepper frittata, which I've adapted just slightly, approaches a tortilla in flavor and mouthfeel, without the dreaded flip. Her method starts off Spanish, bathing potatoes and onions in warm olive oil for a half hour or so until tender. Kelly calls for 1 ¼ cups of oil, but I find ¾ cup gets the job done as long as you frequently stir. Use an oil you like, as the flavor will really come through in the final product. I usually use Lucini for cooking, but lately have been enjoying Grove and Vine's 2019 blend, which is an absolute steal at Chef Collective ($55 for 5 liters!). Transfer this mix to a bowl to cool slightly, wipe your pan clean, and place it in a 400° oven for ten minutes or so. Strain the potatoes and onions and add them to a bowl with your beaten eggs -- Kelly's recipe calls for 8, but I find this tends to overflow an 8-inch skillet, so I use just 6. This is also your chance to add any mix-ins (you can easily use jarred roasted peppers, or omit them entirely; chorizo is also nice). Place your heated pan back on the stove top and turn the flame to high. Add 2 tablespoons of the potato/egg oil and swirl it around, coating the bottom and sides. Carefully pour your eggs/potatoes/onions/etc. into the heated pan and use a rubber spatula to draw the set egg away from the edges, helping to distribute the uncooked remainder. Smooth out the top and place the pan back in the hot oven for 12-15 minutes, until the sides are well browned and the top appears set. Cool in the pan for 10 minutes, then invert on a platter to serve.

I prefer my tortilla/frittata served at room temperature, and usually prepare it several hours in advance of eating. Leftovers are excellent lunch fare, even cold from the fridge. I've also enjoyed tortilla in a sandwich with a swipe of mayo or aioli, should you happen to have some kicking around. (SB: True to form, I like my tortilla/frittata with some… tomato chutney)
---
Pot Chef: Pav Bhaji (Pot Bhaji, if you will)
(SB) You might know of Pav Bhaji as a beloved street food made famous in Mumbai: a spiced vegetable mash (bhaji) heaped on toasted buttered buns (pav) and topped with onions, lemon juice, and sometimes, fresh green chili. Pav Bhaji was almost as popular in my home as it is on the side streets of Bombay (I went for it) growing up because it is very fast to make if you have a pressure cooker. Because my father is a firm believer in the importance of soft, sweet buns (ideally King's Hawaiian, though Martin's potato buns are also acceptable) warmed on a skillet with plenty of butter to get a golden toast, and well executed toppings. In our house, pav bhaji was served with this full treatment the first time around. The leftovers, I enjoy(ed) like a teenage raccoon directly from the fridge with a spoon, or sometimes, on craggy, toasted sourdough.
There are a lot of pav bhaji recipes out there. Priya Krishna's Indian-ish features a version of her aunt Sonia's pav bhaji that's a little lighter, chunkier, and more tomato forward than others I've had (she likens it to an Indian "sloppy Joe"*). I tried PK's recipe last year, but felt it lacked a kind of pungent intensity I craved, and quickly realized that this would be a dish I needed to recreate the way I grew up eating it: made with packaged pav bhaji masala powder **.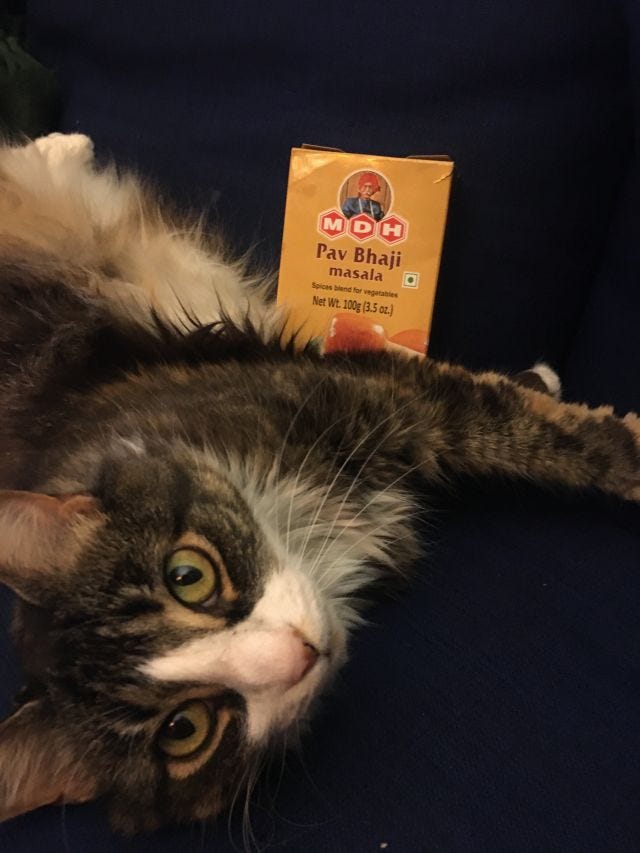 बिल्ली bhaji, amirite?!?! (Is anyone listening?)
If you perused the blogs above, you may have gathered that butter is an essential part of pav bhaji. It's the kind of food that is supposed to inspire you to take a nap after your meal, the kind of meal you enjoy late on a weekend afternoon, only to then wake up bleary eyed in time to get ready for bed or more leisure. The masala is tempered in butter, the mixed vegetables are sometimes topped with butter, and without question, your buns must be crisped in butter and then also buttered. At any of these moments, perhaps especially the last, I invite you to substitute in cannabutter. While most MJ-infused dishes rely on sugar or chocolate to mask the grassiness, pav bhaji is a savory king of robust flavors: those notes blend right in to the funky fenugreek, while the silky vegetal mash provides a wonderful palate for a smooth rolling high. Try it out! Take a nap!
Excitingly, the bhaji also freezes well if you, like me, both like to #blazeit but remain a little bit psychotic about your leftover management.

*This is a well-meaning analogy that encapsulates some of what is truly frustrating about writing about Indian food for white audiences.
**I used and enjoyed the MDH masala I found at Kalustyan's, but I would be remiss not to mention that people have fierce loyalties and preferences about which brand of powder they use for various dishes (particularly sambars & rasams).
---
GLD: Strawberry Balsamic Black Pepper Cobbler
(JS) This is the first installment of a section we like to call "gay lil' desserts," a category I've long realized is a large part of my brand, though not my entire brand (because as Crissles once put it, "a bitch contains multitudes"). This week's recipe was inspired by my mother, whose quarantine mania led her to place an "accidental" Baldor order, including a flat of exorbitantly expensive strawberries from cult purveyor Harry's Berries. Never one to look a gift horse in the mouth, I took a couple pints and offered to make dessert for the family.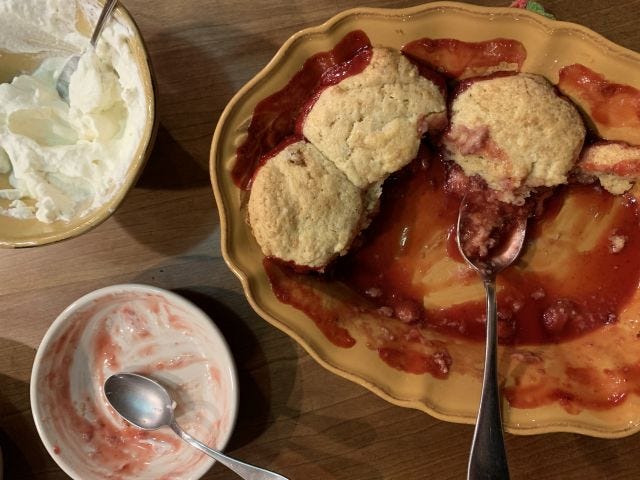 Alexa play Gwen Stefani "Sweet Escape"
Strawberry is frequently paired with rhubarb, as the tart stalks play well against the sweetness of the berries and retain some texture when baked, but really all it takes is some acid to temper the fruit. I macerated the hulled berries in a baking dish with sugar, salt and a hefty splash of balsamic vinegar. Balsamic is an ingredient I usually shy away from and will under no circumstances add to salad dressing, but now more than ever it's time to question normalcy and try things that make us a little uncomfortable. A bit of cornstarch helps thicken the filling, but you could probably use flour in a pinch. Finally, I added a few grinds of black pepper, which felt both a little gay and Italian summer cosplay appropriate.

I'm a huge fan of corn in summer desserts, like this strawberry rhubarb polenta crisp from the Gjelina cookbook, or Smitten Kitchen/the Lee brothers' peach blueberry cobbler with cornmeal drop biscuits (often referred to amongst my friends as simply "the cobbler," much to Al*son R*man's chagrin). Taking these as inspiration, I combined a couple shortcake and biscuit recipes, using a mix of flour and cornmeal and replacing the heavy cream with buttermilk. This was delicious with a healthy dollop of barely sweetened whipped cream, but would probably fare just as well with vanilla ice cream, or better yet, fior di latte gelato (the coastal elite jumped out).
---
Permanent Rotation
Coconut Rice: (SB) A lifelong basmati girl, I've found myself with an abundance of jasmine rice this quar. I've taken to making my white rice with coconut milk, and I recommend it. A good rule of thumb is 1 part rice to 2 parts liquid; those parts could be all or partially coconut milk, depending on what you have going on elsewhere in your kitchen. Add some ginger or a bay leaf if you're feeling kinky.
---
Wishlist
(Still accepting sugar daddy applications)

More like enamored-ware
(JS) I was enticed by the look of these hand-dipped swirled enamel baking dishes from MoMA Design Store warehouse sale, but they're actually quite small so I held off. Hay has some cute enamelware but I can't tell if it's oven safe. One picture looks like a pie plate, but there's nothing conclusive in the product details besides "dishwasher safe."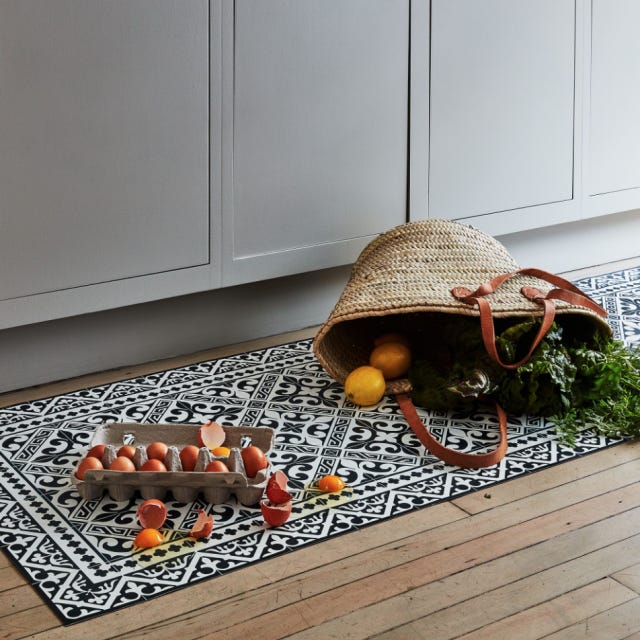 What happened here?
(SB) I have coveted these mats from Beija Flor via Food 52 for a couple of years now, but perhaps never more than in quar. My apartment is beautiful in that old-bones-rent-stabilized-pre-war kind of way, but the kitchen was obviously redone sometime in the early aughts by a someone who hated their tenants in a profound and particular way. The fridge blocks the window. The cabinets don't make any sense. There are no counters, at all. But, most, infuriatingly, the floors are made up of square vinyl "wood" mat-tiles that peel, crack, and sometimes feel inexplicably sticky. I want to cover every inch of them with these runners.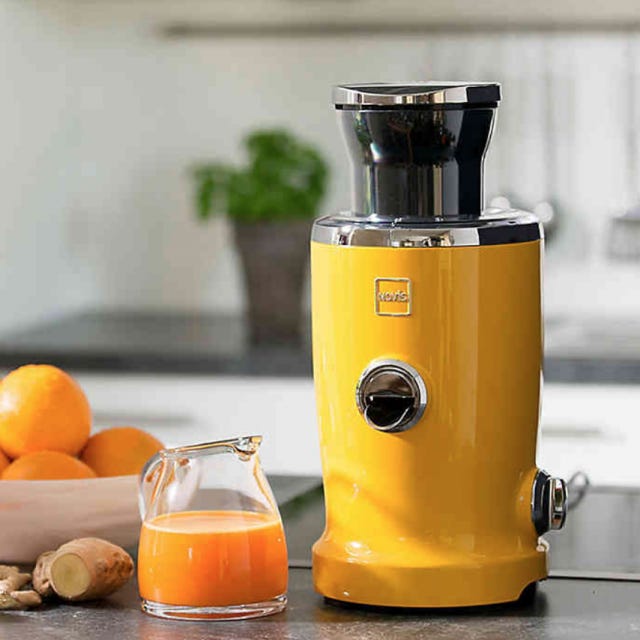 Bodak Yellow but it's a juicer
(JS & SB) Despite a mutual desire to flee to Los Angeles, neither of us is convinced that juice is a valid meal replacement. And yet, here in quarantine, we covet an aspirational juicer like never before. Goop recommends the Kuvings Elite C700s, a versatile workhorse equally comfortable juicing whole fruit or pureeing baby food, and even nut milk. Those looking for a more minimalist way to drop $500 might try the Novis Vita Juicer, available in chic colors like orange, yellow, and green.
---
Get the featured recipes from this week here
Editor's note: we're nothing without our integrity, and therefore are compelled to tell you that editing captions for this basic fucking newsletter is nothing short of torture. We don't like how they look but we simply cannot be bothered to try and fix them anymore. Maybe we'll hire an unpaid intern (DM us little lions/bears/bulldogs haha jk... unless..)